New England Brand Changes The Game Of Women's Apparel
Dive into New England running culture with Tracksmith's brand-new women's line.
Heading out the door? Read this article on the new Outside+ app available now on iOS devices for members! Download the app.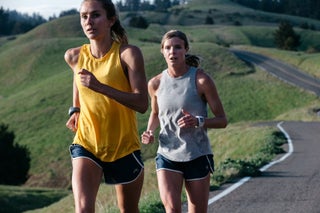 Dive into New England running culture with Tracksmith's brand-new women's line.
Founded in 2013, Wellesley, Mass.-based Tracksmith is already making a name for itself in the running apparel market. From apparel with updated classic styling, to marketing a Boston qualifier singlet available only to those who earned a BQ, the Tracksmith team is doing business their way.
We caught up with co-founder Matt Taylor (Luke Scheybeler is Tracksmith's other co-founder) prior to the launch of their new women's collection, which premiered today, and the opening of their marathon week pop-up store in Boston.
Women's Running: Beginning a new running apparel company is no small undertaking. What went into the decision?
Matt Taylor: The idea for Tracksmith was born out of a frustration with the status quo—both as a consumer and as someone who's worked in the industry for more than a decade. Things move too slowly, and everything looks the same. If you remove logos from the product or the marketing campaigns, it's almost impossible to distinguish between brands. Running brands have abandoned the sport of running for a more generic health and wellness positioning. I saw an opportunity to do something different—to create high-quality product and champion the amateur spirit upon which the sport was founded.
WR: Explain the name Tracksmith.
MT: We started with a long list of candidates—several hundred actually. Over time we whittled that down to a handful that fit the criteria we wanted a brand name to convey. We wanted something that felt substantial, as if it had been around for a long time. We wanted a name that conveyed craftsmanship and high-quality goods. And we wanted a name that was easy to say and spell. Hence, we chose the name Tracksmith. "Track" speaks to the committed side of running and "smith" speaks to the quality and craftsmanship of our products.
RELATED: A Shoe Made Specifically For Boston Marathon Runners
WR: Tracksmith is unapologetic about being a premium brand. Have customers been surprised by the quality and attention to detail?
MT: We are a performance running brand—not a fashion brand inspired by the sport—and so we obsess over the functional details and cultural references for every product. We have a huge advantage over the big brands: we're smaller and faster, and our product process is very conceptual. That means we iterate quickly and see ideas through that would [otherwise] get stripped out of the design and development process at larger brands. The result is a high-quality and highly differentiated product line. Our customers appreciate that and yet still are surprised by some of the details we include, whether it's a handwritten note in an order or our Van Cortlandt Singlet including four safety pins.
WR: What inspired the launch of a women's line?
MT: Running is most definitely a coed pursuit; it's one of the few sports with a roughly 50/50 gender split. So we always planned to offer women's product, but it was a matter of resources for us. With a small team we decided to focus on our men's product for launch (last July) but have been working on the women's collection for a long time.
WR: How do you envision expanding the women's line in the future?
MT: We wanted to make sure our women's launch assortment covered the basic pieces needed for running this time of year. A great pair of shorts and selection of tops are always the place to start. And a shell is an essential running piece for spring, especially in New England. We plan to introduce new women's spring and summer styles over the course of the next few months, before transitioning into our fall/winter offerings.
WR: Do you have the special BQ-only singlets for women?
MT: We actually released a women's version recently, ahead of our full launch. It's available on the Tracksmith website. Customers were very responsive when we launched the men's BQ singlet back in October, including a lot of requests from women. So we sped up production on this specific item to fulfill those requests before the race.
RELATED: The First Headquarters for Runners
WR: You describe the pieces as "having a classic Ivy-League style." How is the New England aesthetic being received elsewhere in the country?
MT: Tracksmith is rooted in New England running culture, and our aesthetic reflects just that. But we also draw design inspiration from brands that made "Ivy Style" popular, which is a term to describe a more understated and traditional style of dress. Running right now is so futuristic and fluorescent. So although our aesthetic draws inspiration from New England, it's being well received all over because many runners prefer a more understated and timeless look.
WR: How is being made in New England integral to the brand?
MT: Manufacturing in the U.S. and mostly in New England, is important to us. In terms of production, staying local allows us to iterate more quickly and get products to market much faster. If there is an issue with a product, we can address it immediately. But New England also has such a great history of apparel manufacturing, and so as a New England based brand, it's allowed us to develop relationships with iconic brands to collaborate on some of our products.
WR: Is your target market/demographic turning out to be the one you planned?
MT: It's actually what we expected. The one surprise would be the breadth of our customers—it's not as confined to certain age ranges or geographic locations.
WR: Are sales primarily online or is Tracksmith also available in stores?
MT: Tracksmith is sold direct-to-consumer on our website. We've also created our first pop-up shop location on Newbury Street in Boston to celebrate the Boston Marathon, where apparel will be available for sale. The weeklong pop-up will run from April 15-22 and will be home to several special events throughout the week. All details can currently be found on the website.