The Mysterious Magic of Marathon Training
With her marathon on Sunday, Caitlyn experienced a bit of taper tantrum.
Heading out the door? Read this article on the new Outside+ app available now on iOS devices for members! Download the app.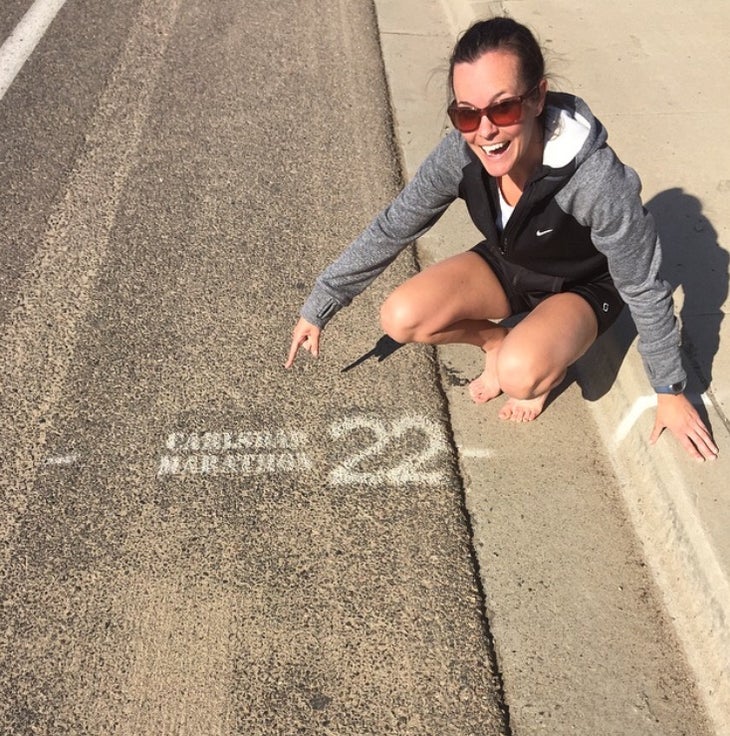 Four days ago, I started crying about everything and nothing. I was toward the end of my final double-digit run before my first marathon, which happens this Sunday. I was completely exhausted, hungry but unable to eat and about ready to step off the quitting ledge without looking back. Crumpled on the floor of my boyfriend's apartment, I peered out the back window and stared at the sky, waiting for that perfectly choreographed cinematic vision to give me an answer—perhaps back-dropped by booming music and accompanied by visions of Rocky Balboa bouncing around in my mind. I would rise up from the floor, have a crystal-clear objective, waltz out the door to an internal theme song and finish my 12-miler under overcast skies. How effing appropriate, I thought. It's about to rain, and I'm having some sort of crazy, random mental breakdown. But still—the movie moment would happen. It had to.
Well, it didn't. Radio silence confirmed that I was, in fact, just a girl crying on a floor.
I sent a SOS text to my runner girlfriend: "Is this just what happens?" "I can't do it." "I'm so tired." "Why am I crying?" "I'm such a drama queen." "12 miles shouldn't be this hard." "I want to quit." Apparently this is just what happens. She confirmed that what I was feeling was normal during taper time and no, I was not going insane and was not about to call it quits. The two highest-mileage weeks came during our work's Christmas break; the only thing I had to mentally focus on was running a lot of miles. But on the flip side, this particular day simultaneously marked the end of my first taper week and work week after the holidays. Tack on the sudden use of dormant mental energy and creative juices, and you have a bubbling formula for, apparently, a gnarly taper tantrum. She was right—I took a deep breath after our 10-minute text-therapy session and headed back out to finish the run.
It is now three days before the marathon, and I'm feeling back to normal, save for my tapered, ready, jittery legs that are hungry for more running. My diet is back to normal and perhaps better than it's been in the last two months. I've probably eaten the same four foods the entire week (Play nice, you pesky ulcerative colitis gremlin.), including lean proteins, fats (like, a ton of avocadoes) and enough carbs to fuel the entire list of registrants. Normal morning runs have been cut in half, but I've taken that extra time each a.m. to pause and soak in how much I'm ready to go on Sunday.
Ready. To. Go. I can't remember that last time those three words were an honest part of my runner vocabulary. That's a long journey from any three words I would have used last weekend. But as I look back on the last four months—all the ups and downs, crazy meals, long days, second winds, bonks, freak emotional breakdowns, feelings of victory, missing toenails and tons of learning experiences—I believe that's the beauty of marathon training: You hit the lowest valleys before charging the peaks.
After announcing her return to the Boston Marathon earlier this month, Shalane Flanagan said that Boston "brings out the best in you but demands the best of you." To me, this is marathon training. I have never experienced anything else to be as much of a letdown as it is euphoric during any given mile on any given day. When it starts, you stare you fears square in the eyes, knowing that the only way past them is straight through the middle. The side roads vanish, and the only thing standing between you and the start line are those unexpected, or perhaps ignored, qualms with yourself. You have two choices: tackle them to the ground and have them chase after you, or form an alliance and invite them along. I'm more of a solo runner, so allowing those scary monsters in and around me during my hardest, longest runs was a level of vulnerability I'd never tasted. I never outran the worries—they just eventually dropped out of the race. Or maybe they were pacers, meant to push me beyond those self-imposed limits I never had the courage to flirt with in the past. Who knows.
Climbing out of those valleys, making alliances with the enemy, pulling myself off the floor and forgiving the rampant thoughts that put me there—it all got me here: happy, healthy and READY TO GO on Sunday. That's the great thing about peaks and valleys. When you learn to be a solid hill runner, those valleys are just momentum to propel you to the top.