5 Simple Ways To Show Yourself More Kindness Every Day
You deserve it!
Heading out the door? Read this article on the new Outside+ app available now on iOS devices for members! Download the app.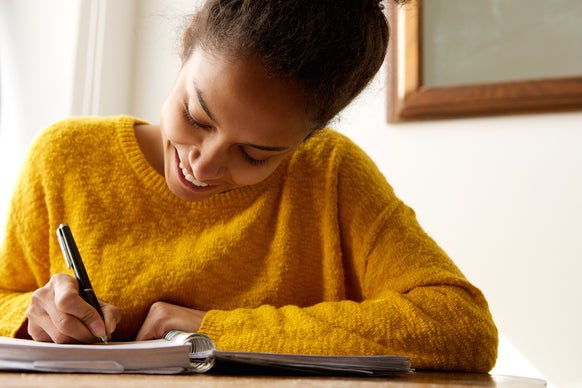 It is time to make being kind to yourself a priority. It is so easy to be kind to other people and then talk badly to—or about—yourself. We've all done it at one point or another. We've played the comparison game. We've dwelled on that thing we said that sounded "dumb." We've probably done some things that aren't in our body's best interest.
If you are struggling to be kind to yourself and need some ideas, here are a few to help you get started. Make being kind to yourself a regular part of your day. Not only do you deserve it, but it serves as a great reminder of how other people should be treating you, as well. If you won't settle in your friendships or relationships, don't settle when it comes to yourself either.
Start A Gratitude Folder
This one can be done in your e-mail inbox or using snail mail. Every time you get an e-mail—from a friend, colleague or family member—file it away in a special folder (the same goes for snail mail). The next time you are feeling a bit blue or just need a reminder of how awesome you are, read through the notes in the folder. Voila, instant ego boost! Feel free to add some notes from yourself in there as well!
Treat Yo'Self
Everyone deserves a little gift now and then. Who says you can't give one to yourself? Get that pedicure you so desperately need. Pour yourself a glass of red wine and rent that movie you have been dying to see. Get a fancy dessert from the bakery next time you are in the grocery store and savor it. You don't have to spend a lot of money on yourself, but taking the time to sit down, take a break and treat yourself is sometimes just the thing you need.
Keep A Gratitude Journal
All you need is a notebook and to write one sentence every day for this one. Before bed, sit down and write one thing that you did that day that you are proud of yourself for. Keep the journal by your bed and in the morning, read what you wrote the night before (and even go back a few days). Not only will you start your day off in a positive way, but you'll be looking out for that next awesome thing to celebrate.
Celebrate Your Body
You can do this through sport, through dance or even with the clothes you wear. Take time to recognize how awesome it is to be in the skin you are in. Do some yoga and pay extra attention to your breathing. Dance around the living room and enjoy trying some new moves. Go for a run and notice how strong your legs are today. Wear your favorite outfit or color and carry it with confidence. Whatever you do, show your body some love today.
Stress Less And Sleep More
I definitely fall into the trap of laying down to go to sleep and then thinking of all of the things I have to do tomorrow. Then I look at the clock and it's two hours later and tomorrow will be even harder because I am getting less sleep. If you're stressed before bed, try a face mask or use some lavender lotion. Maybe keep a notebook by your bed and get your to-do list written (ideally you would do this before you leave the office) so you don't have to think about it anymore and can focus on sleep. The more rested you are, the better you will feel.