I Coped With Heart Surgery And My Mother's Death By Running
Sarah Phelan, of Oakland, Calif., explains the healing power of the run.
Heading out the door? Read this article on the new Outside+ app available now on iOS devices for members! Download the app.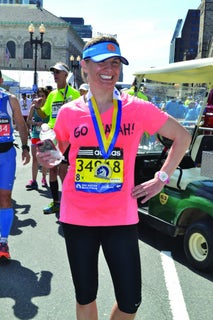 I have been a runner my whole life. My mom entered me in my first all-comer's track meet at age 3, where I handily won the 25-yard dash (and even ran back to cheer on the other kids). I ran my first marathon in 2003 and went on to run 14 more (including the New York Marathon and Boston Marathon twice). In the spring of 2010, I first started having cardiac symptoms. It started as a fluttering in my chest after completing a hill repeat or a hard interval on the track. The episodes of fluttering finally became so frequent that I started having trouble breathing while running. After many trips to the cardiologist and many tests, I was finally diagnosed with an aneurysm in my aorta, which would require major surgery to fix. The diagnosis at such a young age really rocked me. It made me angry (why me?) and made me feel weak and broken.
Just before my aneurysm diagnosis, my husband and I had decided we wanted to try and get pregnant. We were lucky enough to get pregnant right away, but were unlucky in that my aneurysm grew significantly during the course of my pregnancy. Just after my baby was born, my doctors at Kaiser Permanente Hospital told me my aneurysm had grown so much that I now needed it repaired urgently. However, I wanted to breastfeed my baby and I was just plain scared. So I put the surgery off until my baby was 11 months old. I finally had the surgery on Valentine's Day of 2012.
While running has always been a source of stress relief for me, the time around my cardiac surgery was especially difficult with a number of major life events occurring in a short period of time. I had a very traumatic experience giving birth to my daughter. Then I had a severe postpartum hemorrhage and nearly bled to death—my doctors tell me that having the body of an endurance athlete was what saved my life that day, and anyone else wouldn't have survived it. Then my mom had to have her own cardiac surgery. She had always been an extremely active person and had been a huge influence on instilling the love of exercise into me. She suffered a stroke during her operation, and my mom ended up passing away just five weeks after my surgery. The aftermath of all this resulted in alcohol issues for my dad and eventual rehab for him, and it was around this same time that I received a diagnosis of infertility. I had so much pent-up frustration, grief, stress, anger, sadness, guilt inside of me all mixed up into one.
Running was my therapy during that time, the only time when I could really be alone with myself and my thoughts. Sometimes I would run just to zone out, just to quiet everything in my head. Sometimes I would run as hard as I could to run out the anger and frustration. Sometimes, my run was just a short break to get away from myself or to escape an emotional situation—I would run somewhere just to cry. Sometimes I just needed to feel the wind on my face, the air in my lungs and the blood in my legs to not feel completely numb.
However, after my surgery, even the smallest activities were a struggle. In the hospital, they make you walk and move as part of the recovery process, but even walking the 300 feet around the cardiac unit felt like I had been going for miles and miles. Even walking for just a few minutes, I would feel like one elephant was sitting on my chest and one was also behind me pulling on my back and shoulders. It was also hard because I couldn't do anything to help take care of my daughter. I definitely had negative thoughts run through my head during this time—it felt like I would be this weak and debilitated person forever. I felt like I would never be normal, that there was no possible way I could get my running days back. It felt like I was trapped in my own body.
Each day I made it a point to go outside and go for at least a short walk. I had to shuffle along slowly with many breaks, and I often would have to sit down mid-walk to catch my breath. Sometimes I would stop and cry. I missed my running and old life so much that it was hard to appreciate that I was alive and fixed and healthy. But I kept at it, and each day it seemed to get a little easier. Each day I could go a little farther, move a little faster. Glimpses of my former self were starting to come through. Then one day, it hit me that I was back doing the things I used to do and I suddenly became so very appreciative of everything. I got to the point where I would have to stop and cry mid-run because I would become so overwhelmed thinking about how lucky I was. On my runs, my mind would just suddenly fill with thoughts about all the people that had worked on me and cared for me, and I thought about how very different things would be if I hadn't been so lucky.
I was told by a few different doctors that I should give up competitive running, that it wasn't good for my heart. The first time I heard this, I got so mad that I fired my doctor and stormed out of the office. I went for a run and immediately decided that if I did nothing else, I would run the Boston Marathon again someday and I would show him what I was made of. Part of the reason I even had the surgery was so that I could get that part of me back. A piece of me was missing without my running. It is something that is so engrained in me, I need it like I need food or sleep. Plus, setting a goal and having something to work toward really helped to get me through those days when the negativity took over. It helped me get my shoes on and get out the door on the days I wanted to do anything but.
As my running returned to "normal," I trained for and ran a few short races and these went well. I even tried a half marathon. I found that my racing was different now, that I had become tougher mentally. I trained for and then ran the Boston Marathon in 2014. Goal achieved! When I got home from the race, the first thing I did was to give my medal to my cardiac surgeon. I was his first patient to ever attempt or complete the Boston Marathon. I had dedicated Heartbreak Hill to him. He proudly wore that medal around all day and it still hangs in his office. He actually started running himself after that. He always says that patients tend to give him fruit baskets after their surgeries go well. I was the first to ever give him a medal!