How to Build an Inclusive Running Group
The intimidation factor for new runners is high. Here's how to make sure everyone feels welcome.
Heading out the door? Read this article on the new Outside+ app available now on iOS devices for members! Download the app.
More people are running than ever before—and as the sport grows, that means more and more runners are seeking their own communities within the running world. The percentage of athletes joining clubs on Strava grew by 37 percent in 2021, and more than 189,000 new Clubs were created on the platform that same year, according to Strava's year-end report.
It makes sense: in 2013, research from the University of Southern California found people who exercised with friends enjoyed the workout more than those who sweat solo—and people who enjoy exercise are more likely to do it again in, a 2020 study in Frontiers in Psychology confirmed.
In theory, running should be one of the most inclusive, accessible sports; all you really need is a decent pair of sneakers. But running inherently invites comparison, not just in terms of distance and pacing (you can literally get left behind if you're not fast enough) but because there's a distinct lack of representation of people from different racial groups, sexual identities, and body types. For instance, less than 10 percent of runners identify as Black, according to the New York Times, and pro runner Nikki Hilitz is still being misgendered during track meets. It's no surprise that finding a run crew where you feel like you can be, well, you can be downright intimidating.
RELATED: Nikki Hiltz Has a New Team But the Same Mission: Protect Trans Kids
Creating an inclusive running group requires establishing trust, says Nikkia Young, an RRCA-certified running coach with Fitness Protection Program, a virtual training program. "It's about thinking from a space of leadership, and how you can service your community by bridging the gaps and helping support other groups," she says.
That may look like covering the race fees of Black, LQTBQ+, or differently sized and abled athletes who might not be represented in the broader run community, which FPP does; or reaching out to local diversity organizations to see how you can connect with their communities; or even scheduling your workouts to make them more accessible to people who work, say, in the service industry and can't make it to a 5 a.m. workout or don't want to skip religious services for a weekend long run. "It's about showing people 'Hey, we believe you're supposed to be here,'" says Young.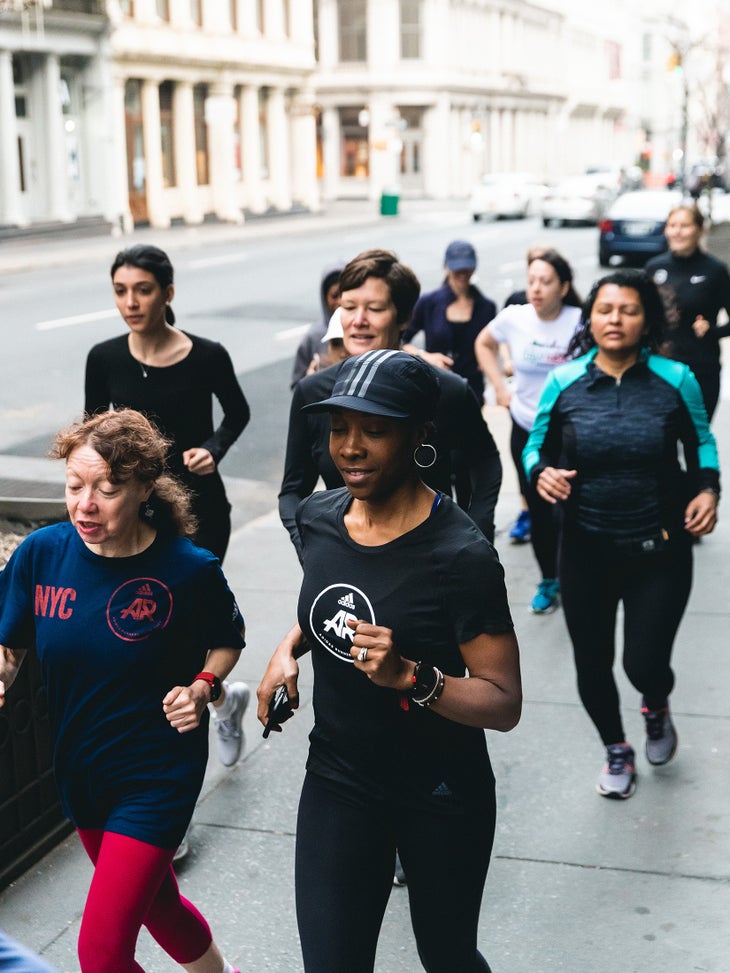 So much of inclusivity also revolves around how you show up and what language you use. "I do my best to have as diverse a staff as possible," says Leah Williams, the owner and founder of &Running, a treadmill studio in Fulton, Maryland—not for optics, but so every runner, no matter how they identify in terms of gender, sexuality, size, or pace, feels welcome, she adds. "And I try to be very vocal about the things we care about. For example, we had our first donation-based Pride class last week and we're having another later this month to raise awareness and resources for LGBTQ+ [people], both locally and nationally."
When customers create a profile with &Running, they designate their pronouns right from the start. "Just asking is a step beyond the norm," says Williams. Adding pronoun choices or a nonbinary option on race or group registration forms can make more people feel like they belong instead of having to conform, says Young, who has done so as a race director. And talking about effort instead of pace can level the playing field a bit in group settings, allowing people to go at their own pace while still doing the same workout, says Williams.
For more formal running group meet-ups or events, publishing a Code of Conduct, diversity statement, or policy around inclusivity on your website or social media page can set the tone for that group, says Young. "It's a great place to be like, 'Hey, if you're treating people of a different sexuality, race, or anything other thing differently or wrong, we're going to kick you out of here," she says. That goes a long way in establishing that trust Young spoke about (as long as you back up those words with action when required).
RELATED: Two Years After Ahmaud Arbery's Murder, the Running Industry is Slowly Changing
Finally, all runners could stand to be a little less elitist when it comes to apparel and gear. "We show up with our watches and expensive tights and super shoes and we forget that we didn't all have that stuff the first day we started," says Young. "That goes for anybody, regardless of your socioeconomic background." A love for the sport doesn't come from the highest tech watch or latest designer athleticwear collab; it comes from finding people who want to push themselves in the same way you do—no matter what they're wearing.
Group runs are about enjoying the thing we all love most together—but it takes active effort to make sure you're not accidentally excluding someone who might want to join in. The more aware you are, the more likely you'll attract new runners to your crew.