She Has A Breathing Disorder And Just Keeps Running
Even though her vocal cords do not open correctly, this runner isn't letting it stop her from setting—and reaching—her goals.
Heading out the door? Read this article on the new Outside+ app available now on iOS devices for members! Download the app.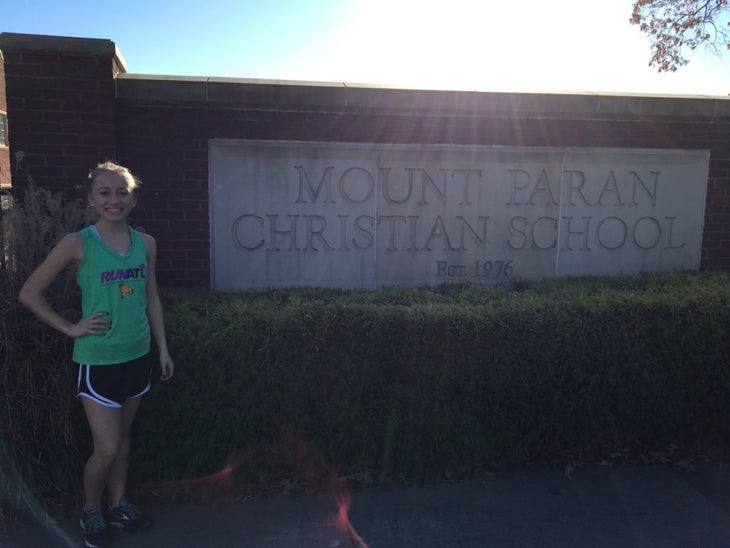 When I first met Riley, I was at a school retreat hiking up the side of a mountain with a group of students and teachers. The hike is famous for how difficult it is because it is a sharp incline all the way to the top.
After the first 10 minutes, I came up to two girls who had stopped and one was having difficulty breathing. I stopped to help her and the school trainer who was right behind me also stopped. We waited until her breathing was under control and I explained to her how difficult the rest of the hike was—but I told her that I would stay with her if she wanted to continue. Without hesitation she said, "I want to keep going." I knew right then that this girl had spirit; many people would have turned around and gone back home.
My friend passed us and said, "Jen, this is Riley—she's a runner." I started to talk to her about running and as we stopped and rested here and there I asked her what was causing her breathing issues. She told me that it had started about two months ago and the doctors had diagnosed her with paradoxical vocal cord dysfunction (PVM). PVM is when the vocal cords do not open correctly and breathing is impaired. The doctors do not seem to know of a cure for PVM and Riley has had to make some adjustments to her running routine.
Before her breathing issues, Riley was on the varsity cross-country team and she was running in the low 20 minutes for a 5K. She has had to drop down to the junior varsity team and she says that she has to stop in the middle of a race when her breathing becomes bad. Any runner can imagine how frustrating that would be, especially when greatness is within your grasp. Riley could be bitter and no one would fault her, but instead she chooses to have an optimistic attitude.
"I think this was God's way of telling me that I didn't have to be a perfect runner, that maybe I should have more fun with my running and rest a little more. Before my breathing became an issue, running was everything for me. Now I know that I should just enjoy it."
Just because she has accepted that she has a serious problem does not mean that she is giving up on becoming a better runner. I was talking about her to one of the football coaches when he said, "Now I know what she was doing. I saw her running around the outside of the field and every once in a while, she would stop and then start again. She kept at it for quite a while."
I said to him, "That's because no matter what the doctors say, she is not going to give up. Riley's not a quitter, she's a fighter."
When I asked Riley what her goals are she told me that she is just trying to get better and to take a little time off of her 5K time. When she feels her breathing becoming impaired she knows that she has to stay calm and practice deep breathing techniques. It also means that she often has to stop in the middle of a race to get her breathing back before she can continue.
Imagine the courage that it takes to go for a run when at any moment you could be struggling to pull in enough air, but Riley is not letting her breathing issues hold her back. She has goals like any other runner and she sees her breathing problems as an obstacle to overcome, not an excuse to give up. Riley is proof that big things come in little packages.