From Wearing Size 5XL To Running 5K Races
After a health scare, Jill Conley went from nothing, to walking, to running—and loving herself.
Heading out the door? Read this article on the new Outside+ app available now on iOS devices for members! Download the app.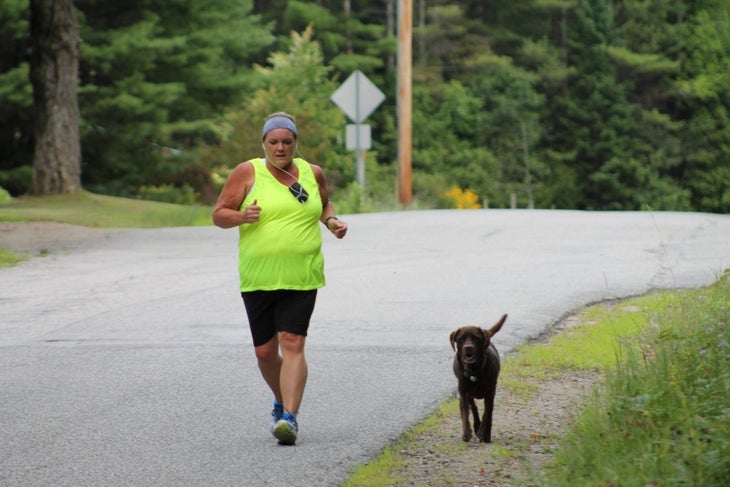 My journey began at birth. I weighed 8 pounds, 2 ounces, while my twin was 4 pounds, 8 ounces. I was always the heavy one. "You're just big boned." "You'll thin out when you grow taller." Well, I'm still waiting for that to happen! Kids would look at me and say, "You're fat." I worried about fitting in chairs and booths at restaurants. I would sweat uncontrollably just from standing.
Related: This Runner Learned To Love Her Body
Not only was my weight out of control, but my diabetes was also out of control. I was mortified by the number on the scale. When I was pregnant, the scale would not go high enough to record my weight. I tried to keep those numbers from everyone—doctors included. When admitted for the birth of our daughter, a nurse asked my weight. I whispered so my husband wouldn't hear and he pretended he didn't. I weighed 352 pounds and wore a 5XL. I was definitely in a rut, and I hated myself.
In October of 2013, I changed jobs. A friend of mine worked nearby, so we could walk at lunch. We walked ¼ of a mile one day, and I was a mess. I also noticed at that time that I was getting winded too easily just walking from my car. I saw a new doctor who started referring me to other doctors. "Here we go again," I thought.
I had a stress test, which came back positive and was referred to a cardiologist. He told me, "You are a perfect candidate for gastric bypass." I had heard that recommendation many times, but I wasn't doing it. I started crying. He said "Don't cry—do something about it." I asked for one more try. I bought a treadmill and started seeing a diabetic educator at the hospital where I worked.
Related: Running For Weight Loss Plan
We jumped right into carb and calorie counting and discussing exercise. She made it seem like less of a chore. Following her advice, I was eating all day long, but smaller portions and better food. I walked on the treadmill 6 days a week. The weight started coming off nice and slowly.
I had tremendous support—my husband, daughter, sister, family, friends and co-workers all cheered for me. My diabetic educator continues with weekly weigh-ins, hints, positivity and hugs galore! She cried when I lost 50 pounds. It had hit me in the beginning of my journey that I was—and still am—not on a diet. I have a new lifestyle. People didn't get it. They would ask when am I going to stop. NEVER! This was the new me.
I continued rocking the treadmill walks. The pounds kept coming off at an average of two per week. My clothes were coming off, well, falling off, too. Excitement now took the shape of another 50-pound notch on the scale, another mph faster or another 10 minutes longer.
My older sister had begun her own running journey by doing 5Ks. I would say, "I'll never run," to which she would respond, "Never go backward. Once you hit a mile, always do a mile." I started doing 3.1 miles on the treadmill, pushing the speed. I would even try jogging. New songs would be added my playlist, and I'd run to the beat. That's when I realized I was really loving this! My workplace hosted a 5K in March 2015, and I'll never forget the feeling when I signed up! For race day, I needed a light jacket and found an XL one in my husband's closet—and it FIT!! This is when I gave myself the title 5X to 5K! My sister stayed beside me the entire race. We finished in 43:24. My throat was lumpy at the finish with my sister beside me. My sister-in-law also cheered me on. I was able to watch my daughter cross the finish line as well!
Now? I have the running fever, and 5Ks are so addicting! You are not competing with other runners; you are competing with yourself while receiving encouragement from other runners and spectators. I just finished my fifth 5K this past weekend with a time of 38.21. And even better—my first 10K will be August 21st, 2016!
My favorite sayings have become, "Start thinking of yourself as the person you want to be" and "The tortoise and the hare both finished the race." I'm even starting to like myself! My diabetes is in check and I am now down 111.25 pounds. My daughter has also lost 36 pounds. My body still has days where it says, "Who are you? Would you just sit down?" To which I respond, "Shut up and run!"