In Town For The NYC Marathon? Check Out These Free Activities.
While in town for the NYC Marathon, check out these free events to make the most of your visit.
Heading out the door? Read this article on the new Outside+ app available now on iOS devices for members! Download the app.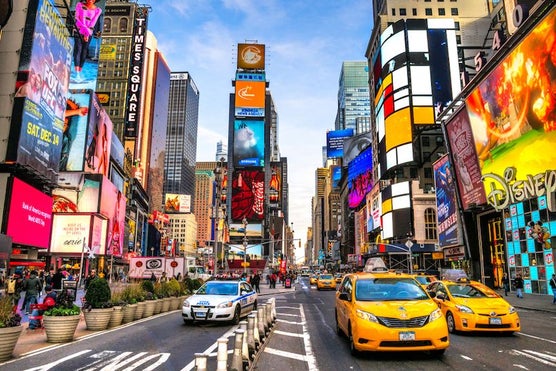 Who doesn't love free stuff? Whether you're visiting New York City for this year's TCS NYC Marathon or are a native New Yorker, the following events taking place and activities offered around town have an undeniable draw for anyone who's stoked about free entertainment. Here are our top picks for events that deliver on the fun without causing your wallet to groan in pain.
Related: Follow Our Coverage Of The 2017 TCS NYC Marathon
Running-Related Activities
Visit The TCS NYC Marathon Expo
Jacob K. Javits Convention Center, Halls 3B and 3E (655 W. 34th St.)
10 a.m. to 8 p.m. on November 2-3, 9 a.m. to 5 p.m. on November 4
Well, okay, this event actually might put a dent in your bank account if you're a runner and share the Team WR perspective that you can never have too much running gear. However, since this is the largest running expo in the U.S., there will be some free samples (score!). Presented by marathon sponsor New Balance, the expo is open to the public through the evening of November 4. In addition to browsing gear (some designed specifically for this year's race), expo attendees can chat with coaches and identify their ideal marathon strategies and paces by visiting the New York Road Runners Running Lab.
Related: Gear Designed Especially For The 2017 TCS NYC Marathon
Join A Three-Day Run Club
And&And at 353 W. 12th St.
November 2–4
Runners will love this one. The New Balance Run Club is hosting three days of running tips, including tricks for finding your running rhythm and selecting race day fuel. Select New Balance-sponsored athletes will present a panel on the second day (Friday, November 3).
Attend The Parade Of Nations
Central Park
5:30 p.m. on November 3
Because who doesn't love a parade? Though not quite as famous as the annual NYC Village Halloween Parade, this one features marathoners from around the world and takes place in the city's beloved Central Park–right at the marathon finish line.
Be The "Y" In "NYC"
Multiple locations, ongoing
It's kind of cheesy, but it's also kind of fun. Embrace your inner tourist and visit one of several locations throughout the city where large "N" and "C" block letters have been placed. Once you find a set, stand between the letters and strike your best "Y" pose. Locations include the Marathon Pavilion, the TCS NYC Marathon Expo, Sheraton New York Times Square, NYRR RunCenter, New Balance's Flatiron store location, Paragon Sports and select DSW stores.
Join A Cheering Station
Multiple locations; Sunday, November 5
If you're not running the marathon yourself, you can join the estimated 2.5 million spectators that will cheer runners on throughout race day. The course support is part of what makes the NYC Marathon so special. This marathon course isn't easy, and with all the hills and bridges marathoners need to overcome, it really helps when enthusiastic spectators remind them that making it to the start line is in and of itself a huge accomplishment.
Art And Culture
Visit The Murals Commissioned For The Marathon
Multiple locations; ongoing
That's right–marathon sponsor New Balance commissioned five NYC-based artists to create murals in celebration of the NYC Marathon. If you're visiting the city as a tourist, these artworks serve as a motivator to touch base at each of the city's five boroughs–much as marathoners will on race day. For social media interaction, tag @newbalance and #RoadToNYC, and don't forget to share your photos with us by tagging #TeamWR on Instagram!
Related: Art And Running Collide At This Year's NYC Marathon
The five mural locations are as follows:
Staten Island: 827 Castleton Ave. (mural by David Park)
Queens: 30th Ave. at Wellington Court (mural by Doves)
The Bronx: Bruckner Blvd. at Lincoln Ave. (mural by Wayne)
Manhattan: 1st Ave. at St. Marks (mural by Ron English)
Brooklyn: 307 McKibbin St. (mural by AvOne)
Run Through Central Park
If you get a chance to run in Central Park–take it. The park is pedestrian friendly and has so many fun discoveries for visitors. Runners can cruise throughout the park from the north end to Columbus Circle or wander along the park's various paths. Along the way, we recommend checking out the Jacqueline Kennedy Onassis Reservoir (encircled by a 1.5-mile track), admiring the gorgeous fall foliage while strolling down the statue-studded Mall and paying a visit to Strawberry Fields in Central Park West.
See The Sights In Washington Square Park
Street performers, artists, demonstrations–this park has for years been a happy host for it all. Wooden benches line the walking paths, dog runs buttress the south end and the noble Washington Square Arch stands proudly at the north entrance, serving as one of the city's best photo ops. A visit to NYC isn't complete without a stroll through Washington Square.
Related:
How To Watch The 2017 TCS NYC Marathon
5 NYC Eats To Try When You're In Town For The NYC Marathon