Inside Look At Fitbit's Capabilities Changing Woman's Life
Heading out the door? Read this article on the new Outside+ app available now on iOS devices for members! Download the app.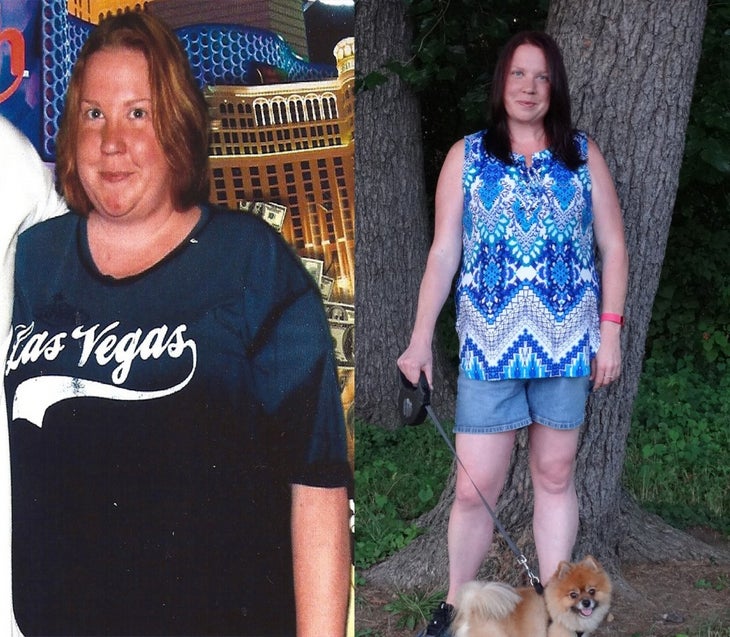 "I knew I had gained weight, but didn't realize I had put on that much weight."
In June 2015, 34-year-old Amanda Lynch was at the heaviest she's ever been. "I had a stressful job, and my stress release was chocolate. I started putting on more and more weight."
Weighing 281 pounds, she knew she needed to make a change to her lifestyle. "I couldn't believe I was almost 300 pounds!" expressed Lynch. "I didn't want to be one of those people who couldn't do anything by themselves."
Her doctor diagnosed her with nonalcoholic steatohepatitis (NASH), which is cirrhosis. "It's basically what alcoholics get, but it's not from alcohol," says Lynch. NASH resembles alcoholic liver disease but occurs in people who drink little or no alcohol. The major sign is fat in the liver, according to National Institute of Diabetes and Digestion and Kidney Diseases.
"It was ridiculous! A disease caused by being overweight." exclaims Lynch. "In addition, I was taking medicine for heartburn and high blood pressure, getting iron diffusions. I even had four knee surgeries within the last 10 years because the weight was making them hurt."
Frustrated by her medical issues, Lynch bravely stepped outside of her comfort zone, joined a gym and purchased a Fitbit. "It was really hard at first. I thought people were crazy when they would say exercise gives you more energy, but you actually do have more. I have a better outlook [too]."
A competitive person by nature, Lynch loves tracking her steps each day. "I didn't realize how many steps 10,000 steps are! It's a lot."
Today, in order to get at least her minimum steps in, she gets a little creative. "I used to park right up in front at Target, now I find the spot farthest away so I get more steps in. Or if I have a doctor's appointment that is only a few blocks away, I walk instead of drive." (Lynch also expressed how frustrated she gets when it rains, because it means she has to drive instead of walk.)
Besides the steps tracker, Lynch found logging her food helps her make smarter food choices. "When I eat at restaurants I log my food; I didn't realize how many calories I was consuming before!"
This sparked another simple lifestyle change that Lynch hadn't previously considered as seriously: She is cooking at home more with her boyfriend. "We love using the Spiralizer! We made Pho noodles out of veggies, which saved us calories and gave us more nutrients."
Another notable change that Fitbit helped inspire was more sleep. "I love how I can track my sleep and make sure I'm getting enough sleep, or see when I wake up," she explains. "My [Fitbit] tells me when I need to go to sleep with the alarm settings. Otherwise I will still be working or doing something else. So it keeps me in check."
With her neat little package of life updates, Lynch is now working out six times a week; she loves Acro Yoga with her boyfriend, something to do together while strengthening muscles. She's now down to 195 and still working to reach her goal of 160. The best part? Lynch is also dabbling into running. "I did a one-mile run, I wasn't sure how it would go, but I ended up getting third place in my age group." A natural with that 9:36-mile pace!
Inspired by her finish, Lynch has a new goal: to complete a 5K. Along with a friend, she's aiming aiming to run a Turkey Trot this November as she continues her journey to better health and 165.