Our Editor On Memories Racing 5Ks With Her Mother
Though their second race was much different than the first, Jessie Sebor shares how she loves her mom through every obstacle.
Heading out the door? Read this article on the new Outside+ app available now on iOS devices for members! Download the app.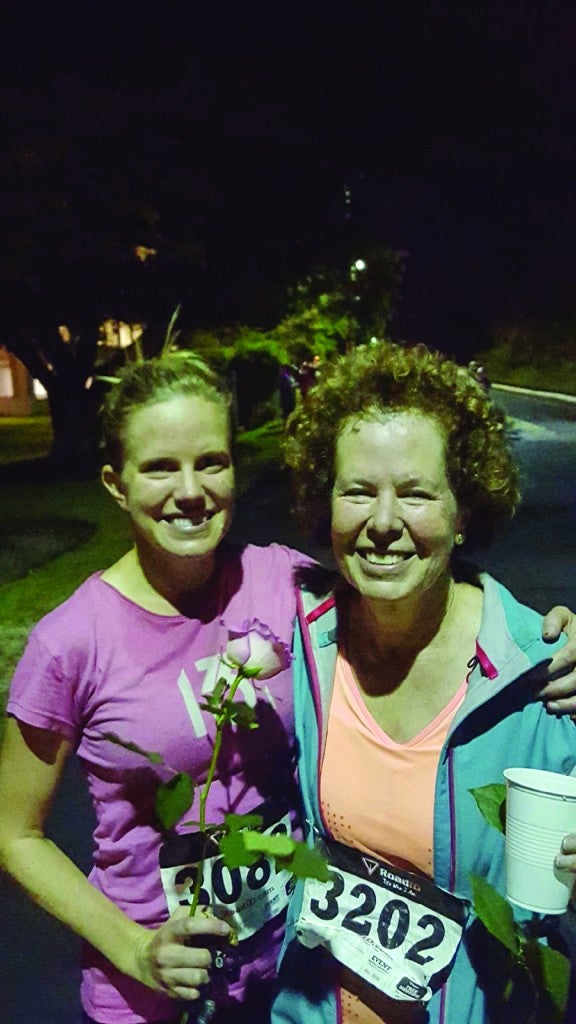 Five years ago, I persuaded my then-61-year-old mother to sign up for her first 5K race. Despite having never run before, she dutifully followed her training program and, over the course of a few months, grew stronger.
Race day finally arrived—a beautiful, sunny fall morning in Boston. Flushed with excitement, I rubbed my mom's shoulders on the starting line. The gun blasted and we were off. For 3.1 miles, we ran side by side, and my mom surpassed both of our expectations. The woman who had never before competed in any athletic endeavor won third in her age group.
This moment resonated on many levels: We shared the sport I love so much, and I was able to help my mom (who had always been the one to support me) discover an untapped talent. It was as close to perfect as days get—from cheering like a maniac when she received her pint-glass award to sitting around the dinner table that night as my dad insisted that we cheers Mom with a beer in her victory vessel.
It was also around this time that my mom began to lose her memory. We started noticing little things: a conversation topic repeated, a hesitation making turns driving to the grocery store. Small inconveniences slowly turned into red alerts. My mom's best friend called me one day to share her concerns. When I started crying, she said: "Listen, it's not easy when your parents get older, but you have to buck up." My dad went from doctor to doctor, ultimately receiving the diagnosis. Of course it was pre-Alzheimer's—we already knew that.
RELATED: 9 Things I've Learned From Running With My Mom
Over the course of these few years, when everything felt like it was falling apart, I clung to the memory of our perfect day together. I stored it like an object in my brain, making sure it was carefully preserved. I called on thoughts of the race when I needed to feel that my mom and I had special memories together that no disease could take away.
Last year, I was visiting my family home when I decided to jump in another local 5K. I asked my mom if she wanted to run too, and my whole family came to watch—but this time everything was different. As I was helping pin on my mom's bib (something she could no longer do herself ), she asked me if this would be like the race she completed with my brother, Mike.
I replied: "Yeah, sort of like that…but you did that race with me, remember?" The object I had tried so carefully to safeguard was knocked off the shelf, shattering the memory and breaking a corner of my heart.
The race started. We ran separately this time, and after I crossed the finish, I doubled back to find my mom. The longer I went without seeing her, the more panicked I became. She shouldn't be this far, I thought. Finally, I spotted her talking to another racer. She'd gotten turned around and was unsure which way to go on the course. "Mom, I'm here!" I shouted, and we started off in the right direction, run/walking the last mile.
RELATED: When Your Mom Is The World's Greatest Spectator
These are the two 5Ks we have run together, and sometimes it's difficult to consider them in tandem. Over time, however, I've come to realize that the first one wasn't necessarily better—just different. When it comes to any close bond, it's natural to wish for time to slow down, for your relationship to retain its form. But my mom has loved me as a squirming infant, an ill-behaved toddler, a teenager full of cutting remarks, an adult who lives across the country—that's never going to change. Of course, I'm going to love her too, regardless of what that looks like.
Instead of relying on fossilized memories, I am now able to see our relationship for what it is today: one of the best things in my life. Single moments don't define us, and it's okay for recollections to shift shapes—that's just what happens to our bonds, bodies and minds. No matter what challenges the course brings, we're always going to run through the line holding hands. Happy Mother's Day, Momma! I love you so much.