Day 7 Drama at the Olympic Trials
So many races, so little time. Find out what happened in Oregon today so you can impress your runner friends tomorrow!
Heading out the door? Read this article on the new Outside+ app available now on iOS devices for members! Download the app.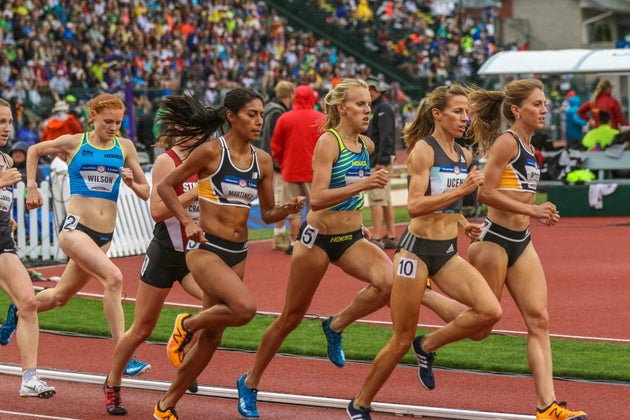 What went down at the Olympic Track Trials on day seven?
More like what didn't! For those of us who love to watch what the human body can do as it speeds around an oval, jumps astonishing distances and throws unwieldy objects across a field, today was a treat. Why? Because you had the opportunity to see a lot of athletes compete. Day 7 marked the qualifying rounds for the shot put, javelin, 5,000 meters, 100-meter hurdles, 200 meters, 400-meter hurdles, discus and 1,500 meters, meaning a number of heats for each event. The only finals were the shot put, triple jump and the women's steeplechase.
Wait…what's the difference between a qualifier and a final?
The concept is relatively obvious, but it can get a little confusing. Basically, for every race (aside from the 10,000 meters), you have to win your spot to the true, no-bull Olympic Trials race (a.k.a. the one for all the marbles when the top three competitors will make the team). Some events have three rounds (the shorter ones, like the 200-meter dash), while others have only two (like the 5,000). This is largely done for practical purposes, as it can be problematic to have too many people on the track at one time (think of a mosh pit running at top speed in one direction).
Okay, what's an example from competition today?
Good question! Let's take the first round of the women's 5,000. There were two races with 12 athletes in each. In order to make the final race, runners would have to either come across the line in the top-six spots or get the four fastest times after those 12 had earned their spots.
The first heat was tightly packed together and much slower, while the second was strung out and a quicker pace, meaning the four additional times all came from the second heat. Crazy!
So who made it?
Let's see…
2012 Olympian Kim Conley (who always has an epic finish flourish)
Mom of a four-year-old and general badass Kellyn Taylor
Nicole Tully (who balances professional running with working a full-time job at Canon)
That little ray of sunshine Emily Infeld, who punched her ticket to Rio in the 10K earlier in the week
Inspiring momma Sara Hall who adopted four girls(!) from Ethiopia last year
Jessica Tebo a former Oregon Duck who was feeling good on her home turf
The insanely dominant Molly Huddle (also a future Rio Olympian in the 10,000)
Katie Mackey, the super fierce Brooks athlete coached by her husband Danny
Arizona State alum Shelby Houlihan who can "recite almost all of the lines in each Harry Potter movie"
Young phenom Allie Ostrander (she's only a sophomore in college!)
Marielle Hall, the fierce competitor who punched a ticket to Rio in the 10,000, becoming the first track athlete from New Jersey ever to do so (fun fact!)
Abbey D'Agostino, the most decorated Ivy League track-and-field athlete of all time
Tara Welling, who says all she needs is: love, God, family, running shoes, dark chocolate and wine—can't argue with that!
HOKA athlete Rochelle Kanuho, who trains high up in Flagstaff, Ariz.
Jordan Hasay, the hometown favorite known for her signature braids and wagging tongue, squeaked in with the final spot
That's a lot of ladies! Where can I find results for the other events?
USATF has really great comprehensive results here!
With all of those semifinals, who secured an Olympic spot today?
Some seriously talented athletes! Michelle Carter, Raven Saunders and Felisha Johnson took the title in the shot put. 2016 will mark Carter's third(!!) Olympic Games. She earned first place by putting the shot, which weighs 8.8 pounds, an incredible 19.59 meters. (Are you kidding us?? In awe.)
The women's triple was won by Keturah Orji, Christina Epps and Andrea Geubelle. With excellent performances by each, this marks the first time since 1996 that the U.S. has qualified three women to go to the Olympics–all three met the (worldwide) Olympic standard today.
In the 3,000-meter steeplechase, American record holder Emma Coburn dominated the field, while Bowerman Track Club teammates Courtney Frerichs and Courtney Quigly ran incredible races in their own right to nail second and third.
What's going on tomorrow?
Here's the schedule! You can also watch on NBC by checking their listings.
Catch up on how the rest of the trials have been shaking out with our daily recaps!