How To Start With A Clean Slate After A Bad Race
We've all had those dismal races. Here's how to bounce back.
Heading out the door? Read this article on the new Outside+ app available now on iOS devices for members! Download the app.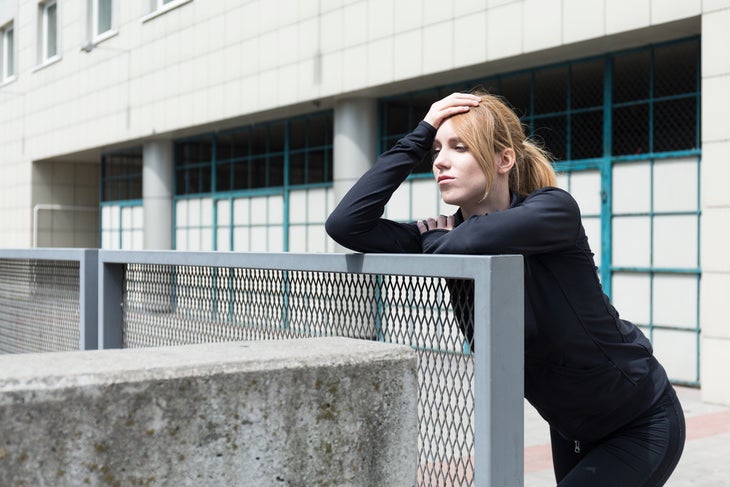 Ever have a bad day? (Seriously, who hasn't?) A bad race can be the same thing—it comes when you least expect it, leaving you with the bad race-day blues. Months of tedious training, staying faithful to a regimented schedule, eating the proper foods, getting that extra sleep and psyching yourself for a great race all seem for naught if you don't achieve what you'd hoped to. Is there anything more frustrating than that? Sure, you can replay every second of what just happened. Maybe you went out too fast or you went out too slow. Perhaps you should have hydrated a bit more or munched on that energy bar for extra fuel. Then after awhile, that immediate feeling of defeat passes, with the reality that bad races are going to happen and like anything in life, it's how you deal with a result that's more important than the race itself.
As a runner, I believe we begin each new race with a "clean slate," a chance to perform better than we did the day before. I've sure had my fair share of unfavorable races, but I've learned that they make the good ones much more satisfying. And although there is no "science" for how we deal with a crummy race, here are some tips that may be useful.
Related: How To Move On From A Bad Race
Remember it's temporary.
A bad race doesn't mean you're a bad runner. Just because you didn't hit a personal record doesn't mean the opportunity to do so in the future is lost. Give yourself a little time to be upset over it—you have every right to be! "If you're invested in your running and don't get the expected return, these feelings of disappointment are natural and healthy to express. It shows your commitment and passion," says Gloria Balague, Ph.D., a Chicago-based sports psychologist who works with professional athletes. But after a time of letting it sink in, remember that's it not in your control at this point anymore. Balague claims that, "Prolonged grieving lowers self-confidence and motivation." So leave behind the, "I should have done this or that." Amazing though it would be, you can't go back in time to adjust all the nitty gritty moments you wished you had done better.
It's a learning opportunity.
Although it may not feel this way, a bad race can be the most beneficial factor to your training. According to Cory Nyamora, Psy.D., a running coach, clinical psychologist and director of the Endurance Sports & Psychology Center in Berkeley, Calif., "Every race is a learning experience, so whatever happened is really okay." It's an opportunity to study what exactly you'd like to do differently in the next race, in order to avoid the letdown. Okay, so maybe the split of your last mile was slower than you anticipated—zero in on where you went wrong there. In this way, you take charge of your mistakes by turning them into successes. It's a great chance to focus on how you might transform the next race!
Related: 50 Life Lessons Learned On The Run
Accept it.
As runners, it's important to be aware that our sport can be cruel. We put ourselves out there each day because we love what we do, some days with little reward. It's the nature of the beast. At the end of the day, sometimes we have to realize the reward comes from the commitment and devotion we give to the sport, rather than the race results. We have to leverage a significant amount of emotional energy to stay on top of it. Your head and heart work together like pieces of a puzzle when you stand on the starting line. Accept the fact that a bad performance is just that, and you have the power within you to overcome it, and kill it at the next race.