A Psychologist's 4 Tips For Boosting Runner Confidence
Cognitive behavioral psychologist Dr. Jeffrey Brown provides his four tips to help runners boost their training and race-day confidence.
Heading out the door? Read this article on the new Outside+ app available now on iOS devices for members! Download the app.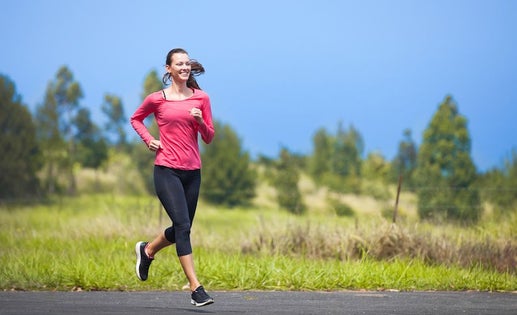 Amy Schumer's new movie I Feel Pretty is a story about a woman who believes she's unattractive–and then, after an epic fall off a spin bike, she suddenly sees someone with supermodel beauty staring back at her in the mirror, even though absolutely nothing has changed. Great things begin happening for Schumer's character based solely on her belief that she is gorgeous–and therefore has more confidence.
This scenario begs the questions: How would my training and racing change if I had more confidence, and how do I gain more?
Most sports psychologists and countless studies will tell you that when it comes to running and racing, what you tell yourself matters. Runners know by now that working on their mental game is a must and having confident mantras at the ready can make or break a race.
Practice Self-Talk
"Women are no different than men when it comes to self-talk," said Dr. Jeffrey Brown, a champion of cognitive behavioral psychology at Harvard, psychologist for the Boston Marathon and author of The Runner's Brain. In describing how the brain responds to confident self-talk, Dr. Brown broke down the language of the brain like this:
"The reticular activating system [a set of nerve pathways connecting the brain to other parts of the body] takes in the information we provide for it and uses it to help create a sense of self," Dr. Brown explained. "That includes negative information and messages, [so] make sure there is a surplus of positive, accurate statements about yourself and your abilities to confidently perform in races."
The last part of Dr. Brown's advice may be the most important. Having a "surplus of positive, accurate statements" should be as much a part of your training as speed sessions at the track. The accuracy of the statements can be garnered directly from your training by making note of achievements in tangibles like pace, speed and distance alongside intangibles like attitude, grit and perseverance.
Encourage Self-Belief
You must believe what you're telling yourself in order for positive self-talk to help. "Believing in one's own abilities has everything to do with confidence," Dr. Brown said. "This is no different when it comes to new runners. If you haven't run much before, you can still realize that while confidence may not be strong, it's still in line with how someone trying something new likely feels."
You can take that feeling of newness into different race distances as well. The important part, according to Dr. Brown, is that "you are planting confidence seeds that will need to be nurtured and eventually harvested down the road." This brings a whole new meaning to the phrase, "You reap what you sow!"
Don't Be Over-Confident
Is there such a thing as being too confident?
Most women would probably agree that men don't have the same issues we do when it comes to bragging rights or sounding over-confident, but Dr. Brown begged to differ. "I'm not sure I agree that men have more leeway to boast. I'd be curious if there's an actual source for such research. Consider who is boasting to whom? Most should worry less about sounding too confident if they simply speak objectively about their skills, abilities and performances."
Practice Self-Visualization
If you watched any of the alpine skiing or halfpipe snowboarding events at the Olympics, you probably saw a lot of the athletes going through animated visualizations of their runs, moments before hitting the slope. Why? Because it works!
"If one believes they can accomplish a goal, visualization can help them experience accomplishing a goal or a particular step that needs to be taken toward a goal," Dr. Brown explained. "Using all of the senses in real time is key to successful visualization. By seeing that a goal is attainable, even in visualization, a runner may better understand their abilities to accomplish a goal and whether that goal is in reach."
Perhaps the best way to sum up race confidence is this: What the mind can conceive and believe, it can achieve!
Related:
Become A More Confident Runner With These 10 Tips
How Confident Do I Need To Be As A Runner?