Can You Really Balance Family, Work and Running?
Sometimes "doing it all" is not a reality. But we can try our best.
Heading out the door? Read this article on the new Outside+ app available now on iOS devices for members! Download the app.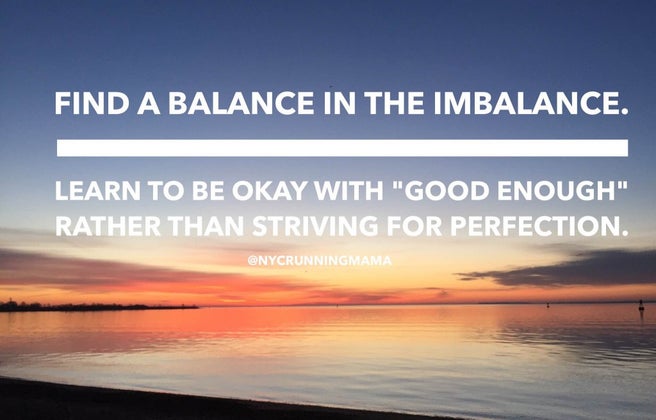 For years, I remember seeing women who juggled successful careers, families and running and thought they had the kind of balance I hoped to one day have.
I returned to work full-time this past fall after almost five years of being home with my two children. I've learned that (for me) there is no balance.
I don't know if it can ever be balanced. There will never be enough time in the day. And I believe the phrase "doing it all" is misleading.
I would love to spend every possible moment with my boys and not miss a school pickup or a soccer practice on Wednesdays.
I would love to not feel heartache when I am at work late finishing a project for a deadline. Or feel that I should have stayed longer at work rather than rushing home to see my boys.
I would love to have more time to cross-train, stretch and recover properly from the miles I do run.
And I would really love to sleep more.
Related: The Secret To Accomplishing Those Big Scary Goals
But I have found a balance in the imbalance.
And here's what I learned:
I can't give 100 percent of myself to everything all the time.
But I can still give 100 percent all the time. It's just that the 100% is now divided.
And I can focus 100 percent on what I'm doing THAT moment, whether it's work, housework, family or running.
I have to be okay with "good enough" rather than perfection.
Priorities can shift from one month or week or day to the next. The closer I get to the Boston Marathon, the more important my workouts are. I'll choose a run over folding laundry or vacuuming the house. Offseason? Running isn't as high a priority as to other aspects of my life.
I have to be kind to myself.
Sleep is always a priority.
Sometimes, it's best to do what will make me happiest, even if it may be viewed as selfish.
I shared these thoughts on my Instagram several weeks ago and loved the feedback from other women who are experiencing the same struggles of balance.
Related: The Mental Side Of Running