Assault Survivor Kelly Herron Talks About Her Attack 5 Months Later
We want one of those shirts!
Heading out the door? Read this article on the new Outside+ app available now on iOS devices for members! Download the app.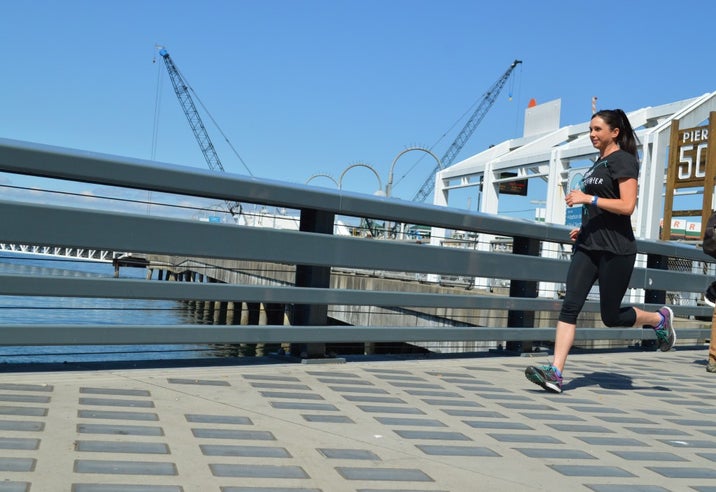 Kelly Herron Shares Where She's At Today And The NTMF Brand
On a Sunday afternoon during a marathon training run, Kelly Herron went to use the restroom in a public park in Seattle. What happened next was horrific: a man, who was hiding in one of the stalls, attacked her while she was drying her hands. Herron fought back hard—and survived.
"When the first news article came out that was based on the police report, it basically said 'homeless sex offender is accused of attacking a woman in restroom at public park.' I knew that there was so much more to the story and I wanted it to be known that taking the self-defense class was part of the reason I survived," says Herron. "I wanted to encourage other women and runners to empower themselves with that same knowledge, and also encourage employers to offer classes like this at the workplace, which is where I took mine.
"My employer, RealSelf, had brought in Fighting Chance Seattle to do a workshop for employees just three weeks before my attack," she continues. "I reached out to a local news station that reported my story to further the advocacy of these classes—little did I know the impact that would have."
Related: 8 Self Defense Moves For Runners
Herron's story rippled through the running community immediately, with thousands of people—"other survivors, law enforcement, husbands of runners, self-defense instructors, first responders, and people from all over the world as far as Australia, Germany and India"—reaching out to tell her she was a hero for surviving the unthinkable. She gained 12,000 followers on Instagram overnight following initial reports, and her own Instagram post, revealing what had happened.
"The moment I realized I was being assaulted and what was happening was real, I screamed at my attacker, 'Not today, motherfucker!' I have never been so pissed off in my entire life, there was no room for fear in the moment," Herron remembers. "I was trying to make him realize that he messed with the wrong girl and that he is the one who should be afraid because I was going to fight to the death. I kept thinking that there was no way I was going to let him rape me and I was willing to die to stop it from happening."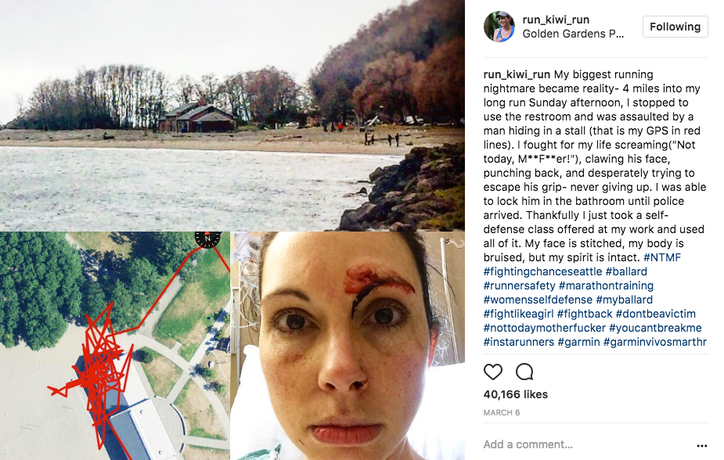 Herron said her body and mind went into shock immediately following the trauma; her primary concerns following the horrific encounter were missing marathon training runs—she's still training for the Chicago Marathon this October!—and making sure her clients were all set at work. She even went to her job to check in before taking time to recover both physically and mentally from what happened.
"The most upsetting messages [I received] were the ones in which people told me what I should have' done," says Herron. "Suddenly everyone with access to a keyboard is an armchair survival expert. I did what I had the ability to do in a moment in which I was caught completely off-guard. You never know how you will react in a situation until you are actually in it."
Herron goes on to say the only "right thing" to do is survive, and for her, that meant following her instincts, acting immediately and "fighting like a savage."
Related: How Self Defense Classes Protect A Community Of Runners
Following her brutal attack, Herron was inundated with requests for apparel sharing those three powerful words, as well as the mangled GPS line data from when she was fighting in the bathroom. It was a symbol of strength. Those four powerful words, now becoming their own brand—NTMF—have since landed on T-shirts to benefit Face Forward LA, an organization that provides surgical care for assault survivors. "The shirt design is of my GPS lines from the attack and on the back are the four self-defense tips I learned in class: Trust Your Intuition, Respond Immediately, Be Loud and Fight Hard, and Hard Bones to Soft Spots."
It has taken Herron nearly five months of therapy and physical therapy to get back to feeling like herself, but she says feeling safe will never be the same. "For me, post-traumatic stress was a life of isolation, depression and anxiety, and to sleep was to enter a war zone. I only came out of through doing the work, accepting help and allowing time to heal." By coming forward her hope is that it "has empowered women to find that savage part of themselves that fights back—whether that is against a violent attack, or even against someone who is underestimating them."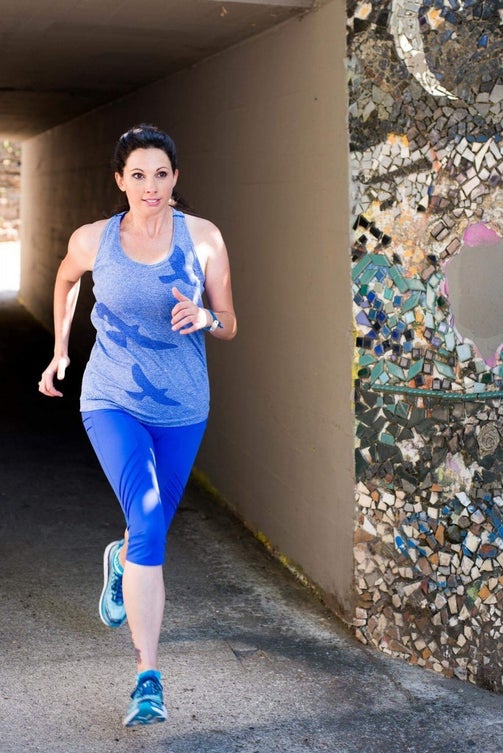 You can support the NTMF cause by visiting Herron's newly launched Facebook page and checking out the shirts for purchase!
Herron is one of our many most powerful women in running and will appear in our upcoming October magazine—keep your eyes peeled!