How One Runner Plans To Run 7 Marathons In 7 Days On 7 Continents
Runner Sarah Ames is taking on this huge challenge.
Heading out the door? Read this article on the new Outside+ app available now on iOS devices for members! Download the app.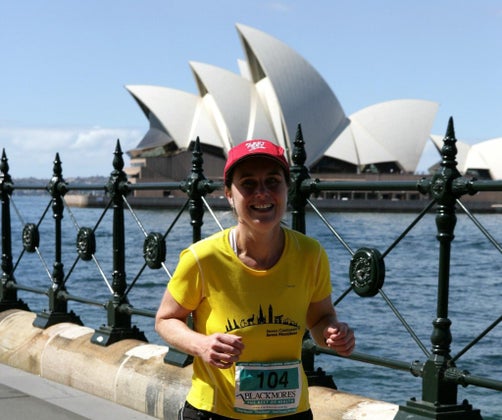 What did you pledge to accomplish in 2016? Try a new class at the gym? Drink more water? How about run seven marathons on seven continents in seven days? That might sound insane to most of us but to runner Sarah Ames, that's just the next goal to check off on her long list of athletic achievements. A busy lawyer in Chicago who has already run marathons on every continent (four times!), she has been training for the second annual World Marathon Challenge. Beginning January 23rd with a marathon in Antarctica Ames, 47, will then run six more through Punta Arena, Chile; Miami; Madrid; Marrakech; Dubai; and Sydney, flying 23,612 miles and spending 59 hours in the air. And even though she deserves all the glory for completing such an incredible feat, she's using her journey to raise awareness and funds for Hamlin Fistula, an international organization in Ethiopia dedicated to the treatment, care and prevention of childbirth injuries. Ames talked to Women's Running about her training, her favorite places to run and what exactly she'll be thinking about during those 183 miles.
Women's Running: Tell us about your background as a runner.
Sarah Ames: You know, I'm an absolute amateur runner. I ran one marathon in 1998. That was my first one, and then really hadn't planned on running more. But I wanted to go to Antarctica so in 2002 I discovered there was a marathon there, and that's why I went- more for the trip than for the run. It was such a fun group, and they were so enthusiastic, so I kind of got infected. So this group kept getting together and having reunions, always in combination with a marathon, and that kind of got me started. Then I started running more extreme marathons, like the North Pole or the Volcano Marathon in the Atacama Desert which is at high altitude.
WR: What made you decide to attempt the World Marathon Challenge?
SA: It's a combination of different things. I've done a marathon on all seven continents four times and the organizer of the North Pole marathon started organizing the World Marathon Challenge last year. I've known him and friends who did it last year, so I went and watched one of the races and it was so inspiring. So I thought that would be the ultimate – I think everybody can get through one marathon somehow, but what about seven of them? I decided I did want to take on that challenge, the mental challenge as much as the physical challenge. The other thing was that I joined the board of Hamlin Fistula and was looking for a way to support them and I thought this would be a great opportunity to make a fundraiser out of it. We have partners that do fundraising in the US, Germany, Australia. The World Marathon Challenge ends in Australia so it was a great match.
WR: What has been your most difficult running challenge up to this point?
SA: They've been difficult in different ways, but the North Pole marathons—I've done two of them—were incredibly cold. It was -40 degrees. But it was so beautiful that you forget about it! The Atacama was very difficult because we started at 15,000 feet but again, the scenery was so stunning you almost didn't want to finish it. I think for me, the hardest ones are the tropical ones. I did one in Sri Lanka and one in Singapore that was actually a night marathon, both right around the equator and they were so unbelievably hot and humid. I think they took much more of a toll than the other ones. It was mind over matter and I think those experiences will help with this one.
WR: How are you preparing, both mentally and physically?
SA: I have a great support network of running friends behind me. The knowledge that I have from 39 marathons—they weren't easy, I wasn't super trained but I still did it and there were enjoyable and fun— that helps. And I'm just looking forward to the journey. I think it's an unbelievable experience and opportunity to see the world in such a whirlwind. Training is really mostly on the weekends. I do long runs, and during the week I'm fairly limited. So in September I started training with a coach and he was very helpful in getting me ready. We trained about three times a week as best we could since I couldn't compromise my job for the training.
WR: What is your recovery plan between races?
SA: You know, trying to get as much sleep as possible is really going to be the key. I do travel an awful lot and have run marathons overseas so I'm very familiar with the long distance travel, but the key will really be sleeping, resting and staying hydrated and taking in enough food.
WR: What do you think about when you're running?
SA: To be honest, as I was doing some of my last long runs, I was nervous that I could get really bored on these seven marathons! It's a bunch of different things. I do listen to music, from classical to pop to a song that reminds me of maybe a song I was listening to at a previous race and it went really well. And at times I do turn off the music and just take in the scenery, because when you're in such unique places, it's important to really take it in and remember where you run. And then at times there are these mental games to trick myself that I'm sure every runner has done, you know, "I've got another 20 miles to go, how do I break this up, a bunch of 5k's" because I've had moments where I'm like "oh my God, this is never going to end!"
WR: Is there a race you're particularly excited for? Or dreading?
SA: I'm very much excited for Antarctica because I've run there twice before and it's a beautiful place. Dreading? The one in Arena, the second one, could potentially be very difficult because it can be very very windy there. Marrakesh will be hard because it's basically the second one in the same day; we run in Madrid in the morning and have a very short flight and then like eleven hours later we run the second marathon. I'm absolutely thrilled to finish in Sydney. I go there quite a bit and have run there several times and it's one of the most beautiful places to finish a marathon.
WR: After accomplishing this amazing feat, what do you imagine could be your next challenge?
SA: Well, I will do the North Pole marathon again in April, but is it going to be as much of a challenge—no! I think this is going to be the penultimate challenge. I don't think you can top that, and that's fine. But I'm sure I'll continue to run, and you'd be surprised how these marathons pop up in places I've wanted to go to and that's an inspiration to go but also to stay fit enough to take on a marathon.