5 Real Stages Of Returning To Workouts After The Holidays
If you took a break from working out for holidays, you aren't alone. Here are the stages of returning to workouts we're all experiencing.
Heading out the door? Read this article on the new Outside+ app available now on iOS devices for members! Download the app.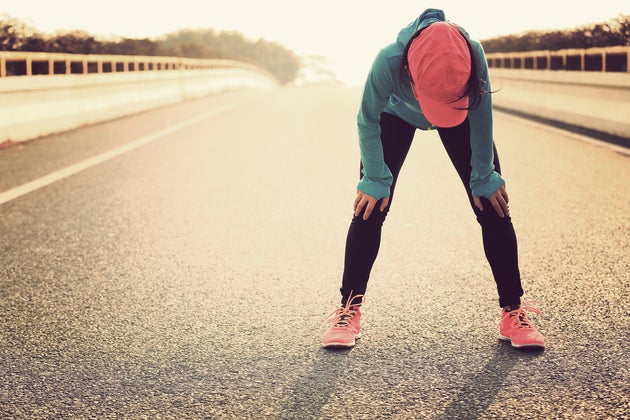 If you're like most people, you probably took some sort of break from your normally healthy lifestyle over the holidays (and if not, share some of that superhuman willpower with the rest of us, please?). No shame in that—once a year, you fully deserve to take a break from spinach and sprints to fully enjoy eating your weight in sugar cookies and watching movie marathons on the couch.
The good news is that after a week of indulgence, you probably feel more than ready to get back at it. The bad news? After a week of indulgence, that enthusiasm wears off pretty quickly when you start to go into gingerbread withdrawal. In fact, returning to working out after the holidays looks eerily similar to the five stages of grief.
Denial
This is going to be fine. I didn't eat that many slices of pie, and I don't even think there's that much sugar in all those peppermint mochas. Plus pie is full of apples and mochas are made of milk, so that's basically fruit and protein. And yeah, I didn't really make it outside for a run, but putting up that Christmas tree was no joke, and hello, battling those crowds at the mall was a full-body workout. Getting back to my routine will be a total breeze!
Anger
WHAT IS WRONG WITH MY LEGS? WHY IS RUNNING THE HARDEST THING I'VE EVER DONE IN MY LIFE? This makes no sense, I was in killer shape a week ago and it is literally impossible that I've become so unfit! This is NOT my fault. I blame my mom for making those awesome pancakes. And my sister for convincing me to go to the movies instead of going for a run. And every single cocktail for being so damn delicious.
Bargaining
Okay. If I just run a mile, that can count as my workout today. And I think it should also earn me one of those leftover cookies. Ugh no. Maybe two miles and a set of squats and I'll reward myself with that last glass of eggnog in the fridge. If I add some lunges I could probably count it as a recovery drink, right?
Depression
This is the worst. The worst day of my life, the worst run of my life, the worst shape any human has ever been in in the history of life itself. Hope you enjoyed your week of sheer laziness and sugar-bingeing, because it's going to cost you ever being remotely fit again.
Acceptance
Alright, deep breath. And not just because you're wheezing. It was just a week off, and an enjoyable and well-deserved week at that. You've taken time off before and come back just fine. Now go throw out those cookies (yes, the ones you stashed in the freezer, too), lace up your shoes and just go run a freaking mile. Only 358 days to get back in shape before this happens again.