5 Questions To Ask Before You Commit To Run In College
As college admission letters roll in, you may decide to run cross country in college. Here's what to ask the coach before you commit.
Heading out the door? Read this article on the new Outside+ app available now on iOS devices for members! Download the app.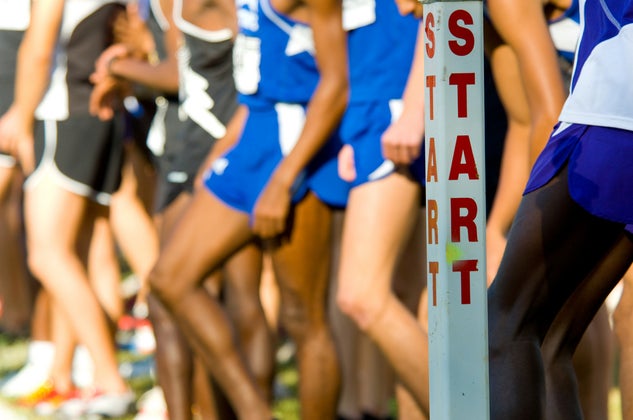 It's that time of year: College admission letters are trickling in and high school seniors are catching the first glimpse of the light at the end of tunnel. For juniors though, that means the pressure is on. They must begin the selection process themselves, peppered with questions like: Do you want a big or small school? Close to home or far, far away? And what about cross country? Will you try to compete in college cross country?
With so many options and sizes of schools, many cross country runners now have the opportunity to run in college. If you have that desire, get excited! After all, this is arguably the biggest investment you will ever make as a student and athlete. By doing research and getting to know the schools you're interesting in, you can find a school that will challenge and grow you as a student. As an athlete, the same research is needed. You will want to meet college coaches, get to know their teams and get an idea of where you could see yourself.
If you have not already, somewhere along the way, you will be sitting in a coach's office and he or she will ask, "So do you have any questions for me?" And you don't want to be sputtering "ums," wasting your chance to gather crucial information.
Here are some questions you might want to ask when the moment comes:
What is your coaching philosophy?
In order to figure out where you might fit within a program, you need to know what the program is like. One of the best ways to do that is to ask the coach. A question like this allows a potential student athlete to see, right off the bat, what the coach's goals and priorities are. Do they take an individualized approach? Do they focus on the long-term development of the athlete? These are two things that were important to me, and helped steer me towards my college choice.
What is the team culture like?
Here's the deal: A coach will rarely know every facet of a team. That being said, you want to ask this question anyway. It is crucial to get a feel for what the team is like, and what the coach perceives it to be like. For instance: Does the team just train together or do they also hang out on their free time? Are they encouraging or focused on self? Pay attention to what the coach's answer. It can help you know what to look for when hanging out with the team on your official visit.
That brings me to my next point: Visit with the team! Whether it is an official visit or not, make sure you meet some of the team members. After meeting with the coaches and team at Butler, I knew immediately I wanted to be a Butler bulldog. So get on that campus and meet up with some of the team members. Granted, not everyone has to be besties—or is going to—but there needs to be mutual respect and love of the sport. Coaches has a lot of influence on a team, but they can also leave, so look to the athletes to see what it's like as a runner and as a student at a particular school. Just like you should with the coach: ask, observe and see if you can picture yourself at the university.
What does a typical week of training look like for someone at my level?
Before taking my college visits, I remember having a certain level of fear about what college training was like. I mean, I figured it would be crazy intense and I would get buried among the other athletes. However, I found that to be far from the truth. A wise coach will cater the training to each athlete, to help them maximize success in the long-term. Be wary if you receive a blanket answer like: "We do ninety minute long runs." First of all:  That might not be a good long run for every athlete. Secondly: It could be out of reach for an incoming freshman who ran 25 miles a week in high school. Smart and consistent training is key. Look for a coach who truly understands that.
What is different about this school?
It doesn't matter what caliber student athlete you are: You most likely have choices. Coaches aren't limited strictly to their role on the team, they are also a part of the university you are considering. So ask them about their schools. See what a coach takes pride in, and in the process you'll see what sets one school apart from others you are looking at.
How do you see me fitting in your program?
Before you ask this question, you need to decide for yourself where you want to fit. Do you want to be the top runner right away, or would you prefer to improve upon your training by training with athletes who will push you and give you a standard to aspire to? There's not necessarily a right or wrong answer—like many of these questions—because it really depends on what you desire from a collegiate running career. But I assure you that your experience at a small division III program will be different than that of a major division I program.
These are just a few of the questions you can ask college coaches. The important thing is to be observant and think of questions as you go. Competing in college is strenuous and it's time-consuming, but if you find the right school: It is incredibly rewarding. As you embark on your college search, I wish you luck and encourage you enjoy the process.