11 Things Only Trail Runners Understand
If you spend all or most of your running time on the dirt, these 10 woes probably mean something to you.
Heading out the door? Read this article on the new Outside+ app available now on iOS devices for members! Download the app.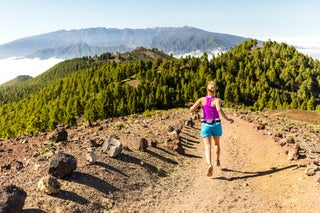 I was so nervous on my first trail run that I carried a clanging bear bell and sang "Wheels on the Bus" over and over—making noise lessens the likelihood of surprising a bear—for two hours straight! And by the time I finished the 13-mile loop, I was covered in grime, my white road shoes were unrecognizable, and, after taking a wrong turn, I had to scramble down a scree field to get back on the trail. Basically—it was awesome!
Related: Your First Trail 10K Training Plan
With new adventures and challenges around every bend and curve, even those with spastic fitness desires are drawn to nature's siren song. "Nature" is way more than cuddly bunnies and fields of wildflowers. It's also jagged rocks, panoramic vistas and knee-deep mud bogs. Drop your pretensions and get quirky—and if you're new to the dirt, there's more mellow options that deliver the same taste of adventure. If you most or all of your time winding through dirty single or double-track glory on every run, here's 10 quirky things that trail dwellers will appreciate more than anyone else:
1. Clean shoes are for city slickers. When road running was my only jam, shoes had to be pristine clean. Now the messier they are, the better. Red dirt, sand, clay—grime on your shoes means you're having fun! Bonus points if you're mending rips and tears with duct tape and have multiple colors of dirt on your shoes.
2. Dirt lines rule. I know it's a trail worth repeating if I have a pronounced dirt line on my ankle above the sock line after removing them.
3. Peeing au naturel feels right. Bathrooms can be few and far between on trails. Thankfully a discrete and speedy pee behind a tree works too. It's also guaranteed to have a better view than most bathrooms you'll visit. (Ed note: During one of our editor's first trail race, the organizers literally said, "If you're a true trail runner, you pee in the woods," when asked where the restroom at the start line was.)
4. It's nice to share. Not that runners on the road aren't kind and thoughtful, but there's something about trail running that inspires unique camaraderie, different conversation and a willingness to help in a bind and share supplies and fuel when needed.
5. Be prepared. It's not that you have to leave the house as though you're going on a grand expedition, but it is smart to be prepared. Heading off-road, expect the unexpected—like hail storms, waiting out a napping bear, running extra mileage after taking a wrong turn.
6. It's okay to walk. At least on the uphills! Long climbs, arduous descents and gnarly terrain make trail running fun. But they also make walking pretty much a necessity for the mortals amongst us—and that's okay, just as it is on the roads. Power-walking the ups gives your body a chance to recover so you're ready to charge on the flats and bomb the downhills. Unless you want to walk those too—you can hike your run and run your hike!
7. Chuffing. No, it's not the sound you make heading up hill. It's the sound a bear makes when they are warning you to back off. Never did I think this was something I would need to know, much less experience, but it happens. If a bear is blocking the trail, keep in mind that you aren't in a zoo, and there is no protective barrier between you and the bruin. Gather any wits about you, stay calm and find a new route. (Ed Note: There are plenty of trail options around the country that offer bear-free routes and are great for beginners wanting a taste of the great outdoors sans the grizzlies.)
8. Trail etiquette is key. Cyclists yield to runners and runners yield to horses. Remember: Everyone shares the trail. So even if you can't decipher the confusing multi-directional triangular trail signs or decide how to dodge someone on a narrow section, be nice, give people plenty of room when you pass and say, "on your left." It may seem counterintuitive, but even slow moving uphillers have right of way over those bombing downhill. If it's a singletrack area, most slower-moving runners and walkers will yield and step aside if you're coming in hot.
9. The sounds of nature. Sure music can give you a boost, but so can the sounds of rustling leaves, croaking frogs and bugling elk—or perhaps dead silence in this loud world. Plus, I want like to hear if a large animal or mountain biker is about to plow through me.
10. Scars are cool. While falls aren't inevitable, scrapes happen—errant branches, a stick in the middle of the trail rocks or other unexpected edges can nip you as you pass. Look at scars as free tattoos to help you remember epic runs. (Ed Note: We always advise running the trails with a second person or with your phone in case any serious accidents do happen.)
11. Function comes first. Trail apparel has come a long way since it's early Forest Ranger-esque colors. Yet favoring functionality means color is usually the last thing considered when running outfits are assembled. Why do you think so many races are run during the dark? Kidding!