10 Things Never To Say To A Runner In The Opposite Climate
Whether it's warm and sunny or cold and snowy, there are just some things you don't say to a runner on the other side of the country...
Heading out the door? Read this article on the new Outside+ app available now on iOS devices for members! Download the app.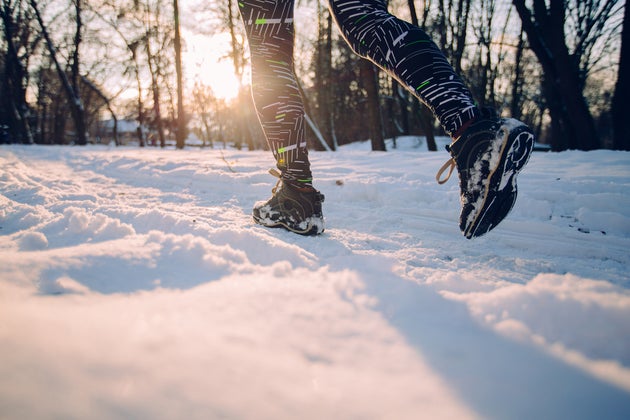 The grass always seems greener on the other side of the country but, let's face it, for four months out of the year some of us don't even see grass because it's buried under snow. I'll be the first to admit that running in the heat can be very painful, however it is somewhat avoidable if you wake up early or run later in the day. Freezing cold is worse in the morning, gets somewhat tolerable in the afternoon and drops back to freezing after 4 p.m. And, by "somewhat tolerable" I mean anything above 10 degrees. Sound fun?
Since you warm weather runners cannot possibly know the depths of a cold climate runner's pain, please avoid saying any of the following, lest you get a massive eye roll at best and a throat punch at worst. Go ahead, make our day:
It's SO hot today!
OMG I had to put on a long sleeve for my run. It was so cold!
It's so annoying that I have to wear sunglasses on every run.
I jumped into the pool the moment I returned from my run. So refreshing!
I cannot believe we had running group at the track today. It was barely 50 degrees and obviously should not have been out there in those conditions. #polarvortex
I opted for the treadmill today since I don't want to get too much sun.
Ice cold, fresh fruit smoothies are the only thing getting my properly hydrated these days. #challenges
Do you know where I can get running shoes with more breathable mesh? My feet are getting too hot on my runs lately.
I seriously cannot believe it's been raining all day. This is the worst weather!
Is it possible to overdose on Vitamin D?
And, cold weather runners can push a few buttons on their warmer counterparts as well:
It's SO cold today!
I had the most epic snowshoe run, like running in a snowglobe! #perfection
After our group run we cozied up to the fire and had s'mores!
Since the track is covered in snow, we changed our plan to just a fun indoor run.
Went shopping for my new winter running wardrobe! #YouCanNeverHaveTooManyRunTights
My race doesn't start until noon this weekend because of the weather. Oh well, I guess I'll have to sleep in!
Making another pot of chili and hot toddy's for after this weekend's race. #ComfortFood
All employees were asked to stay home today because of the blizzard. More running time for me!
Skiing is the best cross training!
Getting out of town for some fun in the sun later this week. #Bestofbothworlds