10 Things I Have To Say About My First Boston Marathon
I was fairly warned about some—and totally shocked by others.
Heading out the door? Read this article on the new Outside+ app available now on iOS devices for members! Download the app.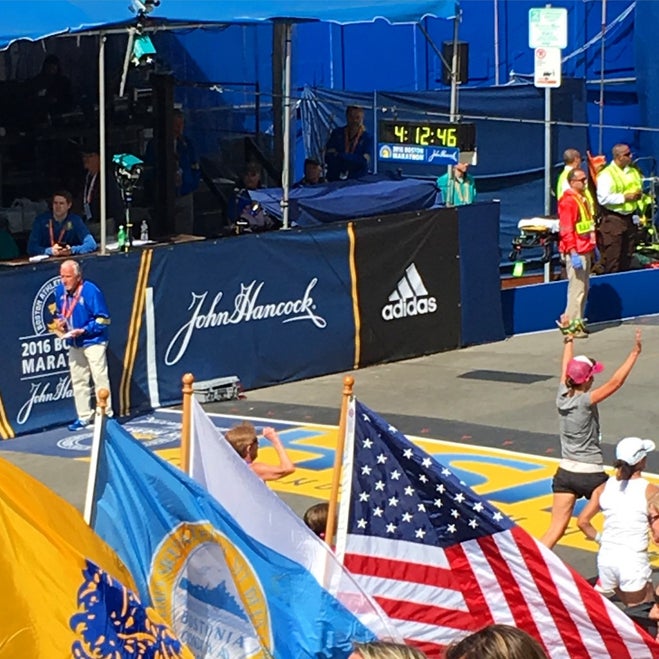 I ran my first Boston Marathon—my second marathon ever—last Monday, and it was everything I ever expected and more. The crowds were massively encouraging, the course was insanely tough and the finish line was like a runner's fairy tale. Two days later, I'm still proudly hobbling around like someone pounded my quads with a stick. But I'm still on cloud nine from that 3 hours, 47 minutes of my life.
However, after reading so much, hearing so much and researching so much about the race, some parts of my race still managed to shock this naive first-timer. Here are some of the top things I experienced along the way from Hopkinton to Boston, despite the many "warnings" I received for some of them:
1. The porta-potty line took 45 minutes at the start. Disclaimer: This is not a complaint, since I had two hours to kill and my stomach (surprisingly!) was not acting up. But it really took 45 minutes for a massively long line to weave its way through lounging runners toward the copious amounts of toilets. So wild. The whole start village experience was wild too—you turn the corner from the buses, and it's just a sea of RUNNERS.
Related: What Were Boston Marathoners' Favorite Moments?
2. Security was on point. Let's just say every corner of that start village, every street of that course and every corner on every side street was covered. It was outstanding. Even fly-over advertisement banners were followed by military helicopters. Well done, Boston. I hope to one day live in a world where that's not necessary, but I would say the race was the safest place in Massachusetts on April 18.
3. There's an eery five-second silence right before the start gun. Those five seconds were the moment where it all sunk in that I was about to run the race of my life. I was so overcome with emotion that my mind started doubting my worthiness to run the damn thing. There wasn't a loud, thunderous 10! 9! 8! etc. countdown that I expected—there was a 30-second warning, then the crowd and runners fell silent, as if everyone knew just how sacred those precious final seconds before the gun really were. It was as if everyone was praying.
Related: 9 Photos That Prove Boston Is The Best City For Runners
4. It is apparently a big deal to make it to Boston for your second marathon. I heard so many stories, everything from "I tried to get in four times," to "This is my sixth Boston," to "I decided to run for charity to experience it," but whenever someone asked my story, their eyebrows raised slightly higher at my response. I didn't truly realize the tremendous honor it was to be there until those quiet five seconds.
5. Question: How come no one talks about Lake Cochituate? This is a brief part of the race as runners creep into Natick, but for me, I spent the first 10K convincing myself that I could do this thing. Once we hit the lake around mile 9, I fell a huge sense of calm as I just fell into a comfortable stride, stopped checking my watch and just committed to make it to the finish in one piece. It was so beautiful and the perfect spot for spectators to be absent for a few minutes.
6. Wellesley is loud—but Boston College was WAY louder. I heard those screaming girls from half-mile away, but I honestly found it a bit underwhelming after hearing about the "scream tunnel" for years. Don't get me wrong, the girls holding signs in front of their tube tops and short shorts made me LOL—"Run faster and I'll drop the sign!"—but BC was way more rowdy, loud and encouraging. It probably didn't hurt that I passed through much later, when the crowd was drunker, louder, and I needed the support much more. Those red Solo cups lining the gutter never looked so appetizing.
Related: 10 People You Should Have Followed Before The Boston Marathon
7. Newton does break you. I admittedly did not do enough training for this portion of the course, so I was crushed after Newton. My lungs felt fantastic, but no one lied—flipping back into downhill mode after climbing is nearly impossible if you aren't prepared. I was spent and spent the last 10K confused about which was better: an up or a down. Or a nap. Or a drink.
8. Part of me hates the Citgo sign—but only part of me. It would have been nicer if the "one mile to go" mark wasn't visible from TWO MILES TO GO. I think mile 24 was the longest part of the race because of that reason, another thing I was "warned" about but didn't realize just how true it was until I was stopped on the side of the street begging my legs to finish.
9. That left turn onto Boylston will be the single-most incredible runner moment of my entire life. As so many people said to me, "You only get one first Boston." I like to think I soaked it all in the best I could with the energy I had left; I choked back tears and cramps to finish the final stretch strong in front my family and friends—and really the whole world.
10. Everyone was right—I'll be back for seconds. I'm not sure when at all, but I'll be back. It hurt so bad but felt so good. I know I can run smarter, better, faster–and now I definitely know what I'm getting myself into.