10 Things Any Pregnant Runner Will Understand
Training becomes a bit more challenging when you are running for two.
Heading out the door? Read this article on the new Outside+ app available now on iOS devices for members! Download the app.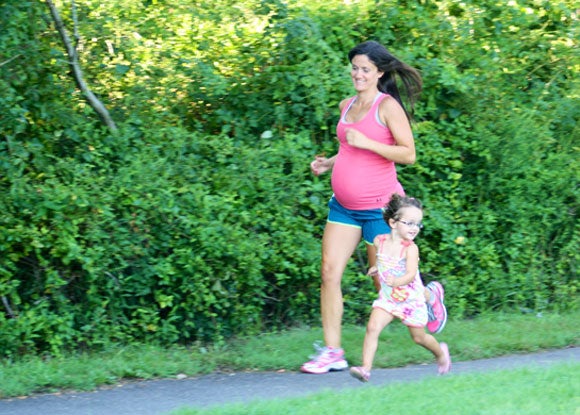 Pregnant runners are strong and filled with determination, but carrying around a developing baby during your miles can be difficult! Training becomes filled with new problems and unexpected surprises. These are just a few of the issues that can regularly occur when expectant moms lace up their running shoes.
1. Self-consciousness during runs. In the early weeks, you almost want to wear a t-shirt emblazoned with "I'M PREGNANT" in an effort to explain to complete strangers your slowing pace and expanding midsection. Trust us—they don't notice. All they see is a badass runner. Of course you may soon need to field off the dreaded "Is that okay for the baby?" question. While a sharped tongue retort may be what you want to give, a calm explanation of the benefits of running while pregnant goes a lot further.
2. You have every possible bathroom stop mapped out before you start your run. However there are times when a well-hidden outdoor area is about as far as you'll make it. How is it possible to feel the urge to go multiple times in just one mile!?
3. Random thoughts, songs, or just an object you pass can trigger intense emotions. I'll admit it—I've cried on more than one run during pregnancy. Just blame it on the roller coaster of hormonal changes.
4. Morning sickness on the run—not fun at all. Sometimes getting in a few miles helps ease the nausea. Sometimes you just end up loosing your last meal.
5. You can mark your changing body by how your running shorts fit. One day they are fine. The next day they have suddenly turned into body clinging bootie shorts. The same goes for when your running tees become midriffs. And let's not even get started on the whole sports bra struggle.
6. When your running group and training buddies go out to celebrate their hard earned miles with an ice cold beer—and you'll just have water, thanks. Then you'll probably peace out early because running while pregnant can be exhausting!
7. Someone has caught you conversing with your unborn child on the run. Nope, you're not a crazy person. It's just awesome to have someone to talk to and bond with!
8. You break down and finally buy the dreaded pregnancy running belt. It may help to lessen the load of a growing belly but not without movement, some chafing, and feeling like you are wearing a backward WWE Championship belt.
9. Watching your pace per mile get slower and slower and s l o w e r. But hey, you're out there running, right? That is really all that matters. Well, you are running until your runs turn to run/walks. Or just walks. But seriously—no shame because at least you're staying healthy.
10. When some of us have to make the tough decision to hang up our running shoes until after pregnancy. Women who run until labor strikes are awesome, but unfortunately we all can't live that dream. Don't beat yourself up! Instead be comfortable in your decision to run, walk or rest. Running will be there when you are ready to return and it will mean so much more.
What other challenges would you add? Tweet us @womensrunning to share!