The Best 10 Songs For Hard Workouts
Inspired by the stadium noise that is March Madness, these are the best go-to songs that rev up your engine for a hardcore workout.
Heading out the door? Read this article on the new Outside+ app available now on iOS devices for members! Download the app.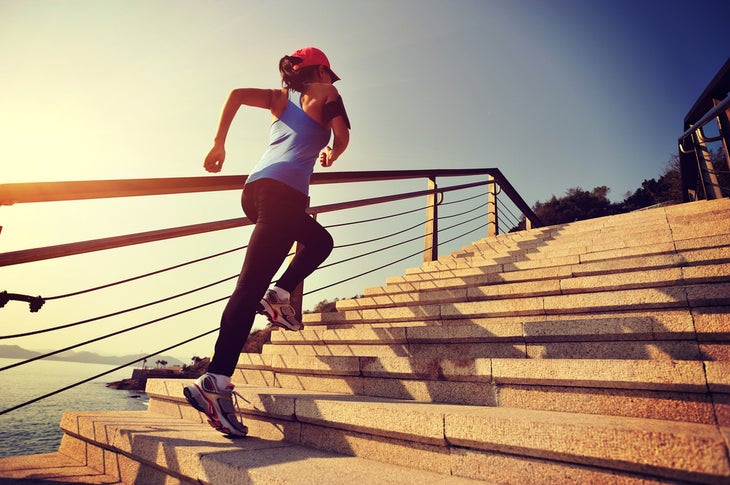 One virtue of music—and all art—is that it represents a bid for immortality. Arena anthems provide striking, modern examples, as they include tunes that are dear to several generations of people at once—even when artists have disappeared from the scene. They also represent a curious way to cultivate an audience, as many of the songs we associate with sports weren't written with this goal in mind. (As an example, consider the unlikely popularity of Neil Diamond's "Sweet Caroline" in Fenway Park and beyond.)
Related: The Best Marathon Playlist
The playlist below begins with The Stones' "Start Me Up" and ends with Europe's "The Final Countdown." In the middle, you'll find dance cam favorites like "Bust a Move" and "Twist and Shout." There are also sing-a-long epics from Chumbawamba and Blur. Lastly, you've got aptly-titled hits for competition—like "Lose Yourself" and "Takin' Care of Business."
Related: The Best Long Run Playlist
If you've heard any of the songs below in a stadium setting, you already know their power to rouse. To that end, the aim here is to harness some of that energy and put it to work in your personal routine. So, grab the list wholesale—or pick out a few power tracks—and get active.
The Rolling Stones – Start Me Up – 123 BPM 
Chumbawamba – Tubthumping – 104 BPM
Young MC – Bust A Move – 117 BPM

Bachman-Turner Overdrive – Takin' Care of Business – 129 BPM

Pat Benatar – Hit Me with Your Best Shot – 128 BPM
The Beatles – Twist and Shout – 129 BPM
Eminem – Lose Yourself – 87 BPM

Billy Idol – Mony Mony – 136 BPM
Europe – The Final Countdown – 117 BPM
To find more workout songs, folks can check out the free database at RunHundred.com. Visitors can browse the song selections there by genre, tempo, and era—to find the music that best fits with their particular workout routine. Chris Lawhorn runs the workout music database Run Hundred and contributes playlists to Women's Running. He also operates the Case/Martingale record label and holds a BA in English from Ball State University. Before joining Women's Running, Chris covered workout music for Shape and Marie Claire.