You Know You're A "Real" Runner When…
At what point do you finally own the label "runner"?
Heading out the door? Read this article on the new Outside+ app available now on iOS devices for members! Download the app.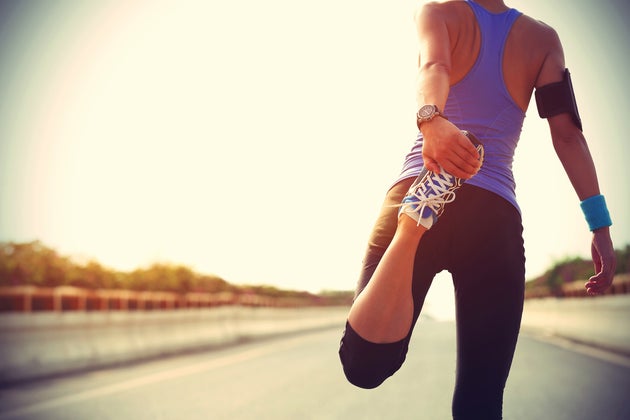 Running can be intimidating. In the beginning, everything about the sport seemed beyond me—running plans, training techniques, sorting through the latest in running shoes and fuel. And then there was the granddaddy of them all: participating in organized races. While waiting at race start lines, fake-stretching, I would study the other runners. Some simply exuded confidence and personified total fitness as they proudly wore their half marathon bibs (as compared to my 5K signage). In my mind at the time, they were the "real" runners out there. Me—I was just faking it until I made it.
But how do you know when you've made it? At what point do you finally own the label "runner"?
1. They could script an episode of "This Is Your Life" based on the T-shirts in your drawer reflecting races and places you have run.
2. The volume of laundry in your household has doubled with the addition of sweaty running clothes.
3. When you are driving to work and see people running, you are hit with pangs of jealousy…even if it is 38 degrees and raining outside.
4. You could write tasting notes for sports gels and hydration flavors with the same flair that the Top Chefs describe their dishes.
5. Instead of toys belonging to kids or family pet, your family room floor is littered with foam rollers, foot rollers and massage sticks.
6. "Destination race" and "my next vacation" are synonymous.
7. Some of the best conversations you've had with your best friend or significant other have taken place while sweating and pounding pavement together.
8. You are guilty of rearranging your social calendar to get in your long runs.
9. The clerks at your local running store know you by name.
10. You are at risk of alienating half of your friends because of the number of running posts, tweets, re-tweets and memes on your social media pages.
But while the above may be signs that you officially are hooked, the answer to when you became a "real runner" actually is this:
You became a real runner the first time you laced up your running shoes and stepped outside. When you finally ran instead of walked up that hill. When you dared to sign up for a race and had the courage to show up at the start line. The first time you felt like quitting, but didn't. These were the real milestones that constituted your initiation into the sport of running.
Welcome to the club.
Elizabeth Ewens juggles life as an attorney, author, wife, mom and runner, and proudly finished her first NYC Marathon in 2015. You can read more about her journey at midliferun.today or follow her on twitter @elizabeth_ewens.
Related: 14 Signs That Someone You Know Is Addicted To Running