How to Avoid Snakes on the Trail
These 8 expert tips can keep you safe from these mostly misunderstood reptiles.
Heading out the door? Read this article on the new Outside+ app available now on iOS devices for members! Download the app.
Has a "Beware of Rattlesnake" or "Stay on Trail" sign ever made you second-guess running in that space? You wouldn't be alone, as snake phobias are one of the most common in the world. Research suggests that humans and primates are conditioned from young ages to fear snakes, probably as an evolutionary tool from when snakes were a serious deadly threat to early mammals.
Experienced and avid trail runners, however, often have the same mentality about snakes that surfers do about sharks: They just don't think about them. While that may be well and good for some in the trail running world, the rest of us might still be searching for peace of mind and steps for how to achieve it.
With their camouflaged bodies and quick reflexes, it's understandable why snakes tend to make runners apprehensive about braving the trails. These snake safety tips will help you learn how to avoid snakes on the trail or have a more harmonious interaction when you happen to run by one.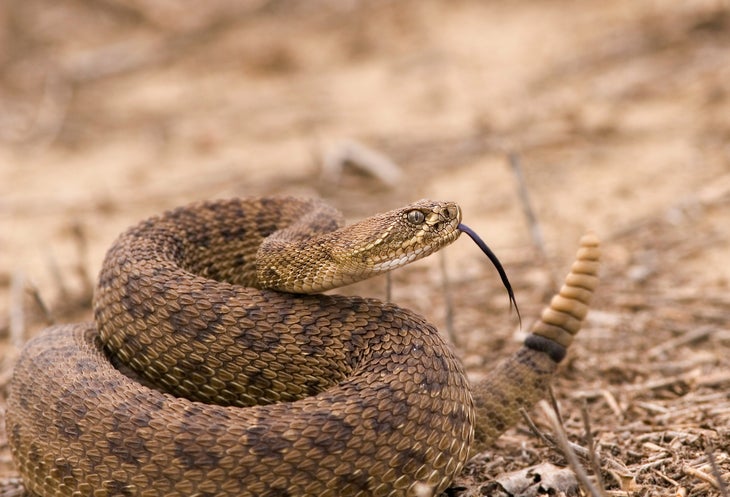 Basic Snake Safety
Before you begin running, educate yourself.
Studies have shown that people with a knowledge of snakes are less likely to be afraid than people who only know superficial things about them. It's important to know the types of snakes you might encounter on certain trails, not just to mitigate your fear but also to prepare you should you have an encounter. For example, running on trails with Garter snakes is far less risky since their bites are not venomous. However, being bitten by a Rattlesnake could be deadly. You should always be aware of whose territory you're entering.
Run with a buddy.
The power of the buddy system cannot be stated enough. Running with a buddy gives added security to your run. Two pairs of eyes are always better than one, and your buddy can help you keep an eye out for our slithery friends. Plus, if you were to get injured, you would have a friend there to help.
Hide those ankles.
While low ankle socks may be more stylish, getting a cushy pair of high ankle socks will help protect your ankles from unexpected snakebites while running. You may feel like you look like you came out of an 80s music video, but the look is coming back into style. Make sure the socks are thick but breathable if you're running in the summertime. Long running tights can be another layer of protections as well.
To avoid snakes, run when it's coolest.
If you really want to know how to avoid snakes, the best way is to run when they're less likely to be around. Snakes are cold-blooded creatures and will be most active when the day is at its warmest and the sun is at its highest. According to ecologist Alan Williams, you are most likely to encounter a snake on trails from late spring through early fall. The warmer the season gets, the more active snakes get during the day, even in the mornings and evenings during the summer.
Look for snake safety warning signs at the trailhead.
Hopefully we don't have to tell you that "Beware of Snake" signs are there for a reason. Always stay on the path. Though it may be tempting for the adventurer in us to brave climbing the big rocks, taking a shortcut through the high brush, or check out that epic water fall, don't do it. According to Williams, the crevices between rocks, tall thick grass, and mossy areas near waterfalls or rivers are favorite hang-outs for snakes. It's away from the hustle and bustle of the wide-open areas and keeps them warm. If it's not on the trail, steer clear.

"Beware: Snake Crossing" is another sign you might encounter. Keep an eye on the trail. According to David Joaquim, a hiking guide at My Arizona Guide, snakes will often move on and off trails during the winter months to keep themselves heated. Though keeping away from foot traffic is preferable for snakes, their ultimate goal as reptiles is to keep the blood flow moving and their bodies toasty warm. Open areas tend to get the most sunlight as opposed to shaded grassy areas and under rocks, where you'd find snakes in the summer months. "Rocks, fallen logs, and other obstacles may be great basking locations, so take a good look before you step," says National Park Service biologist Nicole Brandt Turner. As you're running, watch where you plant your feet. You don't want to impose on a sun-bathing snake in the middle of the trail.
Avoid nighttime trail running.
Snakes can be active during the day but are also nocturnal since they have to remain in motion on cold nights to keep their body heat up. Seeing a snake during the day is tough enough. The chances of having a negative encounter with a snake at night is higher since you likely can't see where you're stepping. Snakes also hunt at night. Their heat sensors allow them to detect pray unseen this way. You don't want to step in between a snake and its dinner. However, if you must run at night, run with both a buddy and a headlamp.
If you see a snake, don't panic.
Even if you're being careful, you still might not be able to avoid snakes on the trail. With their excellent camouflage, you might not get a warning from them before you even see they're there. "If you spot a snake, give it a wide berth," says Brandt Turner. "Hissing, huffing, rattling, coiling, and writhing are all warning signs that you are too close." Slowly back away from the snake and either try to find a way around it or just run back the way you came. Snakes tend not to harm people unless they are provoked, and it's important to remember that you are in the snake's territory, not your own. Respect their space and they will respect yours.
What to do if a snake bites you.
First, remain calm. Try to remember the color and size of the snake to identify it to medical professionals. Call for help. Brandt Turner recommends having the emergency number associated with the area you're running in saved in your phone, whether that be Search and Rescue or the ranger station. "If you need to get yourself out, move slowly and try to minimize movement to the area that was bitten. Remove restrictive clothing around the bite area which may constrict swelling, but don't remove your shoes," she says. According to the American Hiking Society, most snakes are harmless and the majority of bites are not fatal, but knowledge is certainly power when encountering wildlife.