It's Time To Stop Comparing Yourself To Your Running Buddy
Instead of trying to measure yourself against your running buddy each step, it's time to find out what makes you unique runners.
Heading out the door? Read this article on the new Outside+ app available now on iOS devices for members! Download the app.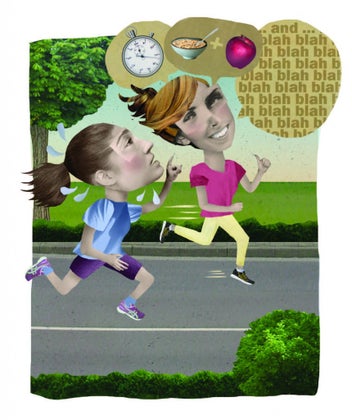 Our uniqueness is what  makes us all beautiful little snowflakes—no two runners are alike! But when you start comparing yourself to your workout partner, the differences can be tough to swallow. 
There's no friendship like a run-bud relationship. Our workout partners venture into the dark with us for early morning runs, engage in deep, endorphin-induced conversations, celebrate our best moments and stand by us during our worst—bathroom emergencies and all.
Running friendships are totally supportive—but they can also make us question what's "normal." A running buddy who matches you stride for stride in workouts but always kicks your butt in races, a pal who never breaks a sweat even when you're totally drenched—what's up with that? We checked in with experts to help us make sense of these puzzlers.
I'm stronger in workouts, but my buddy beats me in races.
Sure, you're happy for her success, but consistently getting beat by your running partner when it matters most can be discouraging. Carolyn Smith, a sports medicine physician and co-author of Running for Women, says a few different factors could be contributing to this performance gap.
One possibility is that you're over-training. "Maybe you're running more miles or running faster in training runs than your body can tolerate, and you're tired on race day," she explains. Another contributor could be in your head. Mental roadblocks can harm performance, zapping energy and causing muscle tension.
To get over the hump, take a close look at your training to ensure you're not overdoing it, Smith suggests, and re-evaluate your race-day routine. Don't be afraid to lean on your buddy for advice. "You have this great resource," says Jess Underhill, New York City–based run coach and founder of Race Pace Wellness. "You can really get to know what it is she or he does to achieve physical success and where you're falling short."
My run bud can eat almost anything before a run, but my stomach isn't so accepting.
Tummy trouble can quickly ruin an otherwise great run. What runner wouldn't be jealous of her friend's stomach of steel?
While some of it simply comes down to bodily differences, there's still hope for runners with sensitive tummies. "You can actually train the GI system to tolerate certain foods just as you train your body to tolerate more miles," says Smith. Start with small doses and gradually introduce it during training. If you want to eat oatmeal before a 10K race, for example, first try eating a quarter of your normal serving before a hard workout. If you have ongoing distress, consult a gastroenterologist.
I like to bust out my tights in cool temperatures, but my buddy always wears shorts.
It's a chilly spring morning and as you approach your meeting spot, you're feeling confident in running tights and a long-sleeve. Then your buddy shows up in shorts and a T-shirt—and suddenly you're second-guessing your wardrobe choice.
Experts say embrace the difference. Your running buddy is clearly comfortable in the chilly temps—and this trait will help you motivate come winter. "Your running buddy might make you more likely to run in cold weather," Underhill says. "It can inspire you to get out there and do it."
I sweat way more than my buddy.
After a hard workout, you can always count on drowning in perspiration—the face-dripping, clothes-clinging kind. Your running buddy, on the other hand, finishes with only a light glow, makeup magically still in tact. What gives?
It's possible you're in better shape, Smith says. The more fit you are, the earlier you start to sweat. Other potential factors include diet and fluid intake and where you are in your menstrual cycle, she adds.
Of course, it could just be that you were born that way and you might as well embrace your wet face. "Don't worry about the little things and value the relationship you have with your buddy," Smith suggests. "Because that's really the most important."