10 Tips To Stay Motivated After Your Big Race Is Over
There are creative ways to keep the motivation running after the finish line.
Heading out the door? Read this article on the new Outside+ app available now on iOS devices for members! Download the app.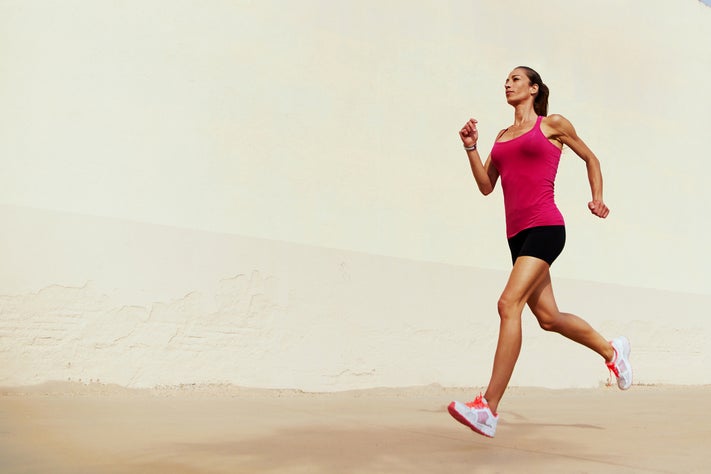 It's normal to have a post-race letdown and lack motivation to run after you've achieved a big race goal. But the good news is, there are many ways to get your runners mojo back. Here's a few to get you started:
Find, join or create a running group
Sharing your run is the best way to keep motivated and accountable. The internet will help you find your closest established running groups, or try a finder app like RunGroup, which helps people find others that fit their level, timetable and goals, or allows them to create their own circle for other runners to find them.
Set a goal or enter a new event
It could be your local fun run or the Boston Marathon. Or, if an "official" event isn't in your wheelhouse, try a "run streak" and see how many days you can make it running. Even if it's 1 mile a day, every little bit counts.
Related: Why Goal Setting Is The Hardest Part Of Running
Put it out there
After you've chosen your goal, tell everyone! Friends, family, coworkers, social media followers—everyone. People will check on your progress and comment on your status to hold you accountable and remind you that people are watching…
Raise money for a favorite charity
No one wants to let down a charitable organization after you've committed to raising the money for a great cause. Raising funds gives your running goals a whole new meaning and reason to try harder toward that goal.
Reward yourself regularly
Sometimes it can be about you. Give yourself a reward for achieving your training goals. This can be anything from a massage to a special dinner with your significant other—either way, make it something you don't do often but definitely enjoy when you do! You deserve it!
Record and share your runs online
Share your runs online so you can see how much you're running and how far you've come. Following your own progress is motivation in itself, but when you use an online platform to record process, you'll see that others also follow along with you. You can't let your followers down, can you?
Related: 5 Tips To Help You Stick With Half Marathon Training
Buy new gear
So you've just finished an event—time for an upgrade! Get yourself the new shoes or GPS watch you've wanted so you're that much more stoked to test them out during your next training run!
Mentor someone
It's time to share your newfound fitness and love of running to motivate and mentor someone else. I can be the "Oh, I could never do that" friends or someone struggling to maintain their ideal body type. Mentoring a beginner runner will help you appreciate how far you've come and keep you motivated to keep on going.
Cross-train or try a new sport
Don't pressure yourself to get straight back into running after your race. To maintain a base fitness level, try a new non-contact sport that relies on a fair bit of running, like soccer, field hockey or lacrosse, or get into regular cycling and swimming.
Hit the trails or change your running environment
If you've never hit the trails before, you're missing out! After so much road racing, the restorative beauty of walking or running on trails is guaranteed to get you out of your post-race blues fast.
Chris Taylor is the creator and running coach of the highly successful Running Domain training programs. Chris is an accredited running coach, with 20 years of running experience, 10 years in the fitness industry as a personal trainer and more than 60 marathons and half marathons under his belt in the last decade, including several wins and podium finishes. He has coached and mentored several hundred people through their first marathon and half marathons.