4 Steps To Staying Properly Hydrated On The Run
Early mistakes can lead to serious consequences. Here are some important tips on staying hydrated so you can be sure to rock your race.
Heading out the door? Read this article on the new Outside+ app available now on iOS devices for members! Download the app.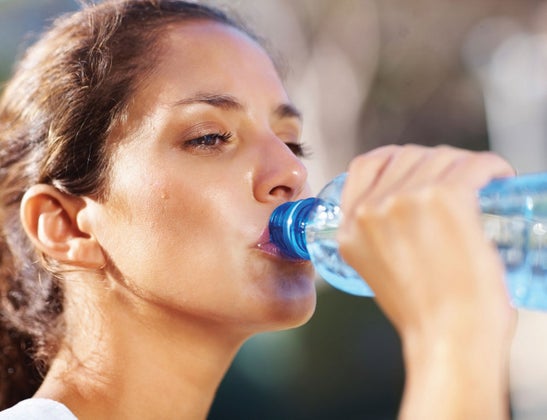 Marla Brizel is training for her first marathon this fall, but she's far from a novice. The 26-year-old from Chicago has been running for about two years, and before that she was a regular cyclist. The idea of keeping properly hydrated during long bouts of exercise isn't news to her.
Yet when she ran the Chicago Women's Half Marathon in June, she ran into some real problems.
"I took extra care to hydrate well all week, but I still had a meltdown at about mile nine," she  says. Her second half of the race was 10 minutes slower than the first, and she ended up in the medical tent immediately after the race. "I learned that aid stations are not enough by themselves to stay hydrated on a hot day. It's probably a good idea to carry a small handheld."
Brizel's training for her first marathon is part of the Saucony 26 Strong project, a collaboration between Women's Running and Saucony that pairs a veteran runner with a first-timer to train for a fall marathon. And while Brizel recovered  quickly from the incident, it was a good reminder that hydration and nutrition during a long event require constant vigilance.
"The best tip I can give people is to get ahead of the curve," says Kate DeProsperis, a Saucony 26 Strong veteran from Downers Grove, Ill., who ran in the 2012 Olympic Marathon Trials. "Take in fluids and nutrition before you need it."
DeProsperis learned this lesson all too well at the California International Marathon in 2010 when trying to qualify for the trials. "The weather was nice and cool, and I made the rookie mistake of avoiding some of the early water stops in order to keep things rolling," she says.
Around the halfway point a wave of lightheadedness came over me. "I immediately started throwing back gels and extra water, but it was too late," says DeProsperis. She ended  up running 3 minutes off the qualifier. "I learned a valuable lesson," she says.
Almost every veteran runner among the Saucony 26 Strong team had a similar story of past mistakes, but these errors have taught them the best tips for staying hydrated and strong through all 26.2 miles:
Have a plan and stick to it.
"The best thing I did with my nutrition during training was to eat and drink on my long runs the exact way I was planning to do on race day," says Sal Nastasi of Massapequa Park, N.Y. "I knew exactly how my body would react on race day."
Get your electrolytes.
You need more than water, especially on hot days. Make sure to have an electrolyte drink (like Gatorade) in addition to water.
Start getting hydrated early.
Katie Oglesby of Littleton, Colo., offers this suggestion: "I buy a sports drink in a disposable bottle and start the race with it," she says. That way you can avoid the crowds at early aid stations. Make sure you drink the whole thing, and then simply dispose of the bottle when it's empty, so you don't have to run with it anymore.
Get fueled before you start.
Gael Henville of Boston led a group of novices for long runs this winter. "Some were running without eating breakfast or with very little fuel," she says. "There were numerous complaints of cramping, hitting walls, loss of interest and so on." Don't start your run already in a deficit.
To find out more about Marla Brizel and the rest of Saucony 26 Strong team, visit 26strong.com.