How to Stay Calm Before A Big Race
Try these three exercises to get your mind in the best place possible before lining up in front of your next big starting line.
Heading out the door? Read this article on the new Outside+ app available now on iOS devices for members! Download the app.
­­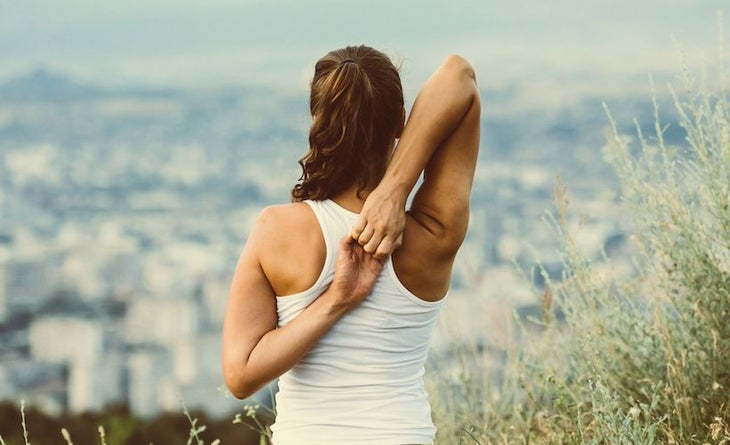 For so many runners, there is no bigger race than the Boston Marathon. Some have trained for years or have worked tirelessly, raising money for a cause they are passionate about to have the privileged experience of running 26.2 miles from Hopkinton to Boylston Street and earning the title "Boston Marathon Finisher."
With seemingly so much at stake, how do you quiet your mind as you stand at the start line? For most, the mental training started with the physical effort months ago.
Lauren Seserko, a running blogger who will be lining up in Hopkinton this year, said, "I try to stick to my usual routine and with taper [cutting back on running workouts], keep busy by cooking more and watching Netflix. If I'm traveling for the race (like I am for Boston), it makes me calmer to have all my travel details planned and printed out along with a loose schedule for my trip."
Seserko is doing so much right by resting, focusing on what she can control and being as prepared as possible. Here are three more ways to help you stay calm before you start the run of your dreams.
Visualization
This technique is used by elite runners and mere mortals alike because it works! The more senses you can involve with your visualization for race day—smells, sounds, touch, sight—the calmer you will feel on the big day. Practice visualization when you already feel relaxed, like when lying down to sleep at the end of the day. Picture everything about race day—your clothing, your breakfast, getting to the start line, each mile—and picture yourself having the race of your dreams. Experts agree: the more often you practice, the better your chances are of being calm on the actual day, since you will feel as if you have already successfully reached your goal.
Meditate Or Listen To Music
If you already have an established meditation practice, hone in on your breathing. If not, the moments before a race are not the time to start finding your inner peace. Instead, music can have a similar effect. Listen to something that pumps you up or relaxes you—either can benefit your nervous system in the hours and minutes leading up to race time.
Change The Voice In Your Head
Instead of thinking, "I'm freaking out, this is too much," change the story in your head to, "This is my body telling me I'm ready to go!" It's much easier to stay amped up when you switch anxious thoughts to those of excitement, instead of trying to downshift all the way to your calmest setting. Don't suppress your emotions; instead, go along with them and think of your fear as excitement on pause.
Related:
Steps To Avoid Pre-Race Anxiety
A Scientific Argument For Getting Your Freak On Pre-Race