Why Shoe Traction Devices And Pool Running Should Happen This Winter
You don't have to stop running just because of snow, sleet or ice. Here are some alternatives for winter running to add to your list.
Heading out the door? Read this article on the new Outside+ app available now on iOS devices for members! Download the app.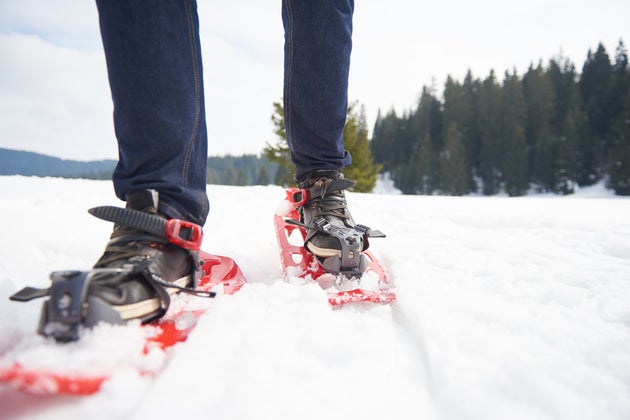 Just because the weather is horrible doesn't mean you have to forgo your run. There are plenty of tools and alternatives available for when the weather (or your mood) is truly frightful or downright dangerous.
As a runner for over 15 years, here are some of the things that work for me, when the northeast piles on the snow and ice.
Traction Devices for Your Running Shoes
The best thing about most of these no-slip grips for your running shoes is that they only take a few minutes to put on and you're off! Alternately, if you find yourself on solid ground during your run, you can easily slip them off as well.
Yaktrax make customized traction devices specifically for running. There is no room for slippage with the 360 degrees of coverage and, they even have reflective material on the top side, for those of you out before the sun.
STABILicers also make customized, run specific, traction gear for your shoes. Runners can choose a color and the terrain. You need not remove these on solid road but simply keep running until you hit rougher terrain and stay stable the whole time.
Kahtoola NANOspikes are ultralight and promise to preserve "shoe flexibility." They do not disappoint!
Customized Running Snowshoes
Full disclosure: running in the snow is hard! This is seriously effective and seriously fun cross training in the winter. The best part is you can strap on these running specific snowshoes anywhere (no trail necessary) and get a great workout.
I use mine quite a bit just playing in the snow with the kids on a snow day but, if I'm going for a quality workout, I take to the hills for repeats or, find a nice trail and try to "run" as fast as I can.
Pool Running
The first thing that comes to a runner's mind when the topic of pool running comes up is probably boredom. Like, boredom more severe than the treadmill. I'm here to tell you, it doesn't have to be this way.
First, pool running will help maintain your running fitness and cut your injury risk to almost nothing. Second, if you have a plan and some simple equipment, it is a very effective and fun workout. I swear.
If you can, invest in a waterproof music device like the WaterFi iPod waterproof shuffle. It has saved my sanity more than once.
Beginner Pool Run Workout
Instead of using one of those cumbersome swim belts, try using water dumbbells if your facility has them, to keep you afloat. Not only will you feel better in the water but you will be getting more of an upper body workout.
10 minutes easy warm up
1 minute medium (something that feels like a tempo effort)
1 minute sprint maximum effort or all out sprint)
30 seconds hands in air (keep moving your legs in the running motion, but put your hand above your head)
1 minute rest
Repeat 10-15 times
10 minutes easy cool down
Remember that the winter months will soon fade into to gorgeous spring days and when the temperatures finally rise you want to be ready, so keep moving all winter long.