Running In Your Forties
Find out how you can make your 40's the best running decade yet!
Heading out the door? Read this article on the new Outside+ app available now on iOS devices for members! Download the app.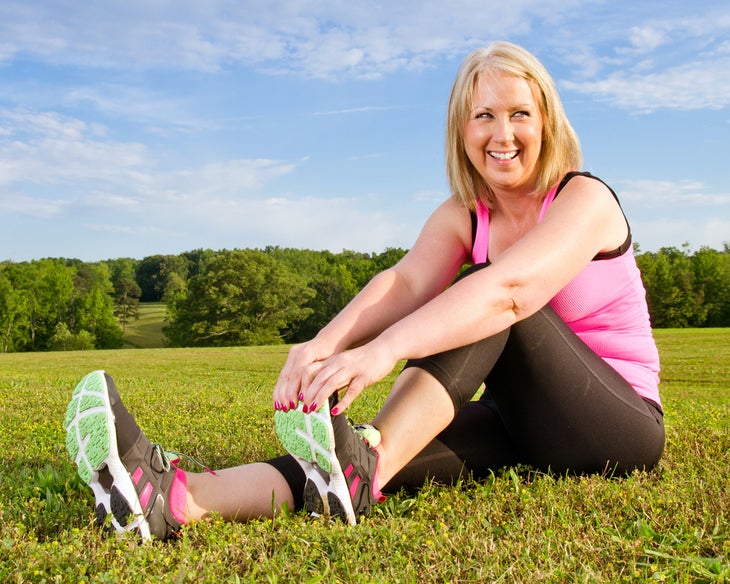 Running at any age is amazing! Need a little evidence? Just check out the six strong women on our March 2015 cover. We rounded up runners of all ages—from 16 to 61—who have just a few things in common: They rely on running to keep them feeling fit, confident and happy, and they plan on logging sweaty miles for the rest of their lives.
We took a look at what makes running special in every decade. We started with running in your twenties and running in your thirties. Now we'll explore what is amazing about running in your forties! Check back soon for why running is amazing from your teens through your 60's!
Get your masters.
It's a great time to keep running—or start running! "I can think of countless examples of women turning 40 and signing up for their first half marathon, and then getting hooked on the longer distances and regular running regimens," says Dellolacono. This is also when you enter the masters age group—but you're the younger set. Olympic gold medalist Joan Benoit Samuelson recalls setting several course records and age-group records and winning masters-runner-of-the-year awards.
Lean In.
The focus that comes with running can be good for your career, says sports medicine practitioner Dr. Stephen Pribut. Katherine Switzer, women's running pioneer, calls this the "magic" decade. "Everyone else is getting overweight and depressed; you are at the top of your game! Running makes you super creative, so you are an ace at your work, and also makes you tough, so you can be very competitive in the decade where you are going to make your biggest strides in business." It's time to channel that confidence bump you got from your last 5K and ask for that promotion!
Related: 5K to Marathon Training Plan
Stay sane when life is crazy.
Molly Barker, founder of Girls on the Run, says, "Running gave me peace. I was newly divorced, trying my best to manage Girls on the Run and raise two kids on my own. Running gave me time to myself, peace and prayer."
Keep it together.
"I hear people say, 'The day I turned 40, my body started falling apart,'" says Tara Dellolacono, registered dietitian and nutrition strategist for Clif Bar & Company. While you are slightly more prone to injury in this decade, she says there's no reason you should crumble. Get stronger and ward off aches by taking time to recover properly, stretch, strength train and practice good nutrition.
Related: Quick Strength Training for Runners
Get some iron, lady.
Running is a great way to keep weight in check, which often becomes an issue for people in their 40s, says Gordon Bakoulis, New York Road Runners editorial director and running coach. "Life is very busy for most people in their 40s— work, family, community involvement all take a lot of time and commitment. Running is flexible," he explains. Nutritionist Monique Ryan agrees, adding, this is when you start losing muscle mass so it's a good time to add weight training and eat some protein within an hour after that kind of workout.