8 Tips For Overcoming The Dreaded Running Slump
We've all experienced motivation lapses that lead to running slumps. When your next slump strikes, learn to overcome it with these tips.
Heading out the door? Read this article on the new Outside+ app available now on iOS devices for members! Download the app.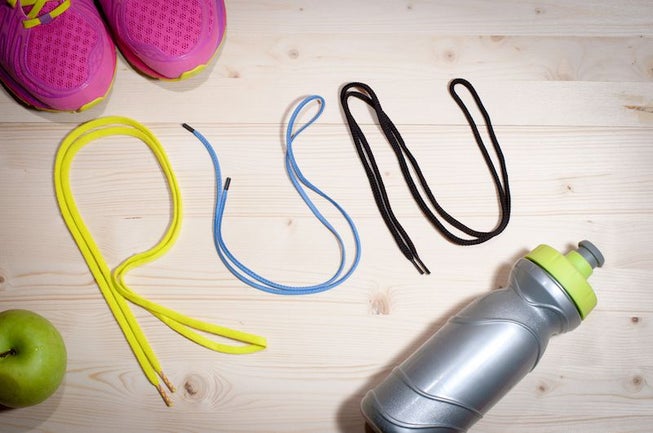 The minute I realized I was in a "running slump," I googled it. I would've gone to WebMD, but I'm pretty sure there is no simple medication or cure-all solution. If you thought purchasing a new sports bra was the answer, I can assure you this is not the case. (I tried; twice.) After not running to my potential in my spring marathon earlier this year, I thought it was a good idea to immediately train for another marathon four weeks later. I put my Strava on "private" and ran 16-milers before my body had fully recovered from Boston. And now here I am, in the depths of fall marathon training and trying to navigate staying afloat and keeping things fun. While buying a new pair of shoes might motivate some people, it's taking a lot more to motivate me…especially in the summer heat. Here's what I've tried so far:
1. Recruiting fun friends to join a run.
It might be rude to categorize your friends, but you know who the fun ones are! These friends will do things like find sprinklers to run through, talk about how they've rated every bathroom on the running trail from Boston to New York City and say that you look drop dead gorgeous as the sweat pools in your shoes. Friends to avoid: side-steppers and negative Nancies.
Related: The Differences Between Running Buddies And Other Friends
2. Make a playlist (or two) that makes you smile.
I don't know about you, but some playlists are great for some days and make my heart pop out of my chest with anxiety on others (Eminem, our relationship is on the rocks right now). Sometimes I can run for hours to the Hamilton soundtrack. (Seriously: try "Burn" by Andra Day and tell me you don't feel like you're going on the most epic break-up run of all time.) On other days, "Lil Mama" by Jain is the most upbeat it's going to get. I have a lot of feelings, and so do my playlists.
3. Hide treats.
My friend and I just about thought our lives were ending during a long run last summer. We had this incredible idea to hide Gatorades on the footpath. I don't care how long it took us to finish; I have a newfound appreciation for the Blue Ice Gatorade. Oh–and don't forget your gels.
4. Treat yo self.
I decide mid-week if I'm going to do my long run on Friday morning instead of during the weekend. If I am getting up before 5 a.m., I find it more justifiable to do so on a Friday than on a Saturday, when I could be nice and cozy with my AC unit. It's also a great conversation starter as you shovel a burger, fries, and ask for dessert in front of your date.* "I ran more than 14 miles today, what of it!?"
*Side Note: The people who do judge have no place in your life.
5. This is supposed to be fun!
I am the worst at getting sucked into social media and thinking everyone is having a way easier time than I am. Tuning out for a few weeks has been super helpful. Ninety degree days with 90 percent humidity is fun for no one. Except maybe the Devil.
6. Not making running my identity.
This has been really interesting for me. I was never really an athlete in high school or college. Even after my first marathon, I didn't call myself athletic. Now I find it hard to dissociate from the "runner" persona. I am more than just a runner. It is an essential part of my being, but it is not the only thing I do. Talk about other things, do other things! I joined a kickball league and, though I am horrifyingly bad, it's awesome.
7. Have I said "treat" enough?
I have come a long way from the times I used to consider ice cream dinner, but there is nothing wrong with adding it after your protein and fluid-packed meal! I may or may not have already made reservations for Friday night tacos with friends so that I have something to look forward to when my alarm goes off ridiculously early for my run.
8. Consider taking a break.
Skipping a couple days of running is not the worst thing. I am in the middle of my training cycle, so I'm not totally giving myself an out at the moment…but I have taken multiple rest days in a row or swapped in some lower mileage days when my body just isn't feeling it.
I'm going to be honest: I still haven't totally solved this one. The run slump solution is a work in progress. My relationship with running is comparable to that of a significant other: it takes compromise, effort, and it needs to remain fun. Lots and lots of fun.
Related:
Scientists May Have Pinpointed The Reason For "Runner's High"
6 Natural Ways To Boost Energy