5 Tips To Help You Run Your Best When The Rain Comes
With winter well on its way, we provide five tips to help you run your best in the rain.
Heading out the door? Read this article on the new Outside+ app available now on iOS devices for members! Download the app.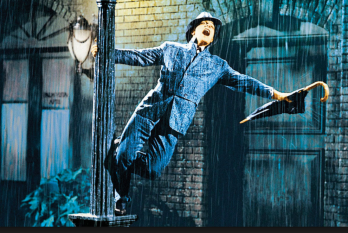 I absolutely abhor running on the treadmill. I would love to meet the person who coined the nickname "dreadmill," as I couldn't think of a more apt description of that awful machine. To that end, I have learned how to run outside, in all kinds of inclement weather. Here are a few of my top tips to keep you as happy as Gene Kelly on your next rainy run!
Wear A Hat
Wearing a hat in the rain may seem super simple, but it makes such a huge difference. With the rain shielded from my eyes, I'm able to easily ignore the rain on the rest of my body.
Lace Up Your Gore-Tex Shoes
I wear these exclusively on rainy runs, and they are a lifesaver. These shoes, which are equipped with a waterproof, breathable fabric membrane, keep my feet dry and warm on even the wettest of runs. In fact, I can think of only ONE run during which my feet got even slightly wet, and that was due to flash flooding! The best thing about these shoes is that many popular shoes come engineered with Gore-Tex, so I have a waterproof version of my favorite running shoes, the Brooks Ghost.
Related: 10 Signs You Are So Over Winter Running
Beware Of Slippery Surfaces
It may seem obvious, but it's important to run more cautiously on rainy days. Certain surfaces, such as asphalt and crosswalks, become excessively slippery. Fallen leaves and debris can create additional challenges. I've also noticed that cars are not as vigilant, as they are not expecting to encounter runners.
Bring A Jacket
Depending on the temperature outside, I usually opt for no jacket in the rain. However, for colder, rainier runs, I love Saucony's Vitarun Jacket. This jacket is perfect because it's lightweight, but it wards off the wind, cold and any sort of precipitation.
Draw The Line
When lightning, intense winds and hail are in the mix, I draw the line. It's not worth risking my safety to run outside. I always try waiting for the storm to pass. However, if it's storming all day, I am sometimes forced to do indoor cross-training–or to run on the dreadmill…
Related:
5 Pieces Of Gear That Excite Runners About Winter Training
Above Or Below Freezing: What To Wear On Winter Runs