5 Tips To Approach Your Next Race The Smart Way
Nat Runs Far shares five race day preparation tips that'll help runners dive into the fall racing season stronger than before.
Heading out the door? Read this article on the new Outside+ app available now on iOS devices for members! Download the app.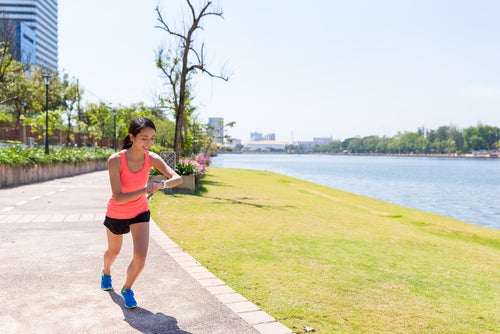 Summer is here in full force and there are races galore to choose from. Many runners are beginning to train for fall races, which means they'll be spending lots of time running in the summer heat and testing their fitness along the way with weekend races.
Want to crush your next race? Here are some tips that'll help you reach your goals.
1. Go To Bed Early
Run all the miles, eat all the right food and roll your muscles all you want–but if you don't rest your body, it'll all be for naught. Do yourself a favor and tuck yourself into bed early every night the week of your race. Need a few tips to help you fall asleep? Try soaking in a warm epsom salt bath, listening to some relaxing music and putting your phone (and TV and all other electronic devices) away. If you feel tempted, charge your phone in another room so you can't access it.
2. Drink Plenty Of Water And Eat Healthy
As runners, we should all be drinking a good amount of water every day–especially in the heat. The week of your race, really monitor your fluids and make sure you're drinking eight to 10 glasses of water each day.
Make sure to also eat a diet rich in protein and carbs. Give yourself the gift of fueling your body well so it can perform on race day.
3. Take Inventory Of Your Race-Day Needs
Prepare all of your race day accessories ahead of time so they're ready to go when it's time to head to the starting line. This includes making sure that your:
a. outfit's picked out
b. favorite running socks are clean
c. running watch is charged
d. shoes are ready to go
e. race fuel is tucked away and ready
f. hat, sunglasses and sunscreen are accessible
g. favorite playlist is ready for listening to get you pumped!
4. Write Down A Realistic Goal
Whether your goal is to finish the race or race for time (with a smile), write it down. Take a peek at it every day before you go on your training run to remind youself why you're getting up before dawn (or running at dusk when you'd rather be watching a show) to pursue your goals.
5. Trust The Process
Running is such a journey. It will take you to incredible highs and definitely some lows, but the journey itself is really special. Trust your training, never give up on yourself–even when it gets tough out there–and remember to have FUN!