Try Starting (And Sticking To) A New Routine This Year
These five tips can help you start and keep a new routine this year.
Heading out the door? Read this article on the new Outside+ app available now on iOS devices for members! Download the app.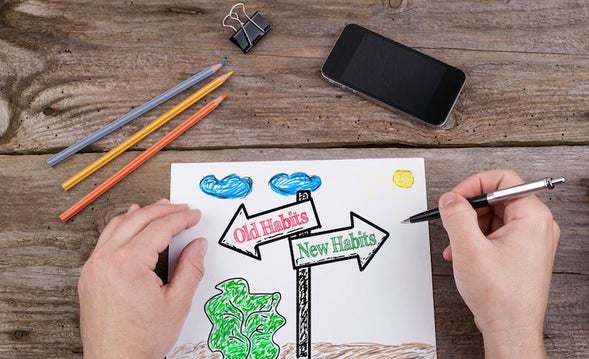 With the start of the New Year, new resolutions and goals are being made by runners and non-runners everywhere.
I want to lose 10 pounds.
I want to eat healthier.
I want to work out more.
While the enthusiasm and excitement of new chances and a fresh start are amazing, it can be daunting when starting from scratch. So often people get excited about their goals and overdo it early on, resulting in them feeling overwhelmed by week three and dropping off by week six.
But if you are starting at zero, how do you get to where you want to be without a) knowing how to get there, and b) getting overwhelmed and giving up?
Below are my tips for starting and sticking to a fitness routine.
Tip 1: Start Small
No one loses 20 pounds overnight. No one goes from never having worked out to running marathons. Starting small is key when you are beginning or returning to a fitness journey. Starting at the beginning allows you to remain consistent with your activity–which leads me to my next tip.
Tip 2: Be Consistent
Working out once isn't going to magically make you stronger, just like eating one unhealthy meal isn't going to ruin your diet. Consistency is what leads to results. If you are able to consistently walk two days each week, you will get better and soon be able to walk three days each week. Over time, you'll be able to jog and will eventually getting to the point where you can run farther and longer than you imagined. If you are consistently eating healthy, you will feel better and have more energy to reach those goals.
Tip 3: Talk About It
This sounds like a weird tip, but when you decide you are going to change your life for the better, you have to tell those around you. If you decide today that you are going to finally lose that extra weight, tell your close friends and family members so they can support you by meal prepping healthy snacks with you, sign up for that Friday night fitness class with you (instead of your usual happy hour) and be there for you when it feels like you can't reach your goals. Because you can. If you decide today that you are going to run a marathon in May, tell those around you so they can remind you of your goals, serve as accountability partners and provide emotional support when your runs become mentally challenging. They might even choose to suffer with you as you go for your Saturday morning 8 milers. 
Tip 4: Fuel Your Body
If you saw my last post, you already know that fueling your body correctly is so important to having strong workouts and seeing results. Beyond that, fueling your body correctly has so many other benefits: Most importantly, you feel better and have more energy. The change doesn't have to happen overnight, but slowly start incorporating whole, healthy foods into your diet and you will feel the positive side effects, which will ultimately get you closer to reaching your goals.
Tip 5: Have Fun!
If you hate what you're doing, you aren't going to keep doing it. Find activities that you enjoy! If you hate walking, try a dance class. If you hate running on the treadmill, try a trail run or running along a beach path. If you don't like working out alone, grab a friend or hit a group exercise class. There are so many ways to reach your fitness goals without getting bored.
By following these five tips, you will not only stick to your resolutions–you will also see the results of your hard work. You will feel better, be stronger and gain confidence. Cheers to a year of pushing ourselves out of our comfort zones and getting to where we want to be. Happy New Year!
Related:
Commit To Running This Year Using These 4 Tips
What I Learned From Making a Non-New Year's Resolution