Just Keep Moving Forward: Facing My Inner Mean Girl
Learning to battle those negative thoughts that bounce around inside your head is something many of us struggle with throughout our lives.
Heading out the door? Read this article on the new Outside+ app available now on iOS devices for members! Download the app.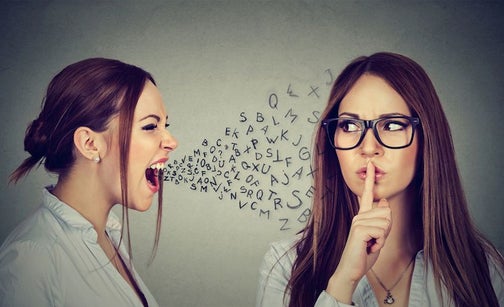 Getting Rid Of Gladys
My running partner's name is Gladys and she's a horrible person.
When I take off on a run, I bring Gladys. She comes with me—rain or shine, whether I invite her or not. She is steadfast and dependable, relentless and somewhat pushy.
"Okay," you might ask, "Why not just un-invite her?"
Well, Gladys is the voice in my head who has been with me since my very first run.
Actually, she's been with me throughout my life, taking on different shapes and forms, but always there—waiting in the background to tell me what giant mistakes I make—or even worse, what a giant mistake I am.
She talks to me and she is surprisingly loud and vocal. She's brutally mean, too.  Nothing about Gladys is actually glad. She has a deep scruffy-man voice, too.
The things Gladys says are pretty much the same: You are fat. Why are you even trying? Why do you think YOU can be a runner? Often followed by my favorite: fatty-fatty two-by-four.
Yes. Really. How old am I? Ten? I think, though, that many of us are 10 years old inside. We hear the voice of someone from years ago—someone who told us we weren't good enough, that we would never [fill in the blank].
Isn't it strange how when we think about that person or our "never," we can immediately remember who and what those things are?
When you hear your Gladys, you might be hearing that voice from years ago. Unfortunately, that voice is often with us more than we realize—and certainly with us more than is productive.
Sure, we all carry a certain amount of drama and history that makes up the unique voice or voices in our heads. Our internal voice is our biggest cheerleader or the worst heckler—depending on how we have harnessed him or her. Most of us carry baggage and fear and memories from the challenging times and sticky, yucky stuff in our lives. For me, I was called Fatty-fatty two-by-four one time by a scrawny little boy in first grade—who, in hindsight, I clearly know was just crushing on me—but that is what Gladys repeats to me.
Literally, I am an almost-40-year-old woman who calls herself Fatty Fatty in her own head.
In recent times, I have made some huge progress leaving Gladys behind. How? Well, I use this simple trick: "Gladys, you are a liar. Not today, Gladys. I can't hear you. I don't hear you."
Sure, that's some silly self-talk, but I'll tell you—it works. When I am faced with the mean voice of Gladys, I try and point out the truth: she is a liar and she is getting in my way. In some weird stroke of luck, she gets quieter, less mean, more easily ignored.
Sometimes I envision that Gladys is running far behind me and screaming to catch up. The more I work at my goals, the more I realize that I am getting faster than she can scream, and heading out at a stronger than she can keep.
I know that I will someday outrun her completely, but until that time—I'll just keep calling her the dirty rotten liar she is.
Meredith Atwood (@SwimBikeMom) is a weekly contributor to Women's Running. She is a four-time IRONMAN triathlete, recovering attorney, motivational speaker and author of Triathlon for the Every Woman. You can download a free copy of the book here. Meredith is the host of the hit podcast The Same 24 Hours, a show which interviews interesting people who make the best of the 24 hours in each day. Meredith lives in Atlanta with her husband and two children and writes about all things at SwimBikeMom.com. 
Related:
5 Tricks For Changing Negative Thought Patterns
Just Keep Moving Forward: My First Run