Channeling Shalane To Win The REVEL Mt. Lemmon Half Marathon
Hoppe Feet took inspiration from Shalane Flanagan's NYC Marathon victory to secure her own victory in the REVEL Mt. Lemmon Half Marathon.
Heading out the door? Read this article on the new Outside+ app available now on iOS devices for members! Download the app.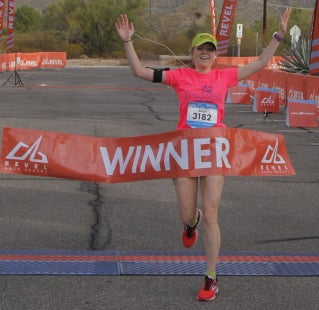 In November 2017, for the first time in my personal racing "career," I won a race!
I do not think it is a coincidence that this race, the REVEL Mt. Lemmon Half Marathon, occurred exactly one week after Shalane Flanagan's inspirational win at the 2017 TCS New York City Marathon. Even prior to Shalane's win, I admired her grit, determination and overall approach to training, racing and nutrition. In fact, my husband and I are absolutely obsessed with her cookbook, Run Fast, Eat Slow; we have made just about every recipe. So it shouldn't come as a surprise that during my race, I did my best to channel my inner-Shalane. Here are four things I learned from Shalane Flanagan's 2017 TCS New York City Marathon win and the ways in which her approach to training for that marathon helped me win my first race:
Racing Smart
During the New York City Marathon, Shalane was mentally and physically prepared for any potential race scenario. During my race, I was in first place for the first 5 miles. When I was overtaken, my initial reaction was to pick up my pace. I'd been averaging a 6:25 to 6:30 minute per mile pace, but I adjusted to a 6:15 pace to keep up with my competition. After one-quarter of a mile, I knew that wasn't a good idea. I knew that if I pushed my pace early, I'd pay later. I told myself to ignore the competition and run my race, focused more on the opportunity to PR. I told myself that if I still felt good at mile 11 (my lucky number!), I'd try to push it during the last two miles. This tactic worked, and I successfully passed my competition at mile 12. But I still experienced mental challenges during the final mile, when I questioned whether or not I was capable of winning a race.
Setbacks = Opportunities For Comebacks
Racing in New York City, Shalane was coming off a recent back injury, which prevented her from completing Boston in April 2017. I had a similar setback this summer. I'd actually initially set my sights on running the New York City Marathon this year, but was unable to obtain entry after four unsuccessful attempts. So, I did not register for my race until two months before race day. What I originally viewed as a setback (not being able to complete the New York City Marathon) turned out to be an incredible blessing. I was already in great half marathon shape, so I focused on refining small things, specifically nutrition and speed work.
Building Other Women Up
Shalane is committed to encouraging other women to inspire success for all. When I passed the first place woman at mile 12, my competitive juices were flowing. I was solely focused on beating her and being the WINNER! However, just as I passed her, she turned to me and said, "Go get it, girl!" In that moment, I thought of Shalane. I realized that it didn't particularly matter who won (even though I desperately wanted it to be me!). It was more important to celebrate the incredible accomplishments of all of the runners out there. So, I returned the encouraging sentiment. After I broke the tape, that woman was the second person (after my husband) that I hugged, congratulating her on a great race.
F4%K YES!
Crossing the finish line, I had the exact same sentiment as Shalane. In breaking that tape, I achieved something I always assumed was impossible. In fact, the idea of winning a race seemed so far-fetched that I had never set this as a goal for myself. Therefore, I couldn't help throwing my hands up and saying, "F4%K YES!"
Related:
Shalane Flanagan's Career Is Inspiring AF
Our Interview With Shalane Flanagan, 2017 NYC Marathon Champion