The Busy Woman's Guide To Finding Time
Transform your "full plate" into a manageable to-do list with these tips.
Heading out the door? Read this article on the new Outside+ app available now on iOS devices for members! Download the app.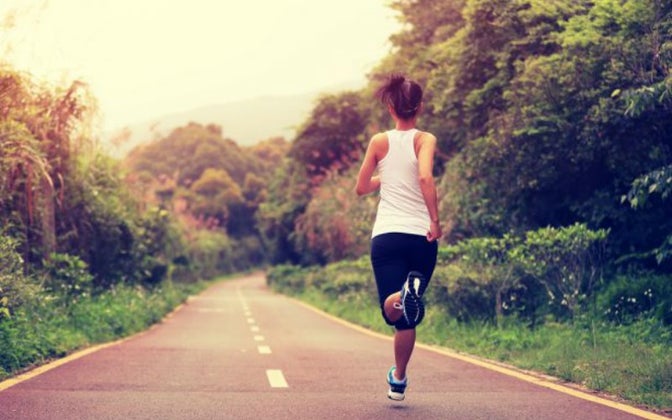 By now you have seen the articles claiming that Facebook and Instagram are taking hours out of our day, that we are wasting needless amounts of time. Facebook and Instagram are the new television, which is the new "trash" novel, which is probably the new sharpening of our cave-man tools. In other words, we humans will find a way to "waste" time—it's called downtime. Of course, there are many different types of downtime and some are arguably more productive or acceptable in our minds than others.
Still—the great debate. How do we find more time? Especially as active females? Women especially are incredibly time-crunched, and often it's our very own faults. A good friend yesterday posted with a bunch of laugh emojis: Whatever is on your plate got there because you said yes to it. Funny, not funny, am I right? Now, of course, I am not here to say this time crunch is our fault—that doesn't help anything.
I will say that implementing my Suck Line method has been a lifesaver for many women. The summary of it: we need to decide what is truly important (our priorities—not anyone else's), add some dreams and goals (that first marathon, writing a book). From that idea, we create a list of all the "things" that matter to us (example: religion, spouse, kids, job, running, writing, family time, vacation, girl's night). Next, we go through our week-long to-do list (laundry, cooking, cleaning, carpool, doctor, pets, etc.).
Once we have that list, then you count down 10 to 12 spaces…and you draw a big, fat line.
Everything above the line gets tended to for the week. Everything below? Well, it gets ignored. Maybe just for a week, but you forget about it. After a week, you rotate.
Here's how it works:
Priorities:
Relationship
Kids
Work
Marathon training
Writing my book
Maintaining my friendships
Getting that dream job
Sleep
(Start of the to-dos)
Cooking
Cleaning
Pay the bills
Birthday parties
Yard work
Eye doctor
—THE SUCK LINE—
Laundry
Dry cleaning
Hair cut
Girl's night out
Pedicure
Car wash
Yard work
Everything below "The Suck Line" just sucks for the week—not for forever—but for a week, you just don't worry about those things. Instead, you direct your energy to the priorities and the other to-dos going.
The next week? You move down three of the other to-dos, and you move up three more. It's a matter of reshuffling your to-dos based on urgency, timing and energy in order to keep everything going.
I was giving a talk where one woman said, "I could NEVER neglect the cooking for a week!"
I said, "Then cooking is one of your priorities that can never get moved. So move it up. It's your list."
But then I challenged her, thinking that she had external pressure from her family about cooking, but she simply said, "I love to cook!"
This is precisely the point.
We should have things in our life that make a difference in our health, happiness and success—those are our priorities. In the long run, our priorities are the things that will matter at the end of our lives. The minutiae and to-do list will never mean much to us at the end. Oftentimes, we put our running or exercise routine below the Suck Line in favor of things that do not truly matter.
Our health (and yes, our running if that is one of our priorities!) should never fall below the Suck Line. Move laundry, but don't move running. Move the car wash and your hair cut—but keep your run. Even in recovery weeks or days, we are not neglecting our workouts—we are just recharging. Once we begin to establish our priorities, we can see that the "clean plate club" is easier to navigate. We are suddenly scraping things off the plate—instead of trying to fit everything into our bellies.
Meredith Atwood (@SwimBikeMom) is a weekly contributor to Women's Running. She is a four-time IRONMAN triathlete, recovering attorney, motivational speaker and author of Triathlon for the Every Woman. She is also the host of the hit podcast, The Same 24 Hours, a show which interviews interesting people who make the best of the 24 hours in each day. Meredith has two books coming out in 2019. Read more at SwimBikeMom.com.
Related:
Just Keep Moving Forward: Drawing The Suck Line
Just Keep Moving Forward: Prioritizing Running
Just Keep Moving Forward: The Truth About "The Same 24 Hours"