Break 4 Hours With Our Marathon Training Plan
Follow this marathon training plan if your goal is break the 4-hour mark on race day. Plus, tips for runners who are not confident they are there yet.
Heading out the door? Read this article on the new Outside+ app available now on iOS devices for members! Download the app.
Completing a marathon in less than 4 hours is a magical, attainable and key goal among many 26.2-mile runners. Based on 2019 data from a Run Repeat analysis, the median finishing time for women is 4:56:39. The good news is that becoming a member of that sub-four hour group is doable for many runners, with the right training and commitment to consistency
If you have at least one round of marathon training and racing under your legs and are striving for that 3:59:59 mark during your next one, our plan can help you get to your race goal.
Before lacing up your shoes, you should have a solid foundation of at least six months of consistent running, with roughly 25 or more miles per week, and be able to complete a 10-mile run. New to marathons? See  the 'Marathon Newbies' section below to understand how to make this plan work for you.
RELATED: How to Eat for Your Next Marathon Training Block
Four Month, Sub-Four Marathon Training Plan
This four-month marathon training program will build your endurance while increasing your intensity to prepare you to run the pace needed to dip under 4 hours on race day. Flexibility is built in to allow you to customize the plan to suit your individual fitness level.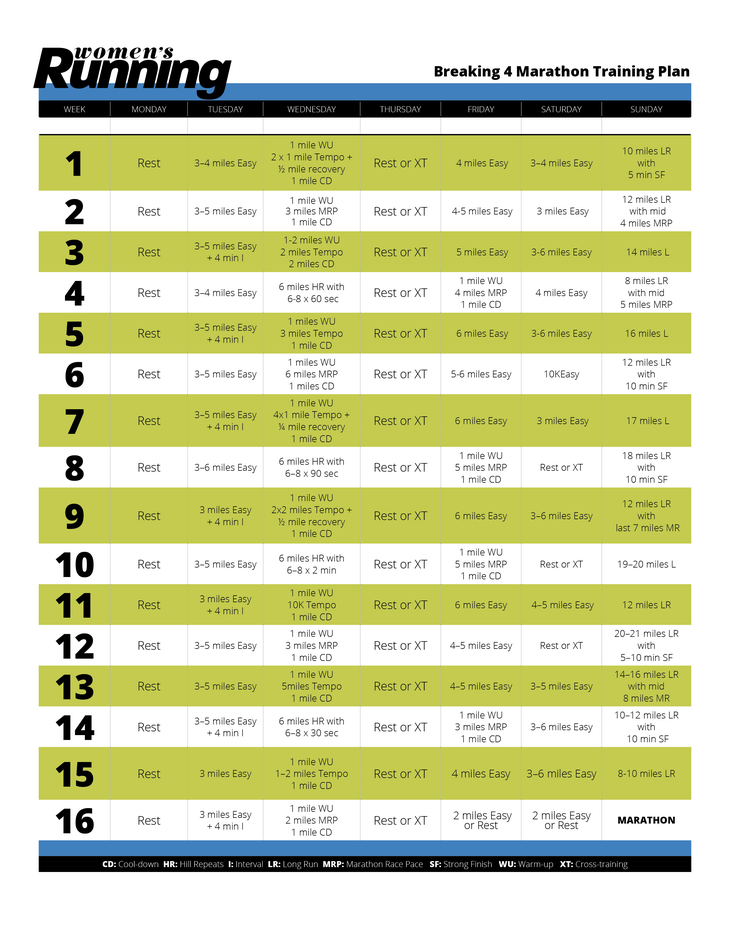 RELATED: Get A Half Marathon PR With Our Training Plan
Training Paces
Take note of the ranges of training paces dependent upon your end goal time for the marathon.
If your goal is 3:55:00
Easy: 8:55-10:30
Long Run: 8:55-10:15
Tempo: 7:50-8:15
Marathon Pace Run: 8:53-8:58
If your goal is 3:58:00
Easy: 9:00-10:45
Long Run: 9:00-10:25
Tempo: 8:05-8:25
Marathon Pace Run: 9:00-9:05
If your goal is 4:00:00
Easy: 9:05-10:55
Long Run: 9:05-10:35
Tempo: 8:10-8:30
Marathon Pace Run: 9:05-9:09
Marathon Training Plan Terms Glossary
Cross-Training (XT) Think: Low to no impact, like spinning, yoga or swimming. Aim for 30–60 minutes. This will also help give you the core strength you'll need in the later stages of the marathon.
Easy: This pace should feel fairly comfortable, and you should be able to talk without getting too winded. An effort level of 65–70 percent is ideal on these runs, as well as during any warm-up and cool-down.
Hill Repeats (HR): These encourage a fast, consistent pace despite fatigue between reps. Aim for splits within 1–2 seconds of each other at 85–95 percent effort level, and start and finish the entire set with 1–2 miles of warm-up and cool-down on flatter ground.
Intervals (I): Short, quick 10-second intervals after some of the long, slow runs will help to activate your fast-twitch muscles, reinforce good running form and remind you that you can run fast. Find flat ground after your main run and jog slowly for 20 seconds between bursts.
Long Run (LR): The most essential part of marathon training should be run at a mostly comfortable and conversational pace, about 60–65 percent effort level. Covering these miles on terrain similar to what is expected on race day is also very beneficial.
Marathon Race Pace (MRP): In addition to the long run, MRP workouts are crucial to success in shooting for a new PR. Running at your desired marathon pace, or faster, will train your body to be comfortable with sustaining goal pace for longer periods.
Rest: One day of rest per week, at a minimum, will help your body recover and recharge for race day. Strength is built during these off days, which is a good opportunity to listen to your body if you're feeling overly fatigued or sore.
Strong Finish (SF): During the final 5–10 minutes of a LR, shift the pace up slightly. This should work out to be about 20–30 seconds per mile faster than your LR pace, train-ing your body to push strong toward the finish line!
Tempo: Tempo runs are described as comfortably hard, exerting about 75 percent of your maximum effort and really feeling it during the second half of the workout. The goal is consistent pacing. Use the faster end of the pace range given in the chart for tempo portions lasting less than 20 minutes and the slower end for longer sessions.
RELATED: Marathon Training Tips for Time-Crunched Runners
Marathon Newbies
Are you ready for this? And what to do if you're not.
Shooting for a sub-four marathon demands high mileage and frequent speed work that will make the body more fatigued than training for a slower or easier race. For that reason, it is recommended to have at least one marathon completed so you know your body's limits and where you might need to adjust.
This plan may work for you if you're a first-timer with some other race experience (see race time goals below), or you can tweak parts of it to fit your current fitness level.
Use the paces below to see if your current shorter race times fall within the times listed (or faster). The longer the race, the more accurate the prediction.
5K: 24:05–24:25
10K: 50:00–50:40
Half Marathon: 1:51:40–1:53:05
Tips To Consider
Start Earlier: If this plan is too aggressive, stretch it out to 20 or 24 weeks and build more gradually.
Keep Your Fitness Level in Mind: Take extra rest days as needed, and make sure you recover properly.
Skip the Speed: The best workouts to cut back on, in favor of extra rest or active-recovery cross-training, are those involving speed (e.g., hill repeats and intervals).
Focus on Endurance and Stamina: Don't skip the long runs or marathon-race-pace portions of your runs.
Pick a Friendly Course:  Choose a race that is beginner friendly and during a time of year with good weather.
Have a 'B' Goal: If during the race things fall apart, have a secondary goal to keep you motivated to the finish line and take what you learn to your next marathon.
RELATED: Weekly Tempo Runs Will Build Your Capacity At Marathon Pace