The Final Week Of #BadassLadyGang5K Training Is Here!
Kelly Roberts offers her final pep talk ahead of the #badassladygang5K!
Heading out the door? Read this article on the new Outside+ app available now on iOS devices for members! Download the app.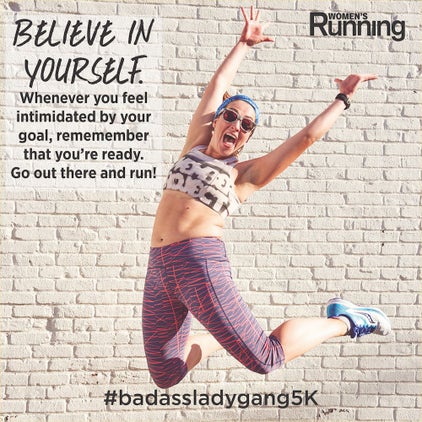 #Badassladygang5K Week 4
For those of us who struggled to get started, there comes a moment when we look back and realize that the secret to starting never existed. In order to become a runner or stick with a training plan that fills us with doubt, all we ever had to do was put one foot in front of the other, believe in ourselves and put in the work. There's no such thing as a right time to start—the right time is always simply now. And now, you're finally entering our final week of #BadassLadyGang5K training!
Anything can happen in four weeks. Maybe your training went without a hitch and you did everything you said you would do and more. Or perhaps life happened and you ended up taking some unplanned rest days. Either way, what matters most is that you had the courage to set a goal and worked to make it a reality. Remember that in this final week of training.
Related: Kelly Roberts Explains The #BadassLadyGang5K And What It Means
Your First 5K Plan For Beginners
For my badass first-time 5K-ers, this week is an exciting one. Monday was a heavy day! You had a 3-mile run planned (broken into 1.5-mile chunks). Always know your intentions before heading out, whether it was before that run or before any others this week. Take any doubts you might have about your abilities and throw them out the window. Let I can and I will! be your rallying cry. Running is all about stepping outside your comfort zone and seeing what's possible when you're uncomfortable. Smack a smile on your face and remember that you can do hard things!
Race Day: This is your time to shine. You can do ANYTHING you put your mind to. Put all those mantras we've been working on over the past four weeks to work. When everything hurts and you want to walk, give yourself 30 more seconds of running. If you need to walk, go for it! It's all about showing up. Whatever happens this week, celebrate the fact that you showed up for four weeks of training and worked toward the strongest version of yourself possible. The success is in the journey, not just the final test.
Your Strongest 5K Plan With A Goal Pace
For all the ladies getting ready to run their strongest 5K, let's talk about the speed work scheduled for tomorrow. The key to a track workout (if you're still trying to get the hang of speed work) is to not feel intimidated by your goal paces. I know what you're thinking: Seriously, Kelly? You telling us not to panic on a track is a little hypocritical. I get it, I'm with you–it's hard not to panic. Sometimes, speed work feels really, really scary. What matters most is that you find ways to stay in the moment. If that means focusing on a straightaway or a curve on the track, do that. Maybe it means repeating the F word until you finish 400 meters. It might even mean telling yourself that you're a badass until you finish each rep! We're looking for comfort in discomfort, and if you can figure out how to do that while smiling, it's all downhill from there. (Okay, that's not entirely true…but you know what I mean.)
If you've never raced a 5K before, here are a few tips. First, this race is all about effort. A 3.1-mile race might not sound intimidating when you compare it to a half marathon, but a 5K will humble the hell out of you. Try breaking the distance into sections. You want to start strong, but not at top speed. With each passing half mile, push your effort level. If that means throwing in a 30 to 60 second surge, do that. Once you hit mile 3, kick it in. Empty the tank for that final 0.1-mile. Listen to your body, but realize that it's going to hurt. Your job is to lean into the pain and embrace it. It sounds crazy, I know, but the day that the "embrace the pain" cliche clicks for you is going to change your life. It does take practice, so go out there and give it your best effort. It's not about your official race time, it's about doing everything you can so that, when you cross that finish line, you'll do so without a single regret. You can do hard things. You trained for this. You can do it.
Now go out there, kick ass and take names! Don't forget to share your experience by using the #BadassLadyGang5K hashtag!
Related:
Badass Lady Gang 5K Training Plan–Week 3
6 Women Share Their Experience Training For A 5K
4 Ways To Remind Yourself That You're A Badass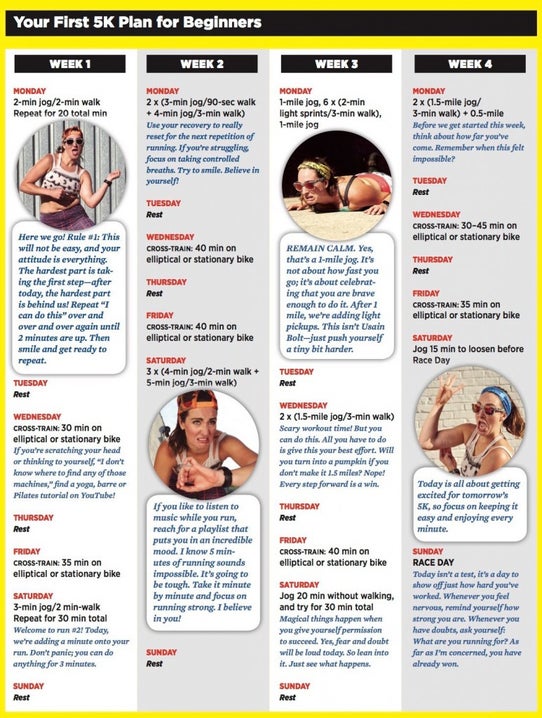 Click here to download the full PDF.