How To Revisit And Reset Goals When You Are Injured
Injury doesn't have to set you back; it just requires you to reset goals and manage your expectations accordingly.
Heading out the door? Read this article on the new Outside+ app available now on iOS devices for members! Download the app.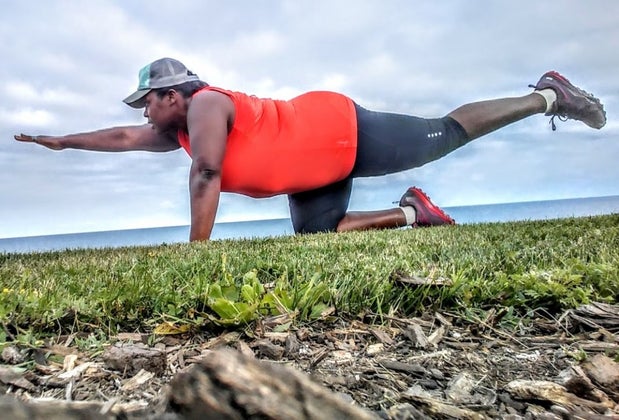 UGH! Injuries and setbacks…
Remember those SMART goals I wrote about a few months ago? How are you doing on yours?
Here's how I'm doing
I had originally planned to be training throughout the summer for both the NYC Marathon and the Marine Corps Marathon. Well, what had happened was I started having pain in my right glute, and then my left glute and um, groin. OUCH. It came and went, went and came. Sometimes I could do thirty-three trail miles and PR in a favorite 50K and other times it was a struggle to get in three miles without being stopped in my tracks by this odd sensation that felt like someone was pinching me in otherwise inaccessible areas.
There is almost nothing I enjoy more than a 5-hour long romp through the woods or on pavement listening to my own footfalls and being injured WAS NOT IN MY PLANS. But alas, I had to reset goals and make a lot of modifications, all with the final goal of being able to do my marathons even though I would not be able to complete the kind of intense training.
Here's how I adjusted goals
Part of my initial goal had been to PR in my marathon time at the New York City Marathon. In the early summer, I had been doing some strides on the track at work, and at the very end of my speed session my left hip started to hurt. The pain traveled down to my butt, and eventually crept down to my groin.
After some X-rays and tests in which the doctor looked for pain in my back I was confused. What did any of this have to do with my back? My legs were hurting, but it wasn't a muscular pain. I didn't feel any more sore than usual, and I was still fairly flexible.
But then suddenly, everything made sense. A back/nerve issue? AHA! I started thinking about how this pain felt so startlingly different than any other pain I had had before. It wasn't like a plantar fasciitis pain, or an excruciatingly sharp avulsion fracture pain (I knew what that was too…)—it was a brand new sensation.
Long story short, the prescription was for a lot of physical therapy, which I still have not started in earnest except for my excellent session at the NY Custom PT and Performance Center and maybe laying off the running for a little while. I've been doing the exercises I was given to fix the hip imbalance-groin-butt issue and what a difference it has made. I have also been training for my third Tough Mudder and the strength training has made me significantly stronger and less well, imbalanced.
Here's how it's been working
I'm now regaining stability in my left leg (it feels GREAT), and my ability to run long more consistently is returning. I'm going to take the New York City Marathon and the Marine Corps Marathon as the opportunities to run with tens of thousands of friends that both of those races are, and simply enjoy the fact that I can be out there again.
After having to reset goals, I'm looking forward to creating some new goals after this year's marathon extravaganza!
Have you faced any obstacles or hurdles in executing your goal plan? How do you reset goals deal with setbacks?