Race-Day And Post-Race Fueling Tips From Nutrition Experts
Two registered dietitians offer their best advice for marathoners who want to fuel their bodies in the best possible way on race-day.
Heading out the door? Read this article on the new Outside+ app available now on iOS devices for members! Download the app.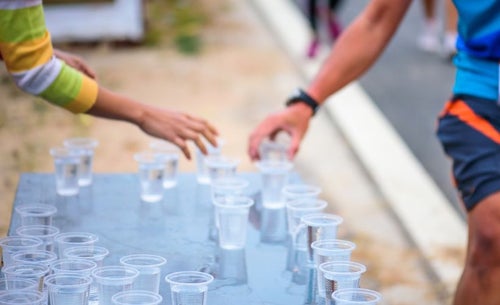 "What do you eat before a run?"
"They say don't try anything new on race day, but is that superstition?"
"What's your favorite post-race snack?"
Marathon vibes are radiating from everywhere in Boston. With a mere three days remaining before the Boston Marathon, there's endless chatter about shoes, nutrition, mileage and tapering. As many runners know, logging miles is only one aspect of marathon training—fueling is another essential component.
Marathon training is a big deal, and just as increasing your mileage and building endurance isn't necessarily intuitive, neither is fueling for a marathon. As I listened to more and more conversations with runners, I realized most people aren't sure how to properly fuel for running and many sought advice from dietitians or doctors. With that in mind, we outsourced some of the most common marathon fueling- and refueling-related questions to Nancy Clark, M.S., R.D., C.S.S.D., and Laura Moretti, M.S., R.D., C.S.S.D., L.D.N., two Boston-area registered dietitians and sports nutrition experts who both encourage thinking about nutrition throughout your entire training program. Training is the time to experiment with different foods and different ways of fueling and hydrating so you know the best methods for your body come race-day.
Recommended Strategies For Pre-Marathon Fueling
The preferred food groups for running your best marathon are carbohydrates, protein and a little fat. Before a race, the foundation of your meals should be grains. Clark suggests oatmeal with peanut butter and banana as one option, while Moretti's favorite pre-race meal consists of two slices of toast with peanut butter and honey. Alternatively, they both recommend higher carbohydrate-based energy bars.
"Carb Loading": Fact Or Fiction?
Fact, says Moretti. Tapering and carbohydrate loading help to maximize your glycogen stores. Glycogen is how we save glucose, a main source of energy for our bodies. "Topping off" glycogen stores allows you to perform at your desired pace for longer periods of time, especially in an event that lasts more than 90 minutes, like a marathon. Meanwhile, Clark says that the trick to successful marathon prep is to taper your exercise and keep eating the same amount—but make sure that amount is primarily made of carbs.
Moretti also recommends following a diet that does not add calories overall but shifts the percentage of macronutrients to heavily favor carbs approximately two days before the race. This strategy will help your muscles feel fueled and rested for the race.
Common Mid-Race Fueling Mistakes
Skipping breakfast and trying new foods before or during the race were cited by both registered dietitians as two of the biggest fueling mistakes runners can make on race day. Sometimes runners are afraid of needing to make a pit stop or slowing down to fuel. As a result, they do not fuel appropriately during the race. In the long run (no pun intended), making a quick pit stop might be shorter than the time you lose per mile due to inadequate fueling.
Both Moretti and Clark shared that the energy your body gets from eating breakfast lasts only about an hour during your run. At that time, your blood sugar will likely drop and you'll need to refuel. "Find what works best for you and your stomach during the long runs prior to the race; some people like gummies or chews, some prefer gels," Moretti says. One common mistake related to these preferred fuels is not pairing them with water. To avoid stomach upset, Moretti recommends taking the gels or gummies with water.
"Real foods work fine," Clark adds. Some people prefer to use pretzels, honey or even candy during their runs. Whichever fuel you choose, Clark recommends frequent fueling while running.
Another common mistake related to hydration is over-drinking during a race, which can result in hyponatremia (e.g. an imbalance of electrolytes and water in your body).
Water Or Gatorade?
Both! In fact, Moretti suggests alternating between water and Gatorade at hydration stops. "Water keeps you hydrated, while Gatorade provides hydration with added carbs and sodium," Moretti explains. However, consuming both Gatorade and gels or gummies may be too much for the stomach to handle during exertion. Coordinating water, Gatorade and additional fuel may be a lot to juggle, but it will help you stay strong through the race.
Both Clark and Moretti also stress the importance of knowing your sweat rate. This will help you match your water intake based on how much you sweat while running.
Listen To Your Body
Clark and Moretti mentioned fatigue as the number one sign that it's time to refuel. You might not feel hungry, but there are other signs your body will use to tell you it needs fuel, including mood shifts, cramping, feeling less social, feeling as though you're slowing down considerably or feeling as if you're "hitting the wall." After all, running should be fun; and if it isn't feeling that way anymore, your body might need you to replenish your blood sugar and energy levels.
Post-Marathon Refueling Strategies
After the race, refuel your glycogen stores with carbohydrates and some protein. Moretti advises that runners continue to replenish their glycogen stores through the next day and consume protein at all meals in the days immediately following a marathon to help repair muscle breakdown. Nutritionally, what you eat after a race should include more protein than what you would eat right before a race.
If you're not hungry after running, the best thing to do is to fuel through liquids. Chocolate milk serves as a solid option here since it has the ideal ratio of carbs to protein to help aid in muscle recovery.
Fueling your body so it's strong for a race can be overwhelming. To avoid anxiety, experts recommend practicing fueling consistently throughout training so you can hit your personal goal on race day without adding unnecessary stresses.
Related:
6 Ways To Carry Fuel On Long Runs
Blueberry Muffins For Pre-Race Fuel