Prevent Runner's Foot Pain With Four Easy Steps
Running feet hurting? This top ultramarathoner has some tips for easing the pain over hundreds of miles.
Heading out the door? Read this article on the new Outside+ app available now on iOS devices for members! Download the app.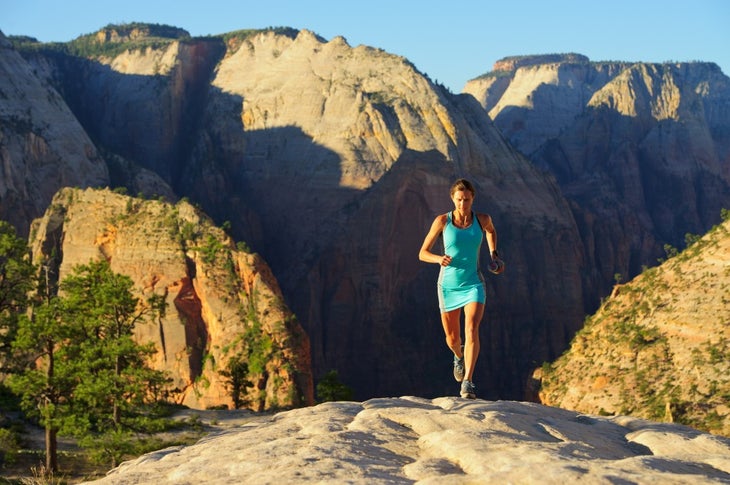 Want to stop your running feet from aching? Top ultramarathon runner, Krissy Moehl, knows a few things about how to keep your feet happy even when they're powering through 100-mile races. Check out this advice from her new book, Running Your First Ultra. Photo: Fredrik Marmsater

START WITH THE SHOE
Our feet start the chain and are the most important link in successful training and racing. From the skin to the ligaments, it is important to give our feet detailed attention.
Finding the right shoe and sock combination that work well for your feet is the first step.
Utilize the knowledge and help of the staff at a specialty run shop to steer you in the right direction. Lace up the shoe as you would to run and bend and flex your foot through heal strike and toe-off.
Most specialty running stores will encourage you to run around the block. Take them up on that offer and see if you notice any hot spots. Double-check the inside (liner) of the shoe. Try it on barefoot and see if you notice any stitching or rough spots that have potential to rub your skin. If you say, "once they break in," then you should try a different shoe. There is a model that will work for you from the start.
Related: 5 Simple Tips To Tell If Your Shoes Are Too Old
GET THE RIGHT FIT
The trick that works for me is a shoe that secures the heel and instep with a lacing system and inner structure to reduce excess (back-and-forth and side-to-side) movement in the shoe. A wider toe box allows my toes to splay out and not be forced to rub together.
As you pick a shoe model, depend on the structure and fit to minimize your foot slipping around; do not choose a smaller size. It is important to allow space for the expansion of the foot for long-distance running. The secure heal and instep also offer structure as the miles increase. I believe this support helps reduce fatigue by limiting extra motion and stress caused when trying to maintain foot placement in a sloppy fitting shoe.
And as your stride, strength and feet change with time, it is always good to reassess. This is another good reason to maintain a relationship with your local running store.
PICK FOR PROTECTION
Good protection and traction underfoot go a long way to prevent stone bruising to the bottoms of the feet and to keep you upright on slabby rocks, in mud, snow or loose sand. A protection plate made of TPU or dense EVA foam through the midsole will help disperse the pressure of a sharp rock or unexpected root. The variety of rubber compounds and traction patterns adhere to the countless terrains.
Accommodating your terrain is a great reason to have a quiver of shoes. My ideal situation with any piece of running gear is to not notice its presence because it is functioning perfectly with my body and the terrain.
PREVENT CHAFING
Fortunately, my feet continue to toughen over the years and miles. I have found sock and shoe combinations that work and, most importantly, I fix the little issues before they become big ones.
One trick I've added to my race day routine is to shake a tablespoon of 2 Toms Blistershield™ in each of my socks before putting them on. The directions call for a teaspoon; I prefer a substantial coating. I have found this keeps my feet dry and the skin less prone to the suppleness caused from sweat or water crossings.
There are runners that swear by skin lubes and coat their feet in a variety of petroleum jelly-like products. I encourage you to find what works best for you by testing these options on your longer training runs.
Originally published in Running Your First Ultra by Krissy Moehl.