Olympic Trials Qualifier Andrea Duke Shares Her Marathon Tips
This elite runner passes on the many lessons learned through countless marathons.
Heading out the door? Read this article on the new Outside+ app available now on iOS devices for members! Download the app.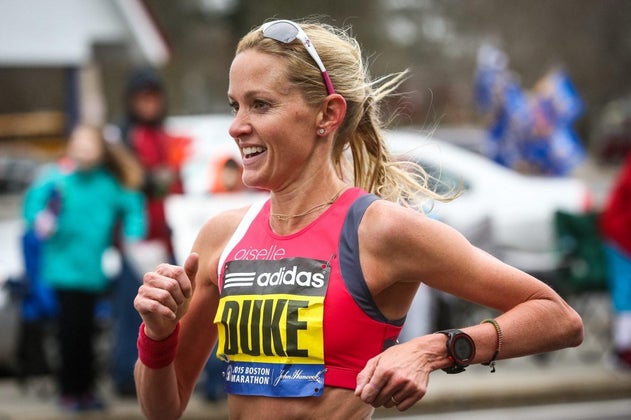 On Feb. 13, I will be running in the 2016 Olympic Trials Marathon as an elite newbie, as told in my story a few months ago. Since my first marathon in 2002, I have finished 46 marathons. Over the years and thousands of miles of training, I have learned a great deal about myself—my limitations, my abilities, my priorities. These lessons can be transferred into everyday life, as understanding one's strengths and weaknesses, and finding inspiration deep within yourself to complete a goal that most cannot is tremendously empowering.
Training for and running a marathon is an experience—a journey of pain and suffering, of excitement and awesomeness. Whether you are a seasoned runner or a newbie to the art of running, marathons are a challenge. Respecting the distance is a key element in finishing the race. As I close this running chapter of my life, passing on wisdom to help your 26.2 mile journey seems like a parting gift.
Believe
Surround yourself with people that believe in you. In order to accomplish your goal, you need to have full support in all aspects of your life. Don't let anyone tell you that your goals are too big or too ridiculous – if you believe, then do it. Training for and running a marathon will induce an emotional roller coaster. You will be inspired to train, yet exhausted from the mileage. You will get excited but worried about the race. The exhilaration at the starting line will turn to cursing through the race, followed by an electrified feeling when crossing the finish line. Then comes the depression from being done before you are ready for your next one! So you will need 100% of support and encouragement to dream big. Don't take anything less.
Take care of your body.
If you aren't feeling good, don't force a run. But also know that a crappy run may sometimes be better than no run at all. Listen to your body. Invest in a good sports bra. Shell out the money – your girls will thank you. If you get black toenails or lose any of them, your shoes are too small. Rest days are scheduled for a reason, so follow them and REST! Finally running is fantastic therapy. You can think about nothing or figure out all the world's problems, so allow yourself to check out and release!
Embrace the suck.
Training is hard, and it hurts. Sometimes you don't know if your legs will hold you up when you take that first step out of bed. But it is all worth it. What will makes things easier? Strength training will make you a stronger runner, which means a faster runner, which means a happier runner. Run hills—you will hate them, but they will make you stronger and faster. Train at race pace, as this will help your body to simulate race day, as well as get your mind ready for the challenge.
Race day—ready or not, here I come!
On race day, DO NOT do anything differently in terms of what you eat for breakfast, what you wear or how you warm-up. We all learn this the hard way. If you are trying to finish by a certain time, pace groups are great tools that can help. HOWEVER, pace groups are notorious for not making their time, so always double check the pace. Run without a watch once in a while, as it will free you. Run without music to soak up the crowd's enthusiasm. If you sit down at the finish line, you will not get up. Trust me. If you chafe during a race, be VERY cautious about getting in the shower!! And no one at water stops can create the correct mixture of Gatorade and water. AMIRIGHT?!
Enjoy. Every. Mile.
Smile. And never stop smiling, as you can trick your brain into thinking you are having fun. Thank volunteers and police at all races. When running past crowds, give every child a high five. Their excitement will give you an amazing boost! Cheer on other participants during the race, as the smallest encouragement may be needed for them and/or you. Yes, you will cry. A lot. And it's okay. We all do it. And most importantly…HAVE FUN!!! Enjoy every mile. You have earned it.