Change Your Negative Training Thought Patterns With These Tips
Race Pace Jess offers five tips that'll help runners change their negative thought patterns while training for or running a race.
Heading out the door? Read this article on the new Outside+ app available now on iOS devices for members! Download the app.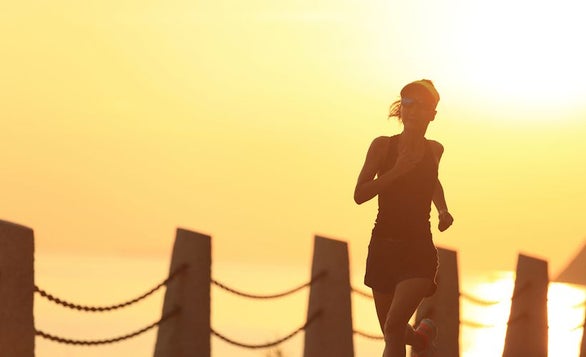 Learning to reframe our negative thought patterns during marathon training changes everything. Negative thinking can determine the outcome of your race–no matter how fit you are.
On a personal note, changing my thought patterns changed the way I ran and it changed the way I approached nearly everything else in life.
In the past, I spent hours preparing physically for the demands of running a marathon, but I hadn't spent any time building mental muscle. That was a huge mistake. Neglecting to train my brain was the worst running mistake I ever made. My legs were strong, but my mind was weak. Before I changed my thought patterns, I struggled to reach my goals.
Related: Get Tough With These 5 Mental Race Strategies
Once I made this important change, I was finally able to qualify for the Boston Marathon after having a heart-breaking race the previous season.
To change my thought process, I had to intentionally work on training my brain in the same way I intentionally executed my running workouts. Change didn't happen overnight; in fact, years later I continue to work on changing my thoughts when I find myself spiraling into a whirlwind of negativity.
So how do you change your negative thought patterns?
Do The Work
Building mental strength takes work. You can't just say, "I'm going to stop telling myself I'm a slow runner," and then magically start saying only nice things to yourself 24/7. Be purposeful and intentional with your mental training.
Stay Present
Stay in the moment during each run and during every mile of a race. Let go of the "what ifs" and let go of being attached to the outcome. Staying present means you are doing what you can in any given moment. Being fearful of what might happen or playing a game of "what if I fall short" only creates an anxious mindset. Focusing on how you feel now, rather than worrying about how you're going to feel in 10 minutes or 10 miles will help you run better.
Learn To Reframe Your Thoughts
On one piece of paper, write down the negative thoughts that swirl around in your mind about your race and your running abilities. On a separate piece of paper, write out the opposite–true positive statements that counteract your negative and false thinking. Refer to these for a few days, then throw away the sheet of paper that contains your negative statements. The positive statements become your daily affirmations. Take three minutes each day to re-write these statements. Over time, you'll believe these true statements and they'll replace your negative thoughts.
Accept The Challenge
Accept that both marathon training and racing are both going to be challenging and you are going to be physically uncomfortable no matter how well your training goes. (Note: I am NOT talking about injury-related discomfort.) Some runners don't actually think training should be hard. Others believe that if training runs feel difficult, this means their training isn't going well. Training should be difficult and it should feel hard. Once a runner recognizes this, they can think more positively about their workouts and running abilities.
Your Best Is Enough
Acknowledge that trying your best in each moment is all you can do. If you give your best but fall short of your goal during a workout or a race, you've done all that you can do. Stop beating yourself up if you don't hit your paces and acknowledge you gave your all–which is always enough!
Related:
Runner Shares Her Secrets To Getting Through Those Final Training Runs
5 Mental Tips To Run Your Best Marathon