Sorry, Time To Move On From Your Favorite Distance
If you're bored with training, getting injured or mindlessly going through the motions, it may be time for a distance change.
Heading out the door? Read this article on the new Outside+ app available now on iOS devices for members! Download the app.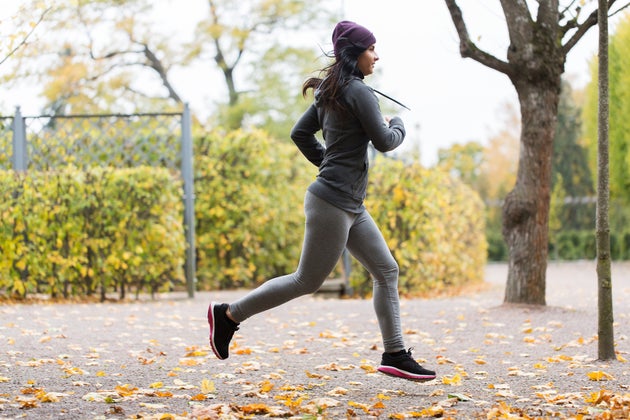 After years of running and racing the same distance, you might find yourself constantly improving and getting faster. More likely, you might find yourself plateauing, getting bored or consistently getting injured. Unfortunately, I experienced the latter. After years of chronic back problems compounded by running nearly 50 marathons, I ended up having surgery in April 2014. About a year and a half later, my marathon career was over.
Stepping Back On Distance
Still, giving up a distance that has become a part of your identity isn't always as easy as just walking (or running!) away quietly. You may be conflicted and unsure about whether it's time to step away for good, or if you just need a temporary break. If you've been struggling with whether to bump down your favorite race distance, here are some signs you might be on the right path:
You're constantly getting injured. Once I realized that I couldn't make it through a full training cycle or a marathon without finding myself in constant and recurring back pain, the decision to leave the distance behind became clear. It's easy to blame other factors (like stress, the wrong shoes, or an interrupted training cycle) for a bad race, but if you start to notice a pattern, be honest with yourself.
The training feels like a burden. There are times in life when all the pieces in our lives fall into place and training is a joy. There's also times when it feels like a tremendous burden. Marathon training, in particular, takes a huge chunk of time out of our days and weekends. If you start dreading every run or feeling anxious about finding the time to do them, it might be time to step back.
It isn't fun anymore. Unless you're an elite runner, you're not making your paycheck from running. Running should mostly bring joy to our lives and help us relieve stress. While not every run will be perfect and you won't always feel like getting out the door, if you find yourself dreading the idea of your long run every weekend, consider changing your race distance.
Bumping Up Your Mileage
In contrast, you might be feeling a little stale and stagnant in your favorite distance because you've already mastered it! If your training has been going great but you're not sure if you're ready to increase your mileage, here are some things to consider:
You've built your mileage carefully. If you've built your mileage slowly and carefully and have been successfully racing the same distance without injury for a while, your body is likely up to the challenge of adding on new mileage. While your mind may be nervous, your body is ready!
You're bored. As mentioned above, running should be fun! If running feels boring and you need a new challenge but are struggling with your confidence, remember how nervous you felt about starting running in the first place. Running is the ultimate confidence builder because you get out of it what you put into it—so get after it!
You've plateaued. If you've PRed at your favorite distance for a long time but eventually plateaued, it might be time to mix things up. In addition to the excitement that new PRs can bring to your running, changing up your distance can also build up muscles that you didn't recruit as often in your previous distance. Whether you decide to bump your distance up to work on endurance or down to work on your speed, you're sure to gain something in the process.
At the end of the day, remember that running should be fun, first and foremost. If it's not, it might be time to make a change—one way or another!