#JourneyWithSteph: A Breakfast Full of 800s
Steph returns to speed work after facing an injury setback.
Heading out the door? Read this article on the new Outside+ app available now on iOS devices for members! Download the app.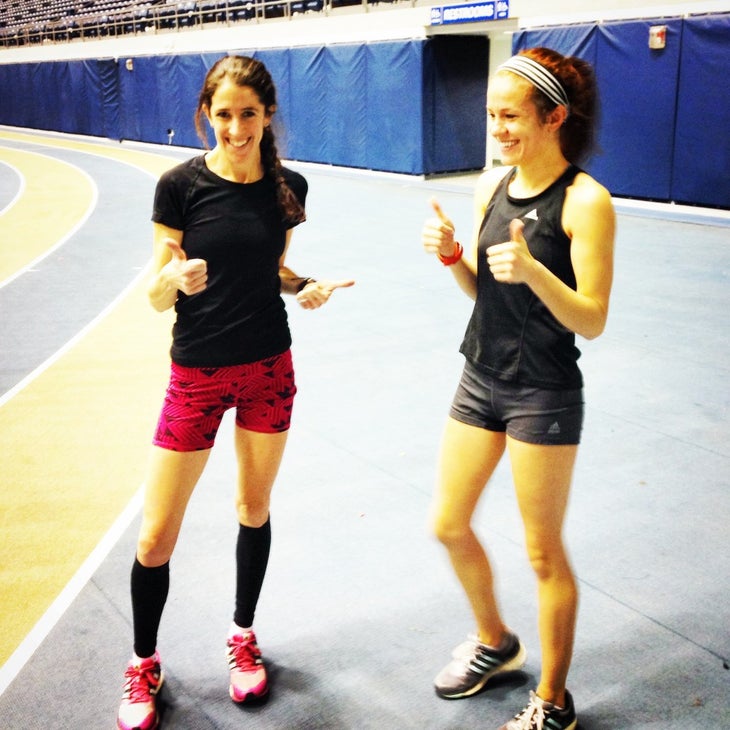 This month I've slowly been getting back into workouts. I'm still working through some kinks in pelvic and hip stability and will be doing so for the next couple of months most likely. We're approaching workouts with a cautious mindset and just giving my body enough stimulation to be lightly stressed and adapt to running without causing a setback.
8×800 meters is a fairly common, staple workout that is found in many training programs. However the workout can be manipulated in several different ways to produce the desire effect. The purpose of my 800s were to reintroduce my heart to marathon effort while training at altitude. My instructions were to start at 3:00 (6-minute mile pace) and work my way down to 2:55 (5:50 mile pace). At sea level this would roughly equate to starting around 5:50 pace and working down to 5:40 pace. My marathon PR pace is 5:42, so it's right in that zone. My rest between intervals was 400m jog. At altitude, rest is the most important factor when determining what the purpose of the workout will be.
I started with a 15-minute jog in tights and a long sleeve. I love warming up in a warmer outfit and stripping down right before the workout; it gives me the illusion of feeling faster. Hey, whatever works for your psyche, right?! I usually perform a few drills (A skips, B skips, karaokes, squat lunges) and then 3 to 4 100m strides. I switch to my flats, nervously wondering if I can hit the paces at hand for the workout. I line up in lane 1 of the Northern Arizona University indoor track while truckloads of milers fly by me like I'm standing still. There was a big group of runners at the track on this morning, so I was feeling the energy.
First 800: 2:56. A little fast, but I felt relaxed and in control. I am normally right on with my paces and rarely run too quick on the first interval. Since I'm getting back into shape, my coach is giving me some wiggle room to play with; as long as the intervals are getting quicker, I'm in the right zone. 8x800m is a tough workout to do solo because it requires mental focus not to fall off pace. I ran the first 4-5 in 2:55-2:53. I was feeling strong, fluid and alive. As I started to count down—4 to go, 3 to go—my body began to feel the fatigue. Fatigue is a good thing in workouts, as it teaches you how to stay on pace and have good form while your legs are getting heavy. I ran the last 3 in 2:49, 2:47, and 2:44. I finished pleasantly tired; I had another workout under my belt, and I felt like I could have gone faster. I jogged a 15-minute cool down in the opposite direction on the track, chatting with the crew that just finished their workouts. We quickly exchanged how we felt during our workouts and switched to witty banter, already looking ahead to our next hard day. I threw my warm ups back on, shoved a Picky Bar in my mouth and hurried back home to play with my son.