5 Expert Tips To Mentally Prepare For A Marathon
Who better to provide anxiety-busting tips for a marathon than the great Joan Benoit Samuelson?
Heading out the door? Read this article on the new Outside+ app available now on iOS devices for members! Download the app.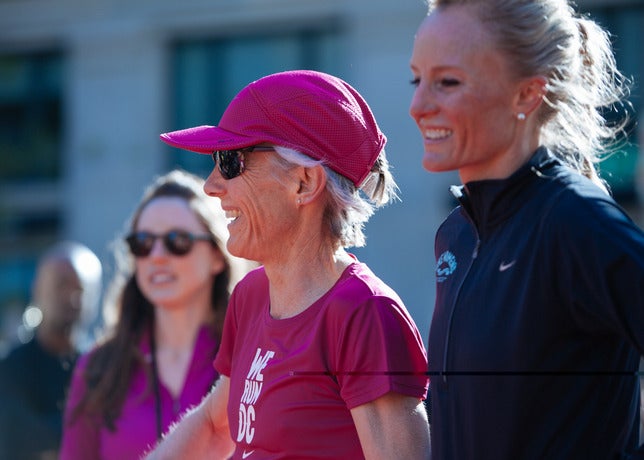 Published with permission of Abbott
Whether you're a newbie runner graduating from couch to 5K, or an experienced marathoner, the physical aspect of exercising, training or racing is vital. However, an often-overlooked – but equally important – facet of exercising is the mental aspect. Here are some expert tips for overcoming mental barriers, not only on the pavement, but in everyday life, to empower people to live fuller, better lives.
1. Tap into the power of habit.
Dr. Beth McQuiston, Neurologist and Medical Director, Abbott: All tasks in life are much easier to stick with when they become habit. Tie your exercising to triggers –like making a pot of coffee or putting on your shoes –to make the process of getting up and out there automatic and something you enjoy!
Joan Benoit Samuelson, Olympic Gold Medalist, Avid Marathoner: It's important to avoid habits turning into an obsession or becoming too commonplace. Shake things up after a while to keep your mind fresh, balanced and motivated to exercise. This can be as simple as switching your morning coffee to warm lemon water, shaking up your go-to playlist, or running your favorite route in reverse.
2. Anticipate obstacles.
McQuiston: Think about things that might get in the way of achieving your goals and minimize barriers that you know are excuses. Tie overcoming obstacles to a reward or a treat and eliminate the reasons your brain will tell you not to exercise.
Samuelson: If getting up in the morning for a workout is often a struggle, sleep in your (clean!) workout clothes or pre-program the coffee maker. At work, if you know that a full day of meetings will limit your ability to leave on time for a workout, do your best to plan a mini workout for the morning. Small steps set the foundation for growth.
3. Visualize yourself doing your best.
McQuiston: Seeing yourself succeed is motivating. It keeps us focused. This goes for exercise and it goes for all we do in our lives. To help you visualize success, break goals down into smaller pieces; that way, you can create a path building up to your goal and celebrate the milestones along the way. This type of planning and judgment offers mental pathways that can be transferred to everyday life regulating emotions and the ability to make sound judgment.
Samuelson: It's your life, your journey. Instead of worrying about those around you, set personal goals and celebrate when you meet them. It's great to look to others to inspire competition during a race, but focusing on your own progress is the best way to find personal improvement. Picture yourself getting through the first mile, over the daunting hill up ahead or crossing the finish line with a personal record. Remember to never believe your doubts; many of the limitations you may think are physical are actually mental.
4. Channel the power of "green exercise."
McQuiston: Exercising outdoors can help release "feel good" hormones, which may explain why people who exercise outdoors claim to enjoy it more, find it more satisfying and say they will more likely to do it again. If you can't run outside, then watching a nature program on television while running on a treadmill or listening to sounds of nature can have a similar positive "feel good" effect.
Samuelson: To best position yourself for success, train somewhere that makes you feel comfortable and happy. Try going outside and breathing fresh air in your favorite park or frequenting a gym where you can get to know fellow runners. Training aside, during the work day even taking 10 minutes to walk around the block can really help to put things back in perspective and make the day more enjoyable. Exercise is not just about the body, but also the mind and spirit, thus it helps to be in an environment you enjoy.
5. Make your run meaningful.
McQuiston: Make your run mean something–focus on the journey and enjoy the sights along the way. Maybe use your run as a way to channel positive energy into other areas of your life.
Samuelson: Trips—for business or pleasure—can be a big obstacle during training. Don't let this stop you from having a meaningful run. Many hotels have fitness centers and there are plenty of apps that can help you map your outdoor run. If you are running in an unfamiliar place, just make sure that you are in a safe area and run while it's still daylight. Prioritizing exercising, even while traveling, can be a great way to maximize enjoyment on a trip.
Related: 5 Ways To Mentally Prepare For Your Next Race
Want to become part of the larger conversation on health, happiness and human potential? Visit www.LifetotheFullest.Abbott for more information.