First Trimester Running Lessons From A Future Mother!
Web Editor Kristan Dietz shares some things she learned while trying to run through her first trimester.
Heading out the door? Read this article on the new Outside+ app available now on iOS devices for members! Download the app.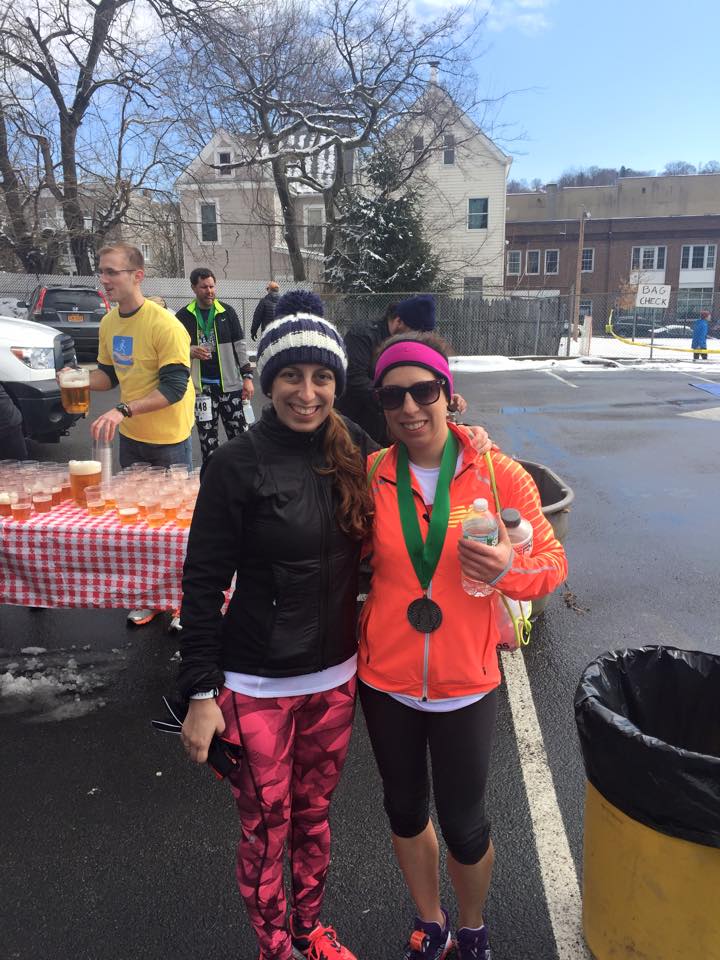 I could feel something was different around the last week of January. I was completely exhausted after every run. I could barely stay awake past 10 p.m., which was a new experience for this life-long insomniac. And every night, I woke up at 3 a.m. with an urge to sprint to the bathroom. A simple test confirmed just what I had been suspecting—I was pregnant with my first child!
When it came to next steps, I knew the basics. Celebrate the wonderful news with my husband, make an appointment with my OB-GYN, take prenatal vitamins, and cut out certain types of foods and drinks. However, when it came to how to proceed with running, I was clueless. Was it okay to continue? Would I feel different? How quickly would I slow down? When your first positive pregnancy test is weeks away from your first doctor's appointment, there are often not easy answers to these questions.
RELATED: #JourneyWithSteph: The Year Of Two Worlds Colliding
I knew this much—because I had been consistently running before my pregnancy, continuing to run was perfectly fine for a newly pregnant woman. Other than that, the first trimester was an education in what my body could and couldn't handle. Here is what I learned about running and exercise during the first 12 weeks of being pregnant.
You will slow down. Every woman is different, but at some point in the first trimester, running will begin to take a bit—or a lot—more effort. For some, the slow-down will hit in the later weeks, but for others, the effects of pregnancy happen quickly. One day during week five, I ran 6 speedy, yet effortless, miles. The next day, I could barely cover 2 miles before crawling off the treadmill. As a result, I freaked out and assumed something was wrong with me. There was nothing amiss— I just had to adjust my expectations and my pace.
Keep a conversational pace. When speaking about exercise with my doctor (who is a runner herself), her advice was to always make sure I could hold a conversation and work out at 70% effort max. Don't be afraid to take walk breaks on a run or stay in the saddle when tired during a spin class. You are still being completely healthy (and smart!) even if the effort level is slightly lower.
You will be exhausted, and you may feel sick. I never felt more tired in my life than I have over the past two months. When I wasn't thinking about my next nap, I was trying my best not to vomit. The good news? Running and exercise does help fight off morning sickness. It also gives expectant moms a little more energy; even going for a short walk can help. The bad news? Some days you just won't be able to get off the couch. Don't beat yourself up if you miss a day (or two, or four) of exercise. Some days rest and trying to eat will be the priorities over working out.
Stay in your comfort zone. At around seven weeks, I tried a new workout class. Maybe not the best idea, but the instructor knew I was pregnant. I kept my effort under control, and trying something new didn't negatively affect anything. Well, except for the subsequent worrying. For two days after the class, I stressed that I had over-exerted myself and somehow harmed my baby. Mentally and physically, it may be better to stick with an exercise routine that you are familiar with. For me, running, walking and spin make me feel great. For others, it may be a different range of activities. There are so many things that you may worry about in the early weeks of your pregnancy. Exercise shouldn't be one of those things.
Talk to other moms. What I really craved during the first few weeks of pregnancy was information on experiences of other mothers, especially when it came to running. I reached out to a few friends who are either pregnant or mothers of young children, as well as a few of our amazing bloggers. Just hearing about their pregnancies made me feel more relaxed. Everyone had different types of progress with running, but talking with others was a great way to feel better about what I could and couldn't accomplish.
RELATED: Hungry Runner Girl: Why I Loved Running During Pregnancy
On days when you feel really overwhelmed or sick, remember two things: Don't beat yourself up, and your body is not fragile. I'm growing a person. How cool is that? It's amazing actually!
Our bodies are strong. While it's okay to be cautious, running is safe and healthy for most of us. Don't beat yourself up over a missed run or feel bad about slowing down. Instead feel strong knowing you are making the best possible choices for a healthy pregnancy.
What is your advice for running during your first trimester? Tweet @womensrunning and @kristandietz to share your thoughts!