Everything You Need To Know About Snot (But Were Afraid To Ask)
It happens to all of us during cold weather—how do you blow your nose on the run?
Heading out the door? Read this article on the new Outside+ app available now on iOS devices for members! Download the app.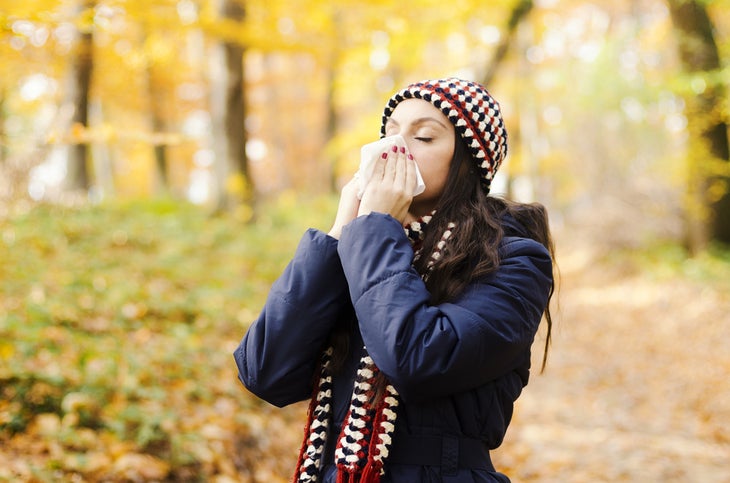 Etiquette expert Lizzie Post, great-great-granddaughter of Emily Post, knows a thing or two about the rules of the road—and the descendant of the famous decorum diva is a runner too! 
Question: My nose runs as much as I do. Do I have to carry a tissue or is it okay to use my sleeve or should I air blow?
Runners now have great options for taking care of a drippy nose while out on a run. There are wristlets that let you carry a few tissues for easy access, and most running gear (tops and bottoms) comes with some form of a stash pocket. Just remember to hang on to your garbage until you return home or run by a trashcan. Littering is the only "don't" here.
Snot rockets can occasionally do the trick, but unless you're extra talented, I find they have the potential to create more mess than relief. If you do go this route, make sure no one is in your line of fire of course. If you can't manage tissues or a well-executed snot rocket, your shirt is a better option than having it on your face. It's a bit gross, but what can you do?
Have a question for Lizzie? Email editorial@womensrunning.com or tweet @womensrunning with the hashtag #ProperForm.
More answers to your burning running etiquette questions
How To Handle Bad News From A Running Bud
Are There Rules For Wearing Race Shirts
How To Deal With A Freeloading Running Friend